Double Result Bet | Halftime Fulltime Bet Explained (2023)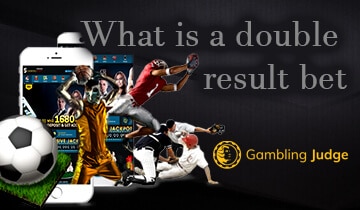 A Double Result bet can prove rather handy if you know your onions. While many sports bettors favour wagering on full-time scores, and others see the value in half-time bets, there is an argument to be made for Double Result betting being more profitable.
If you are wondering what a Double Result bet means and are not overly familiar with betting terms like that, then we have got the ideal guide for you. In this article, you will have Half-time, Full-time bets explained to you, and we will show you how these can be used for profitable football betting online. Read on to find out more…
Understanding Double Result bets
Best bookies for double result betting
in 29 September 2023 – Updated List
Rank
Bookmaker
Bonus
Safe & Trusted
Rating
Get Started
The Double Result bet in action
Below, you will find a Double Result bet example. This will help you learn how to place a Double Result bet, and help answer the question, "how does a Double Result bet work?". 
First, let us look at the typical odds of a Premier League match, as football bets are the most common places to use Double Result bets, or Half-time/Full-time bets. Here are basic odds for such a bet:
Manchester United to Lead
As you can see, Manchester United (at home) are the heavy favourites to win. However, those odds are for a game which is played over 90 minutes, where there is plenty of time for the dominant favourite (Manchester United) to get the goals they need to win, and the underdog (Leeds United) must hold out longer to get a result against the favourite.
If we only bet on the first-half, Leeds has a shorter time to hold against the favourite, while Manchester United have less time to score the goals they need to beat the underdog.
You can make either of these bets individually. Of course, the longer a match is played, the more difficult it becomes to predict; hence the longer odds are on assured outcomes. When you opt to place a Double Result bet, you are wagering on both at once, so the odds "can" be more favourable. 
Below, you will find a table highlighting the odds which you would expect to see if you bet on both halves with the same stake:
Half-Time/Full-Time Outcome Odds
Studying the table above, coupled with our knowledge of the match in question, we can deduce the following:
In the 2022/2023 Premier League season, Manchester United are the comeback kings. They regularly go behind in the first half (often to underdog opposition), only to bounce back and then win the match in the second half. Therefore, a bet on Leeds United being in front in the first half, and Manchester United winning in the second is an educated and fair bet to make.
If you were to bet £1 on these events occurring individually (using a Half-time bet, and a Full-time bet), you would expect to win £12 for Leeds being in front in the first half, and Manchester United winning the game in second. For your £2 stake (£1 on each bet), you would win an accumulated total of £13.43.
However, if you were to make the same bet using a Double Result bet, things look better. A single £1 bet on Leeds being in front in the first half, and Manchester United winning the game in the second is worth £25. This is because two events are on the same single bet, and you must match them both to win.
It is more challenging to predict a winner using an HT/FT bet, even in clear cut cases of favourites and underdogs. However, in matches where a second-half comeback is likely, the odds tend to be good. This has increased the popularity of Double Result bets.
Top tips for Double Result betting
Placing a successful Double Result bet requires more than just half-time, full-time bet tips, or the best sports strategies. You need to use basic common sense to see value in betting with the Double Result option. Here are some top tips you should consider:
👉 Always examine the stats:
Always check the stats of both teams before you decide to wager on a game. Bookmakers with statistics are a good source of information.
---
👉 Injuries and squad rotation: Look for injuries and squad rotation (upcoming fixtures, too), as these can affect the difference between favourites and underdogs.
---
👉 Form and performance:  Form and performance are well worth considering. As explained above, Manchester United are experts in turning first-half deficits around to win in the second.
---
👉 Super subs: Keep an eye out for super subs on the bench. These are players a team can rely on to rally them and score a late goal to affect the outcome of a Double Result bet.
---
👉 Common sense: If a home team dominates, opt for a Win/Win bet. However, if the underdog is a plucky side who is tough to break down, then betting the away side to lead and then draw could be worthwhile.
---
👉 Stay Away from other bets: Avoid placing Double Result bets alongside others, such as draw no bet options, or correct score betting options such as win to nil bets. Only focus on these types of bets to improve your odds of success.
Other top sports you can place Double Result bets on
In theory, any game which has two halves, such as Rugby can be used to place a Half-time/Full-time bet. You can in theory place these bets on games with more than two halves, as well. This applies to win both halves bets and to win either half bets too. Games divided into periods are possibilities. However, the more periods a match has, the less likely you are going to be to successfully predict the outcome, as they rapidly resemble accumulator bets, with lots of parts needing to come together to form a whole.
If you are wondering what is a Double Result bet in hockey, you don't need to consult a hockey betting guide. It is the same as a Double Result bet in NBA and Double Result bets in basketball in general. A Double Result bet in baseball or the NFL works, too, you can also bet on fist half Baseball betting. However, they may technically be known as Triple Result bets sometimes or go by other names. For the purpose of this gambling article, we'll stick to footy, as football is the easiest sport to bet on because there are just two halves.
Similar markets worth checking out
Double Result sports betting spans multiple sports. You will not just see a Double Result bet in football. You can also see markets including tennis, and snooker, where they may refer to games, sets, matches, and frames.
Similarly, football competitions can be bet on. With Champions League betting, for instance, the first half of your bet may focus on a team winning the group, while the second may focus on them winning the cup. Double Result matches may also apply to other aspects of football matches. There is, for instance, a Double Result market available for corner betting. With a Corner Double Result bet, you are literally just betting on which side has the most corners in each half. Sometimes a double result bet can be combined with Asian corners though 1st half Asian corners are most commonly offered.
Some of the pros (and cons) of Double Result betting
Next up in our betting guide, we will look at the pros and cons of Double Result bets…
PROS
Can maximise your winnings
Ideal for favourites vs. underdog bets
Can be applied to other sports matches
CONS
More difficult to predict
Not ideal for in-play bets
FAQs: Your questions on Double Result bets answered
Allow us to help you with our FAQ guide to Double Result bets…
Essentially yes, although the latter is most used in the UK, and only applies to the score line. In other sports, it may be called something else.
That depends on how you bet. Some do, but it is up to you to find the value in the market.
Injury time and added time count towards these bets. Extra-time (such as two extra halves and/or penalties) does not count. You would need to place an Extra-Time Double Result bet instead.
That depends on the bookie and how early we are betting. Before kick-off is not a problem. Even in the first half, you can usually do it, although with short odds. However, you cannot place these bets if the second half has kicked off.
You are betting on two outcomes on the same ticket, so yes. However, if you make sure you bet on favourites and underdogs and check the form of both sides, you can find value in "safe bets" there.
Wager with Double Result bets at top bookmakers today
Now that you know a bit about a Double Result bet, perhaps it is time to make money on football? You can use these bets at all the biggest bookmakers in the UK, such as William Hill, and many leading USA betting sites. Do not hesitate to head over to our top recommended sportsbooks to find the ideal place to wager with Double Result bets today.
Other articles you might enjoy: