To Win Both Halves Betting Guide | What Does to Win Both Halves Mean?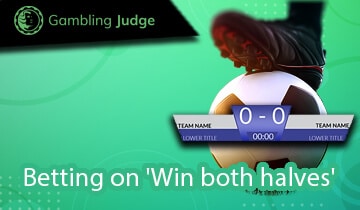 There are different types of sports betting, some are simple, some are complex, and to win both halves is one of the simpler ones: You can find it at all of the biggest betting companies.
If you recently started sports betting and looking for ways to make money betting on football, for example, win both halves bet may be the right choice for you. If you never heard of it before, don't worry: In this win both halves betting guide, we will explain it in detail and with examples.
Moreover, we will let you compare bookmakers that offer this option and find the best one, so you can start betting to win both halves in no time.
What does to win both halves mean?
Let's start with the basics: what is a win both halves bet? As you know, most sports consist of at least two halves but the outcome of the match is determined by the total score in both halves. In this context, for example, if you bet on who will win a particular match, the total score at the end of both halves will be taken into account.
Best bookies to win both halves betting
in 01 November 2023 – Updated List
Rank
Bookmaker
Bonus
Safe & Trusted
Rating
Get Started
How does a to win both halves bet work?
We explained to win both halves meaning, but it would be best to explain this topic further with examples. These are the most important things you need to know about to win both halves bets:
Based on this information, here is a table that shows the result of to win both halves bet based on the scores of your chosen team in both halves:
Below you can see how the win both halves bet is displayed at 888Sport and Unibet.


To win both halves vs HT/FT: What is the difference?
HT/FT is short for "halftime" and "fulltime". Halftime fulltime bet is similar to win both halves betting but also completely different. The difference is simple:
If we explain with an example: 
Let's say the score of the first half is 1 – 0 in favour of Team A and the second half also ended like this, nobody scored a goal. 

If this was a win both halves betting, you would lose because your team did not win the second half. 

If this was a halftime full-time bet, you would win if you bet on Team A – Team A (to win at half time and full time). With all the other 8 possible halftime fulltime bets you would lose (Team A – Draw, Team A – Team B, Draw – Team A, Draw – Draw, Draw – Team B, Team B – Team B, Team B – Team A, Team B – Draw)
In this regard, we can say that HT/FT bets are a much simpler version of win both halves betting and this can be seen in the odds too. As a general rule, the odds of to win both halves bets are always higher than HT/FT bets because the probability is much more complex.
Win both halves tips for beginners
👉 Combine win both halves bet with other options, like win to nil: Doing so will increase the overall odds. For example, in
win both halves to nil
bets, you are betting on two things: Your team will win both halves and the opponent won't be able to score a single goal. You can also use
no clean sheet
betting and/or
over 1.5 goals system
with a
team to win both halves bet
.
👉 You can also use matched betting tactics or the best arbitrage opportunities to increase your chances. For example, if you can find the rights odds, you can place a back and a lay bet at the same time and secure a profit no matter what the actual score is. To find out how to lay win both halves, check our other guides on matched betting and dutching. 
👉 Take advantage of bonuses such as bore draw promotion. These offers are quite common especially in correct score betting and you can even get a full refund with them, even if your win both halves bet is lost.
Should you bet to win both halves?
PROS
You can get very high odds with the right options
Easy to understand and use
Research works and it pays off
CONS
To get higher odds, you need to combine it with more complex outcomes
Even if your team wins the match, you can still lose the bet
FAQ: Your questions about 'to win both halves bet' answered
"Away" refers to an away team and this term means that you are betting on the away team to win both halves of the match. The opposite is the home win both halves: In this option, you are betting on the home team to win both halves.
Yes, because you are betting on to win either half, so when the first half ends, the first "game" also ends. The second half starts from the beginning and with the score of 0-0, your team must win it too in order to win this bet.
What you are doing is similar to draw no bet: You cannot place a bet on the draw outcome or lay the draw. Both halves are independent games and your team must win both of them.
You lose the bet. Remember that the score is reset at halftime: The second half is a completely independent game and your team must win it too – otherwise, you lose the bet. Since a score of 1-0 means that the second half ended in a draw (0-0), you cannot win this bet.
When compared to simple options such as money line bets, the odds will be much more satisfying in to win both halves market. Especially if you combine it with exotic options such as win to nil and/or double chance bet.
Make your to win both halves prediction today
This is the end of our win both halves bet explained guide: We think that you are ready to place your first bet now, since you have learned win both halves meaning and how does it work. We already picked the best bookmakers so you just need to choose one: Register for an account, claim your bonus, and place your win both halves bet right now. But wait, this is not all, you can also learn how to bet on the first half of Baseball if you want: Good Luck!
Other articles you might enjoy: