Draw No Bet – What Is Draw No Bet And How Does It Work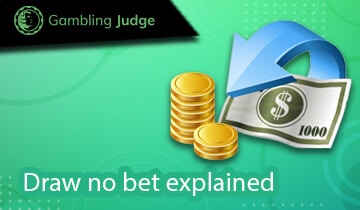 Online bookmakers provide players with a diverse lineup of popular and niche sports, as well as an eclectic mix of betting markets. Among them, the draw no bet is a popular type of wager that can be used by punters on any sport that can end undecided in regular time.
Used mainly to mitigate the risks, this type of bet is highly versatile, therefore suitable for both casual and veteran punters.
The best part is that many punters prefer to use this type of strategy, as the risks are drastically minimized, while the odds given by the bookmakers are really worth it.
Best bookmakers for placing Draw no Bets
in 28 September 2023 – Updated List
Rank
Bookmaker
Bonus
Safe & Trusted
Rating
Get Started
What is Draw No Bet betting?
The meaning of draw no bet is rather self-evident, as players have the stakes returned if the match ends undecided. When you bet draws on the other hand you simply place a bet on a game you think will end in a draw. Punters can use it when betting on football, basketball, ice hockey and pretty much any other sport where there is the possibility of a draw in regulation time. Regular season matches, as well as playoffs games which in theory can go to overtime and penalty shootout also qualify.
While learning what is the meaning of draw no bet in gambling doesn't pose any problems even for recreational punters, certain details are worth discussing. The draw no bet is a distinct market, which appears alongside betting offers for the result in regulation time, Asian and regular handicaps. When punters choose the draw no bet market, they mitigate the risks of losing as a result of an undecided match.
How does the Draw No Bet Work?
Now that you know what is bet no draw, it's time to understand how it works in practice. Players who choose it over the traditional wager on the outright winner, sacrifice high odds for the sake of lower risks. Bookmakers will offer significantly lower odds on this betting market, since one of the possible outcomes is taken out of the equation. To understand what is draw no bet in soccer, you should consider the example of a potential match between Real Madrid and Barcelona.
High profile matches and derbies can help one understand what is the meaning of draw or no bet and how it works in real life. This match is usually a coin flip, with both teams getting similar odds of 17/10, or 2.70 in decimal format, to win after 90 minutes. Given the high stakes and the obvious balance between these Spanish giants, the likelihood of a draw is high and matches frequently end undecided. Bookmakers provide punters with the option of backing either team with the cover of a draw no bet.
In this example, players who choose to bet on either Real Madrid or Barcelona to win in this perfectly balanced match, get identical odds on both teams. There is however a big difference between the odds on them to win in regular time and the ones offered on the draw no bet. If they choose to get the bet refunded in the case of a draw, players will only receive odds of 9/20, respectively 1.85 in decimal format. These can vary, depending on the house edge at different bookmakers, but the difference is significant.
When to use the Draw No Bet?
Understanding what does draw no bet mean is the first and most important step in using it effectively. Next, punters should figure it out when to use draw no bet and how to extract the most from this original type of wager. That's because punters have to accept the trade-off of lower odds and it is not always wise to sacrifice better odds for the sake of lower risks.
While the draw no bet can be used on most sports, leagues and matches, it shouldn't act as a regular substitute for regulation time wagers. Draw no bet in football is particularly useful when betting on cup matches that could go to overtime, as well as those replayed in case of a draw. That's because the football teams are more likely to freeze the game in the final minutes of the match if they are tied. The dnb betting option shines the brightest in this case. as punters mitigate a real risk, rather than a theoretical one.
A thorough understanding of what does draw no bet mean will allow punters to get creative and use it on a broad spectrum of matches. Relegation derbies (check here our relegation betting guide) between teams sitting above the line are also worth the option for using the draw no bet. That's because these are teams that have a lot to lose and if they don't get an early lead, they are more likely to settle for one point.
Savvy punters can use variations of this betting option and bet on the match to end in a draw while having the stakes returned if one teams win. It's easy to understand what is draw or no bet once you get an accurate picture of what the standard draw no bet stands for. In this case, punters have the stakes returned if one of the teams prevails in regulation time and cash in the full profits if the match ends undecided.
Draw No Bet Betting Strategies
One question that frequently pops up, in addition to what is draw no bet and how draw no bet works, is in regard to Asian handicap betting (see here our list of Asian handicap bookmakers where you can bet on 1st half Asian handicap, too). The draw no bet market is essentially the same with the 0.0 Asian handicap which also has the stakes refunded when the match results in a draw. In point spread betting the Asian handicap 0 is displayed as PK (read our "what does PK mean in betting?" article to understand better how it works). Asian handicaps are routinely used for the same reason as the draw no bet, namely to mitigate the risks. They have the advantage of being far more flexible, as players can fine tune the winning margins and tinker a bit win the odds offered.
While it is easy to understand what does dnb mean in betting, coming up with complex betting strategies isn't that simple. That's because the restrictive nature of this type of wager only allows players to reduce the risks, rather than maximize profits. One thing that players can do is to understand how draw no bet works in conjunction with accumulator bets. Punters who plan on adding multiple matches on the same betting slip can consider the draw no bet option. When they are not confident enough in the chances of one team to win, the safety net provided by the draw no bet will come in handy.
Asian handicaps are now widespread at most bookmakers and they provide vastly superior options to the otherwise basic draw no bet betting strategies. Punters can have the stakes returned if the favorites win by a single goal, or recuperate their bets if the underdogs cover the spread. They can even use fractional handicaps, such as the Asian handicap 0.25 or the Asian handicap 0.75 among other options. This is called alternative Asian handicap betting. On the bright side, the draw no bet can be used extensively in accumulators and draw no bet accumulators are accepted by all relevant sportsbooks.
Conclusion
The draw no bet meaning, as well as the way the draw no bet works are easy to understand concepts, even by recreational punters. This bet was designed to minimize risks and provide punters with a safety net if the match ends undecided. Ideal for football games, the draw no bet should be used with moderation, because in exchange of lower risks, players sacrifice bigger odds. The goal should always be to maximize the return on investment and this is done by seeking value in odds, above anything else.
Other Tutorials and Strategies