Is Horse Racing Fixed? | How to Spot Fixed Horse Races?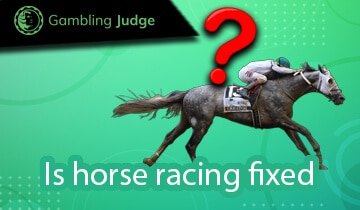 Following a bad result, you may have asked, "is horse racing fixed?" While it is undeniable that horse racing cheating can occur, especially when horse racing betting is involved, and horse racing is not the easiest sport to bet on at the best of time, can horse racing really be fixed?
There is a fine line between having insider knowledge and race-fixing. We will take a closer look at horse racing cheating in this guide and hopefully straighten it out, so you know the score when it comes to betting on the nags.
If you are ready to begin, read on to find out more.
Best Bookmakers for Horse Racing Betting
in 29 September 2023 – Updated List
Rank
Bookmaker
Bonus
Safe & Trusted
Rating
Get Started
Is it possible to fix a horse race?
It is always "possible" for any sport to be rigged, so asking whether horse racing is fixed or not is a valid question. Cheating on horse racing goes back right to early human history when Romans would fix chariot races. However, in today's world of horse racing sites, adjustable starting price odds, and worldwide coverage via television camera, how is horse racing fixed, and is it possible for horse racing to be manipulated?
How is race-fixing controlled and prevented?
If you are still wondering, "is horse racing fixed in the UK?" or perhaps you are stateside and want to know, "is American horse racing fixed?" allow us to assuage your fears.
Can betting exchanges make it easier to cheat at horse racing?
Betting exchanges would generally provide the ideal venue for owners and trainers to engage in fixed race betting. However, as regulatory authorities prevent them from laying bets on any horses, they cannot engage in this.
Moreover, anyone associated with horse racing cannot bet on a horse they do not own, either, limiting the risk for cheating. Yes, an owner can bet (via a bookmaker or trackside) on their own horse (but not lay) as much as they want, but this will not help them in fixed horse races as much as an exchange wood.
Top tips to help you spot fixed horse races
Being privy to inside information can be misconstrued as cheating. However, unless those who are involved in the day-to-day care and running of the horse are betting, then you are not cheating by seeking out an advantage. Here are some top tips for doing just that:
👉 Become familiar with race-fixing jockeys, trainers and owners
👉 Be careful not to seek their advice, as you could then be engaging in fraud
👉 It is fine to obtain inside information from a tipster
👉 Learn how to bet on horses, and broaden your bets to include horses "not to win"
👉 Certain races have a tendency to be easier to cheat than others, learn which ones they are
Are virtual horse racing events fixed?
What about virtual sports? Is virtual horse racing fixed? As you will know, virtual sports are run via RNGs, much like casino games, so in a manner, virtual horse racing is fixed, in the sense that it will never be as unpredictable as real horse racing.
However, the bookmaker does not know which "horse" will win for sure. They can have an idea, but so can you, and that is called virtual horse racing strategy, not cheating. Virtual horse racing is no more fixed than a typical slot game.
Horse racing cheating scandals: Disguising horses and creating a Pegasus
A cheating scandal in horse racing is not as common an occurrence as it once was, unless, of course, it happens all the time, and the perpetrators are not caught and found guilty. Instead, you are more likely to come across betting scams online.
There have been many instances of cheating in sports betting, such as basketball's shaving points scandals.
FAQs: Your questions on horse race fixing answered
If you have still got questions (apart from "how are horse races fixed?"), we are here to help with this brief FAQ.
Not really. There have been many complaints from groups such as PETA over the last decade or so, but in the public's eye, horse racing is as popular as ever.
Fixed odds are odds that have been set by a bookmaker, an individual or exchange that something will happen. If you bet on it and it does, you will win whatever odds were offered.
In this day and age, not very likely. There are multiple checks and procedures in place so painting, ringing or other techniques cannot be used.
No. They are free to bet on their own horses, but they cannot lay their horses or bet on other horses.
Place bets on fair races and leading racebooks and bookmakers today
Hopefully, we have answered your "is horse racing fixed?" question. Now that you know that it is unlikely to happen nowadays, you may wish to engage in some top UK horse racing betting. Check out our selection of leading racebooks, exchanges and bookmakers to find the fairest, safest sites with the best odds today.
Other Tutorials and Strategies