Post Position Win Percentage | Best Post Position in Horse Racing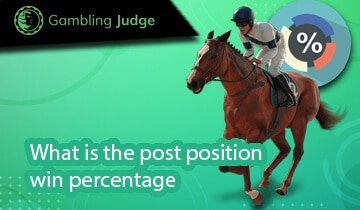 In horse racing betting, each horse starts the race from a specific position, and post position win percentage data shows us some of these positions are better than others.
In other words, the position where the horse started the race can really affect your chances of winning.
So, what is the reason for this? Why do starting positions matter and what are the best post positions in horse racing?
In this betting guide, we will answer all these questions and give you useful betting advice about the best post position in horse racing.
What is the meaning of post position in horse racing?
This is one of the horse racing terms that define the starting position (and number) of a horse in a specific race. This is not a "how to bet on horses" guide so we won't go into details – here is the short version:
Best Bookmakers for Horse Racing Betting
in 01 November 2023 – Updated List
Rank
Bookmaker
Bonus
Horse Racing Offer
Rating
Get Started
How are the starting positions determined in horse racing?
Does post position really affect the chances of winning?
In fact, the distance from the starting gates to the finish line is not that important: Horses all start at the same point at the same time, and it is possible to change lanes after the race starts. Still, the post position can indeed be important enough to affect the chances of winning. This is because:
Distance/size/shape of the field
Some horses run better at a short distance, others better at long distances. However, a horse that starts to run fast after a few hundred meters may have difficulty in No.1, because the race may end before it can start to accelerate on a short track.
Conditions/surface of the track
The racetrack can be sand, grass, or synthetic. Each horse performs better on different terrain and consequently, its distance to the finish line can affect its chances of winning the race.
The horse's run style
Some horses are leaders and always want to be at the forefront. Some horses start from behind and prefer to compete and become first. The running style of horses will also affect their performance depending on where they start.
Type of race
Some races are short, and each horse needs to perform at its best from the start. The proximity to the finish line will provide a certain advantage in this type of race. However, some races are long and/or contain jumps: In these races, the starting point is not an important factor. Also the smartest bet in horse racing will be different, depending on the type of race.
What is the best post position in horse racing?
Truth be told, there is no single best post position in horse racing for every race and every horse. A non-ideal starting point for one horse can be a great choice for another. It is necessary to decide whether the starting points are good or bad according to the characteristics of the horse that will race there, its competitors, and the track conditions. In this regard, choosing bookmakers with statistics will help.
However, it is also possible to answer the question of what post position wins the most in horse racing by looking at the official statistics. Although inside posts are traditionally believed to have an advantage, middle posts win more races.
Below, we share the historical post position win percentage information of the Kentucky Derby as an example. These data will give you an idea about the best post positions for horse racing. 
1
Horse & Year
Ferdinand (1986); Chateaugay (1963); Needles (1956); Hill Gail (1952); Citation (1948); Gallahadion (1940); Lawrin (1938); War Admiral (1937)
2
Horse & Year
Affirmed (1978); Bold Forbes (1976); Cannonade (1974); Dust Commander (1970); Tim Tam (1958); Ponder (1949) Assault (1946)
3
Horse & Year
Real Quiet (1998); Alysheba (1987); Spectacular Bid (1979); Foolish Pleasure (1975); Shut Out (1942)
4
Horse & Year
Super Saver (2010); Seattle Slew (1977); Decidedly (1962); Pensive (1944); Whirlaway (1941)
5
Horse & Year
California Chrome (2014); Funny Cide (2003); War Emblem (2002); Silver Charm (1997); Strike the Gold (1991); Count Fleet (1943); Johnstown (1939); Bold Venture (1936); Twenty Grand (1931)
6
Horse & Year
Sea Hero (1993); Iron Liege (1957)
7
Horse & Year
Street Sense (2007); Pleasant Colony (1981); Proud Clarion (1967); Northern Dancer (1964); Determine (1954); Gallant Fox (1930)
8
Horse & Year
Mine That Bird (2009); Barbaro (2006); Go for Gin (1994); Unbridled (1990); Majestic Prince (1969); Lucky Debonair (1965); Swaps (1955); Cavalcade (1934)
9
Horse & Year
Riva Ridge (1972); Venetian Way (1960); Tomy Lee (1959); Count Turf (1951)
10
Horse & Year
Giacomo (2005); Lil E. Tee (1992); Sunday Silence (1989); Spend a Buck (1985); Sunny's Halo (1983); Genuine Risk (1980); Secretariat (1973); Dark Star (1953); Omaha (1935)
11
Horse & Year
Winning Colors (1988); Brokers Tip (1933)
12
Horse & Year
Canonero II (1971); Kauai King (1966); Hoop Jr. (1945)
13
Horse & Year
Nyquist (2016) Smarty Jones (2004); Forward Pass (1968); Jet Pilot (1947); Burgoo King (1932)
14
Horse & Year
Carry Back (1961); Middleground (1950)
15
Horse & Year
American Pharoah (2015); Orb (2013); Fusaichi Pegasus (2000); Grindstone (1996); Swale (1984)
16
Horse & Year
Animal Kingdom (2011); Monarchos (2001); Charismatic (1999); Thunder Gulch (1995)
18
Horse & Year
Gato Del Sol (1982)
19
Horse & Year
I'll Have Another (2012)
20
Horse & Year
Big Brown (2008)
Tips for betting according to post position
👉 Use not only
post position win percentage
information, but also horse characteristics, its running style, race type, and race length.
Post position win percentage
information should not be used alone: It should be used together with all these data. Sometimes even the
starting price
information will give an idea of whether a position is suitable for a particular horse.
👉 Horse racing can become one of the easiest sports to bet on when using the right techniques (e.g. each way betting). So be sure to use the post position win percentage information by including it in a specific tactic and/or strategy.
👉 As always, you can place your first bet using free sports betting bonuses and try to find out the best post position in horse racing without any risk.
FAQ: Your questions on post position in horse racing answered
This term refers to the starting position of a horse in a race. It is also the horse's number. So, the first post horse is No.1, and it starts the race from the first gate.
They simply make a draw. This is called a "pill pull": You can think of them as "balls with numbers". A lot number is assigned to each horse, they also write those numbers on balls, and make a draw for all the post positions.
When we take a look at the post position win percentage Kentucky derby, positions between 5 and 15 produced the most winners. No. 5 is the best one with 10 wins. While No.1 also offers 8 wins, it did not produce a winning horse since 1986.
Historically, these are No. 6 – 11 - 14 (two wins) and No. 18 – 19 - 20 (one win). However, also note that some positions have not seen a winner for a long time. For example, No.12 has three wins in total but no win since 1971.
According to the official horse racing post position statistics, No.17 has not seen a win since 1930. In fact, it is the only post position with no previous winners.
This term is not related to starting positions at all. It simply means the designated starting time of a specific horse race. At this time, horses must be at the starting line.
Use a horse racing post position system to score the most wins