Smartest Bet in Horse Racing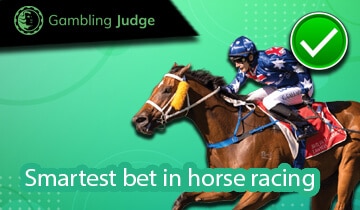 If you're new to betting on the nags, you'll no doubt want to start with the smartest bet in horse racing. What is the smartest bet in horse racing, though, and what do you need to know about horse racing betting in general to begin?
If you're looking for the answers and advice on gambling on horses and need a few sure-fire tips to help you get started, you've come to the right place.
Join us as we explore what the more straightforward, smartest, most profitable, and best bets in horse racing are in this guide. We'll begin by looking at straight bets.
Best Bookmakers for Horse Racing Betting
in 27 September 2023 – Updated List
Rank
Bookmaker
Bonus
Horse Racing Offer
Rating
Get Started
Horse racing: the straight bets
The best way to bet on horse racing if you are a beginner is to stick to straight bets. These are the smartest bets in horse racing for UK players to get to grips with. All horse racing sites without exception carry these types of bets, but what do they involve? In most cases, you're going to betting on the finishing position of a horse, or a couple of horses, although these types of bets do not involve anything complex.
First, we would suggest that you read our guide on how to pick winning horses. Once you've done this, you'll have a better idea of what you're betting on. After that, you can begin to place one of the following bets on horses. You can place main types of straight bets, and we'll look at each of them in turn below. They include:
Exotic wagers in horse racing
You should note that the smartest bet may not necessarily be the wager that is most likely to yield a return. If you're wondering, what is the most profitable bet in horse racing? Or, what bet pays the most in horse racing? The answer is usually "exotic bets".
Once you've mastered the simplistic wagers and basics and learned how to bet on horses with straight bets, you may feel the need to expand into more exotic types of bets. There is no definitive list of what an exotic bet is, but most agree on the wagers listed below.
Smartest bet in horse racing for beginners and veteran punters
Is the daily double really the smartest bet in horse racing?
Many bettors claim that the best type of bet in horse racing is the daily double. It may involve, for instance, betting on the favourites in two consecutive races, and doing so would yield returns better than wagering on the same two horses with individual bets. There is usually a minimum stake of $/€/£2 here. However, as the winnings are determined by a pari-mutuel pool system, they can often win considerably valuable prizes.
If you're prepared to take a bit of a risk (and have some evidence for why you might pick the two horses that you want to bet on), then it is undoubtedly one of the smartest horse racing bets you can make in horse racing.
Top tips for placing the best bet in horse racing today
Before you start wagering on the best bets in horse racing today, allow us to introduce you to a few top tips to help you begin. They include:
👉 Look for NAPs. This stands for "Napoleon" and is a tipster's favourite horse. You can find
horse racing betting nap
s online, and these usually give you a good indication of the real favourite. 
👉 The post position is a statistic you can use to gauge a horses win rate and chance of success. Study post-position win percentages online before betting on any thoroughbred horse races in the USA and Canada.
👉 Be sure you understand the starting price before betting. Some bookies offer Best Odds Guaranteed, and this means that if you take a fixed-odds punt, but the SP turns out to be higher, your payments could be calculated by the starting price instead of the odds at the time you placed your bet. Also, ante-post bets will see SP bets retained by the bookmaker if the horse is withdrawn, but with a UK bookie, the SP is returned if a horse pulls out before the start.
👉 Never dive straight into placing any sort of "exotic" bets until you fully understand the horses you are betting on. There is a wealth of horse statistics out there you can use to learn about the runners ahead of betting.
FAQs: Your questions on the smartest bets in horse racing answered
Horse racing is unquestionably one of the easiest sports to bet on if you study the nags, take your time, and do your homework. Below, we'll answer a few questions for those of you who still have them.
That depends on how experienced you are. Straight bets are ideal for newbies. Exotic bets pay much larger sums, but your odds of success are decreased. We'd recommend daily doubles for so-called intermediate bettors.
The safest bet is an each-way. It will cost you a bit more (remember, it is two bets in one) but allows you to cover your bases. Choose a bookmaker that offers you fourth and fifth places instead of just the top three.
The most challenging bets are superfectas or any other bets where you must predict the winners of consecutive races or are required to land the top placing horses in the correct order. Naturally, they pay top prizes because of this.
The TAB number is one that a handicapper deems to have the best chance of success. TAB Number 1 tends to be the one with the most wins, at roughly 40%.
Is horse racing fixed in favour of the favourite? That may have been an issue back in the day, but not anymore. While favourites are often solid bets to place, they don't necessarily win every time. The climate is changing, with favourites winning fewer races than ever before over the last decade or so.
Yes, however, we don't recommend it. There is no rule against doing so, but most bets only pay out for so many positions, meaning that unless the extreme outsider with crazy odds wins, and all your dark horses place with great odds, too, you're going to lose money on most of the horses you've bet on.
Start betting with the smartest bets on horse racing today
As you now know, there are several possible options regarding the smartest bet in horse racing. To ensure that you find the best odds and options for your needs, be sure to check our list of recommended racebooks and bookmakers. Each is established, licensed, regulated and offers daily deals on some of the hottest global horse races.
Other articles you might enjoy: