Up and Down Bet | Up and Down Bet Versions & Examples (2023)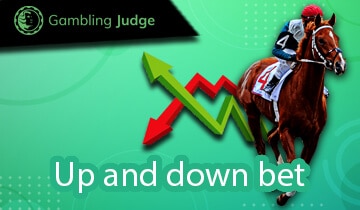 Up and Down bet is a term that definitely sounds a bit strange, especially to those who aren't familiar with horse racing. This is where this type of wager is used most often, as it is perfectly adapted for the competition.
In this betting guide, we will have the up and down bet explained and highlight its advantages and shortcomings.
At the end, you will get a thorough understanding of how does an up and down bet work and how to use it when betting on horse racing, as well as other sports, football betting included.
What is an up and down bet?
An up-and-down bet comprises two parts and two selections. With a general horse racing up and down bet we will have:
Part 1
Half of the amount is wagered on the first horse

If it wins, you keep the profits and place the original stake on the second horse
Part 2
You place half of the stakes on the second horse and keep the profits if you win

The remaining half of the stake is used on the first horse to win and if you are correct, you take all the money and the betting sequence ends
Best Horse Racing Welcome Bonuses
in 01 November 2023 – Updated List
Rank
Bookmaker
Bonus
Safe & Trusted
Rating
Get Started
How does the up and down bet work?
To better understand how up and down betting works, it is easier to give a detailed example.
By comparison, if you were to simply place two single bets of €5 on each horse at the same odds of 6.00, the maximum winnings would stand at €50. Since this is an if cash wager, also known as a any-to-come conditional bet, you need all predictions to be correct to maximize profits. The return on investment diminishes greatly if one or more selections is lost.
Popular versions of up and down bets
Once you understand what is an up and down bet, you can expand your horizons and tinker with different versions of these original wager. There are three main types that you should consider each with slightly different rules and different potential winnings.
1. Single stakes about
iThis is the kind of wager that instinctively appeals to those who prefer the single bets. This is the example given above, where you have two horses and split the stakes to bet identical amounts. After the first selection is cleared, you bet on the second and then move onto Part 2, while subtracting profits.
This is the recommended variety for those who have just learned how to place a bet online.
2. Double stakes about
This is pretty much the same but the difference resides in the fact that you reinvest some of the profits. Instead of maintaining the betting stake on the Horse 2, you place a double bet for a chance to win more if the second selection is correct.
You keep the same betting pattern for Part 2, to maximize winnings. This type of cross bet is not suitable to risk-averse punters but can deliver bigger winnings.
3. Round Robin bets
If you want to make money with sports betting and have a sizable bankroll, the Round Robin bet is one of the best up and down double bet options. It consists of 10 bets, divided into three doubles, just as many up-and-down single stakes about pairs and one treble bet.
The maximum profits can be spectacular, but the goal is to make a profit even if one selection loses. This bears many similarities to standard sports betting systems aimed at reducing the risks at the expense of a greater investment.
Are up and down bets profitable?
The up and down bet was invented to provide punters with a path to boost their winnings. Depending on the appetite for risk taking, players can choose these single or up and down double bets. The difference resides in how much of the profits made is reinvested, so there's a clear link between risk and reward.
If you are correct in your predictions, you can win more with an up and down bet than if you simply place distinct wagers. While it can be quite profitable, this conditional bet requires great intuition.
Pros and cons of up and down bets
PROS
Win twice as much from two stakes
Greater winnings in the long run
Rewards those who make the right predictions
CONS
You lose the whole stake if one selection fails
FAQ about up and down bets
The maximum profits depend on the amount you bet as well as the winning limits and the bookmaker.
You should seek bookmakers that offer competitive odds and have a broad selection of sports and markets.
This type of wagering can be profitable if you have solid bankroll management and research the sport.
An up-and-down bet involves two selections and two separate bets on both those selections, in each of which the second bet is conditional on the first one winning.
Maximize your winnings with up and down bets
As a beginner trying to navigate the stormy waters of sports betting you can stumble upon this unique type of wager. Once you understand what is an up and down bet and how to use it effectively, the road is wide open for bigger profits. If the goal isn't simply how to win at sports betting, but how to maximize your winnings, this high-risk, high-reward wager could be precisely what you are looking for.
Other articles you might enjoy: