Dead Heat Betting | The ultimate 2023 guide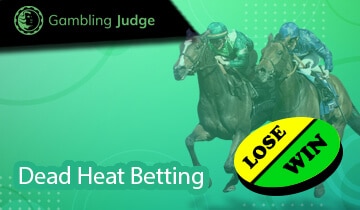 If you aren't serious about betting, dead heat betting might be a common term for you. For most gamblers, betting always ends in a win or a loss. How often in your gambling experiences have you ever come across a tie/a push? 
Well, maybe a few but you even didn't pay attention to it. A tie is the typical dead heat betting meaning. Ideally, dead heat betting in sports is an intricate type of tie that requires a closer look.
If you've never heard about this term or want to know more, this 2023 dead heat betting guide examines the meaning and how this betting works. So, find out more.
Best Bookmakers for Horse Racing Betting
in 29 September 2023 – Updated List
Rank
Bookmaker
Bonus
Horse Racing Offer
Rating
Get Started
What is dead heat betting?
Dead-heat is a type of tie occurring between two or more selections. Unlike regular ties, where a refund is always made, dead heat betting rules demand that payouts are made. When a dead heat occurs, bettors win part and lose part of the bet. 
Dead-heat is common in horse racing, cricket, car racing, and golf. However, dead heat in football might also occur.
What are dead heat rules in betting
Dead Heat rules and each way bets
Place and each-way betting complicate matters a lot. But dead hits are more common in each way bets, more so in sports where competitors can tie in more than a single place. In some cases, a dead heat has no impact on your bet; thus, you'll receive the full amount as per your stake but at a fraction of your odds. , each way calculators can give you payouts much faster.
How dead heat betting works
What is a dead heat calculator?
How to use dead heat betting calculator
How do dead heat payouts work?
If you aren't using the dead heat calculator to determine your payout, you may use the manual methods. This dead and heat betting guide shows you how: 
First, divide the stake equally among the winners of the events. In the case of two winners, i.e., two-way Dead Heat bettor's return is half what they could have won. Hence the name half-face value; also a bet for half the original stake.
The formula for two winning runners in dead heat horse racing or
dead heat dogs racing
: 
[(Stake / 2) x (Odds – 1)] – (Stake / 2) = Profit/Loss
In case of more than two runners:
[(Stake / No of tied runners) x (Odds – 1)] – [Stake x (No of tied runners – 1) / No of tied runners] = Profit/Loss
For place markets:
[(Stake x No of payouts / No of tied runners) x (Odds – 1)] – [Stake x (No of tied runners – No of payouts) / No of tied runners] =  Profit/Loss
Popular sports where dead heat betting might occur
Dead heat betting pros and cons
PROS
Offers flexibility in betting options
Applicable in different betting markets and sports
It offers players chances to hedge bets
CONS
It's guaranteed you'll receive a payout
Payouts are always smaller than the stake
Dead heat betting FAQ:
Dead heat betting is available for specific sports only, such as horse and dog racing, football, cricket, golf, and car racing. Even so, it's rare in most of these sports except golf.
Yes, dead heat rules are pretty similar across all sports. All bookmakers have adopted similar rules to ensure fair play.
Two or more competitors can hit a dead heat. The chances of three or more competitors having a dead heat are much lower, however.
Yes, you'll win part of your stake and lose part of it. Typically, the bookies divide your stake by the number of participants who tie.
The only exception to look out for is how bookies treat dead heat bets. So, gamblers need to look at the rules before placing bets.
Conclusion about dead heat betting
Dead heat betting means a tie on an outcome. Two or more participants in a competition may tie on different aspects resulting in dead heat betting situations. So, for any form of betting, dead heat may quickly occur, and payouts are usually a division of the stake by the number of participants who tie. 
With most bookies offering this option, a punter can get daily betting offers on these types of bets. However, bettors need to adhere to the dead heat betting rules.