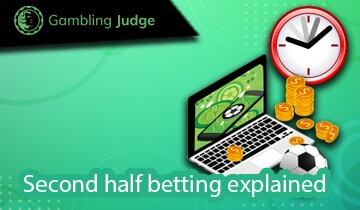 Second half betting is a widespread practice among bettors for two reasons: First, it is quite easy to apply, you don't need to be a veteran to understand how second half bets work.
Second, when done right, it offers higher winning chances than a standard outcome bet or a halftime fulltime bet, for example.
If you are new to this bet type and wonder how does 2nd half betting work, keep reading.
Best Bookmakers for Second Half Betting
in 14 September 2023 – Updated List
Rank
Bookmaker
Bonus
Safe & Trusted
Rating
Get Started
How is second half betting different from first half betting?
Like any new type of bet, the quickest way to get up to speed is to learn what betting terms mean. Second half betting is no different. If you want to win and have 2nd half bets explained to you, we are here to help. To win the second half bet, you simply need to predict which side will score the most goals (points) in the second half of a match.
Naturally, this can be applied to many types of sports betting options, from lower league to Premier League football, rugby, hockey, and even basketball, to a degree. In short, anything with periods that can be broken down into two halves can potentially be a second-half bet.
As you will be aware, there are both first and second half betting options open to you. With first-half betting, you are betting on which site effectively scores the most and "wins" the half. However, to win with second-half bets, the meaning is different.
Here, you do not have to predict the "winner" of the match. The 2nd half winner meaning purely rests on the side that scores the most goals in the second half alone. For instance, if you engage in football betting on the second half result, it does not matter what the score is at half-time. Only points or goals in the second half count.
That is at least a basic 2nd half result betting covered, basically. If you want to see a better example or learn how 2nd half betting with live stakes is explained, carry on reading…
Second half betting - How it works
So, what does the second half betting mean? The second half betting meaning is that you are placing a bet for an outcome that will happen in the second half of a football (known as the easiest sport to bet on) or basketball game. In theory, it can be used in any sports event with at least two half-rounds, but in practice, bookmakers offer 2nd half betting mostly for these two sports.
2nd half in betting is a variant of live betting, which means you get to watch the first half before placing a bet for the second. In other words, you get an idea about the flow of the sports match and can make better predictions about what will happen during the second half.
The most common second half soccer betting practice is to bet on the number of goals – which means betting on which team will score the most goals in the second half. Note that second half betting football is not the only option you have, you can place a bet on basketball matches in big leagues such as the NBA too.
And the goal/point numbers are not the only thing you can bet on: In theory, you can place a bet for any outcome that can happen during the second half, such as betting on the number of corner kicks (check our corner betting guide on "each team over 1 corner in each half" betting, as well as the corner betting tips), betting on penalties, betting on the free kicks, and more.
The most important things to know about 2nd half betting are:
The match starts at a 0-0 score, no matter what the outcome of the first half is. Any goals scored during the first half are not considered in the second half. This is the same for other types of bets like to win both halves or BTTS both halves.
You are betting on the outcome of the second half only, not the outcome of the match itself. If the team you favor scores more goals in the second half but loses the match, you still win. The same is true for a to win either half bet.
This is the simplest example to explain how does the second half betting work – for detailed examples, keep reading, and learn more about this type of bet and also from some similar situation like first half baseball betting.
Second half betting - An example
Second half betting strategies
You can engage in betting on second half parlays, but this is a lot trickier to predict, so we would recommend sticking to the three options above.
At the same time, it is worth considering the following strategies:
Only bet on what you know. Watching the match live is an advantage, as this will help you understand 2nd half betting with live odds, as you have seen how the first half panned out. For instance, a favourite may have odds that indicate that they are likely to score, but if you watched the first half and they failed to perform (they are dismal), you could be seeing misleading odds.
Be sure that if you see late goal insurance offers, use Football, in particular, is a sport where late goals are commonplace. You would not want your stake ruined over a late strike. These types of bonuses give you a lifeline.
Being an armchair analyst and pundit is advised. If a manager or coach makes a substitution, this can mix things up for the better. However, if you think you know better (and sometimes we do), you could see value in the odds that nobody else does. If it smells like an opportunity, it may just be one.
Think long term when betting on sports. Do not throw in all your cash on a single second-half bet. Sports betting is all about making a profit in the long term. Think about upcoming matches and other opportunities to score profit, rather than blowing your wad on a single second-half stake. By all means, have a crack at it, but be cautious.
Second half sports betting tips and basic tactics
There are lots of 2nd half betting strategies, and we have covered some of them above, but we believe these second-half betting tips are also useful, and they include:
Once a favorite, always a favorite: If a team is considered favorite before the beginning of a match but loses the first half, it can make a strong comeback during the second half. The NCAA statistics, for example, show that favorite teams almost always score more points during the second half. Since you are not interested in who wins the match (only the second half is important) betting on the favorite team even after it loses the first half is still a good idea.
Wait for fair odds: You should wait for the pre-match odds to become fairer before the second half starts. The general second-half betting strategy is to wait at least for a 0.80 points increase but it is up to you to decide which odds are fair. For example, if the pre-match odds are 1.50 but increase to 2.20 before the second half, they become more tempting.
Do your research and analyze the game: You should do your research about the team before the match starts and keep tracking the game during the first half. Being observant is the key here: If a star player is not performing well, this means he may get switched out for the second half. Knowing the strengths and weaknesses of each team will allow you to make more accurate predictions.
FAQs: Your questions about second half betting answered
Before you shoot off to start betting, take a quick look at our FAQ guide. We think you know the answer to any  "what does 2nd half winner mean?" and "how do second half bets work" questions, and you should know by now what football second half betting rules mean and entail. However, if you still have questions, we are here to help.
That depends. In conventional matches, injury time, added time or overtime is normally included in 2nd half football betting options. This is, after all, a part of the final score. However, extra time (found in knockout games) is not normally a part of soccer betting, nor any sports betting options with 2nd half stakes.
Straight betting is arguably the simplest way to go, but you can make good money with half spread, or half total bets, too. Some bookmakers allow you to request a bet, so that you can customise some aspects of your stake. Check our guide on how to place a bet online to learn more.
As detailed above, second half betting is a stake where sports bettors are wagering on who will score the most goals or points in the second half of a fixture, not the overall result of both halves.
The plus sign (+) is used in both spread betting and totals (over/under). It typically indicates which of the two teams is the underdog. Similarly, the plus sign can also mean that a team must score MORE than so many points.
Find the best bookmaker to start placing those second half bets
Use multiple bookmakers to compare second-half betting odds and pick the best one available. Like any other bet type, bookies offer different 2nd half betting odds, and choosing the fairest one will give you a certain advantage. If you are struggling with this, keep following our website.
We tell you which bookmakers are the best when it comes to odds. When done right, second-half betting can give you a significant advantage, especially if you are observant enough. Now, pick a bookmaker from among our suggested sites to start placing those second-half bets.
Other Tutorials and Strategies