Can You Bet on Both Teams to Win? | How to Bet on Both Teams to Win (2023)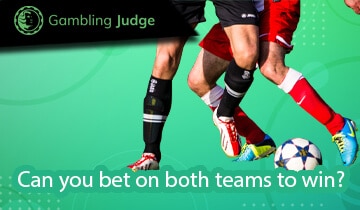 Can you bet on both teams to win in a footy match? Is this really the best way to go about profitable football betting? You have asked, and we are here to answer with our guide to sports betting on both teams to win.
If you want to know what happens if you bet on both teams to win, we will explain.
We will look at the two primary ways to go about doing this in our review, so if you are ready to begin, read on to learn more. Let us start…
Your guide to betting on both teams in 2023
As mentioned, you have asked, "can you place a bet on both teams to win in 2023?" and our guide will give you the answers you need to start betting on both teams. Matched betting is always popular with sports betting fans, but how to win big on football bets, that is the question. Firstly, you need to know the two main types of bets when it comes to wagering on both sides to be victorious.
Best Bookmakers for Sports Betting
in 01 November 2023 – Updated List
Rank
Bookmaker
Bonus
Safe & Trusted
Rating
Get Started
Can you bet on both teams to win? How can you turn a profit?
There are two ways of placing bets on both teams when betting on sports.
How to bet on both teams to win
If you are betting on both sides to win with a Double Chance bet, you need to cover one of the following selections to potentially make a profit. They include:
Option 1
A home team win and a draw
Option 2
A home team and away team win
Option 3
An away team win and a draw

How you decide to wager with a Double Result bet is down to you. However, you should always bet on favourites to get the best results. 
Placing arbitrage bets is trickier.
Step 1
First, you need to look for equal odds for all outcomes
Step 2
Use tools such as arb calculators to get an idea of where the money in the market is
Risky business - Avoiding draws and reading markets
Placing, for example, tennis arbitrage betting, is always a risky business, as it requires you to have a more in-depth knowledge of odds and sports than your average punter. Moreover, you are going to need to know how to read the exchanges to see where there is value. There may not always be money available on the selection you want.
Another potential risk involves draws. If you play a Double Chance bet and do not include a draw as one of your two covers, you could end up with nothing. Therefore, it may be advantageous to include draws, especially when two evenly matched teams are squaring off.
Top tips for betting on both teams to win
You are not going to have much luck trying to find betting on both teams to win strategy guides. There is not a one-size-fits-all betting on both teams to win system you can use. However, betting on both teams to win tips are possible, and can be used to make money betting on football.
👉 Bookmakers with statistics
are always a great place to start, as these can provide you with the knowledge and info you may need to place decent bets.
👉 On top of that, finding arbitrage-friendly bookmakers will help. These are few and far between, though.
👉 The advice we would recommend is that you ensure that you know everything about the game you are betting on, down to the minute details. This is what separates experienced bettors from amateurs.
👉 If you do engage in arbitrage betting, always use an arbing calculator to avoid mistakes.
The pros and cons of betting on both teams to win
As with any wager, there are pros and cons to betting on both sides, and these include:
PROS
You improve your chances of landing a profit
There are lots of selections and markets available
A great way of making money with football betting
CONS
Arbitrage betting is tricky to learn
Betting on both teams can be expensive
FAQs: Your questions on betting on both teams to win answered
Assuming you are not going to ask, "can we bet on both teams to win?" We have put together this FAQ guide with answers to common questions.
Yes, if you know what you are doing. Make sure that you pick the right bet for you and ensure that you have covered the "most likely" outcomes.
No. Arbitrage betting is usually frowned upon at bookmakers, so many do not offer you these options. However, Double Chance bets can usually be made at all bookmakers.
Yes. Online bookmakers in the UK offer the same types of bets you can find at other leading bookmakers worldwide.
If you are engaging in arbitrage betting, you are going to need two sites to get the job done, so there is not one particular "bet on both teams" options at bookmakers. However, Double Chance betting is an option at leading online bookies.
Place bets on both teams to win at leading bookies today