Closing Odds – Guide to Beating the Closing Odds [2023]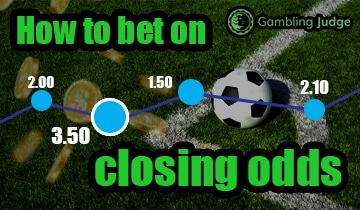 Online sports betting is serious business and if you hope to make money with sports betting, you need to treat it accordingly.
This means that serious punters won't take any breaks and will use every advantage at their disposal to offset the house edge.
Juggling with opening and closing odds is just one of the many challenges that one needs to handle to thrive in this competitive environment.
In our guide, we will teach you how to read closing odds and how to use probability and statistics to tap into their immense potential.
Best bookmakers to bet on closing odds
in 28 September 2023 – Updated List
Rank
Bookmaker
Bonus
Safe & Trusted
Rating
Get Started
How to bet on closing odds in 2023
How do closing odds work?
We strongly believe that an example will help you better understand the system than simply explaining the closing odds meaning. Just like the closing odds definition states, these are the final odds that you get just before the game begins. We use football as an example because this is the easiest sport to bet on, but this is a universal example that also works with NBA closing odds, NFL closing odds and MLB closing odds, so you can apply it to any sport to increase potential winnings.
Assume PSG plays against Marseille in the French first division, and a betting exchange such as Betfair publishes the early odds. PSG would get 1.50, a draw would be priced at 4.50 and an away victory will probably get something around 5.50. What usually happens is that casual punters bet on the favorites, so bookmakers will adjust the odds accordingly. The odds on PSG will drop maybe as low as 1.40, the draw would remain more or less the same, but the Betfair closing odds on Marseille to win would rise to 6.00.
Once you understand how closing soccer odds work, you can use this information in your advantage and make profits from evs betting. Since you can anticipate and accept all odds movement you can use these variations in your advantage to maximize profits. If you want to bet on the favorite, you should place your bets early, but if you prefer underdog betting, you should wait until the game starts. You are basically playing with the low odds vs high odds and through analysis, determine their movements to win more.
Bet on closing odds – Step by Step
Why should you pay attention to closing odds?
Bookmakers will always give themselves an advantage by working with the odds and there's nothing you can do about the basic house edge. In order to come up with a profitable football betting system, you need to learn how to take advantage of the things that bookies can't control.
Odds movements are the result of players betting on one team or the other and if you are patient enough, you will learn how the system works. The beauty of closing odds is that they give you the chance to maximize potential profits for mainstream point spread betting and money line betting as well as special markets.
Tips and tricks for beating closing odds
As soon as you learn
how to place a bet online
, you should try to master the art of using closing odds in your advantage. These are a few things to consider to succeed where others fail and win as much as possible from each match without taking additional risks.
Bet on the favorites early and late on underdogs – this is the most valuable tip for beating closing odds and it applies to all the sports out there. Learn how to bet on basketball, football, tennis and other sports then simply bet on the favorites as soon as the opening odds are up. It is usually the underdogs that get the bigger closing odds, but there can be exceptions, so chase odds movements every step of the way.
Follow the most popular teams – the widest odds movements and fluctuations are almost always affecting the best teams in the world. Casual punters will always prefer to bet on the biggest names and this applies to football, tennis, basketball and other sports. That's why the variations are the widest here.
Open multiple sports accounts – bookmakers have different betting terms and conditions but they will all adjust their funds based on how punters wager. If you want to make the most of the closing odds strategy, open accounts with several operators, so you always cash in on the biggest odds in the market.
Efficient market theory in sports betting
Sports betting isn't an exact science, but there is an economical theory and also tends to apply to online sports betting. The efficient market theory states that in the long run, the actual prices will reflect the real worth of an underlying asset. When it comes to sports, the theory claims that the closing odds are the ones that better reflect the difference between the teams involved.
This theory is only partially true because what actually happens is that the closing odds reflect the market sentiment. Basically, they are the reflection of how people feel about a certain team or athlete and how much they chose them to prevail. While you can't affect the odds movements, you can take advantage of these changes to bet on the highest odds available.
Opening odds vs. Closing odds
Pros and Cons of betting on closing odds
PROS
You maximize profits by betting on top odds
Get a better sense of how punters are betting
Have more time to gather information about the game
CONS
You can miss out on better opportunities if the odds drop
Frequently Asked Questions about closing odds:
If you choose the right match and markets you can bet on closing odds that are superior to opening odds. The market changes often and the opening and closing odds are almost never identical.
Research a lot, read reviews about the teams you plan on betting on and previews for upcoming matches. Bet accordingly and use bankroll management to render the role played by luck virtually irrelevant.
You can use free online tools to track opening and closing odds to maximize the return on investment. They are useful, but not a substitute for the hands-on research, so take the time to compare the odds.
The biggest risk is to miss out on opening odds that are actually higher than closing odds because you misinterpret the information available. When this happens, it is better to simply avoid the bet altogether.
Be patient and use closing odds to your advantage
Closing odds are not a silver against the house edge, but they can give you an advantage by maximizing your profits. The rule of thumb states that the closing odds on favorites will be lower than the opening odds (which already were low odds) since players bet heavily on them.
There are, of course, exceptions to the rule, so research the market and track the odds every step of the way to make an educated decision and win as much as possible.
Other related articles you might like: