Draw no Bet Accumulators Explained | Ultimate Guide (2021)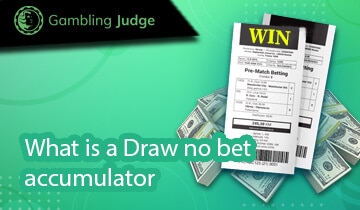 Football betting is an exciting affair for punters who seek nonstop action for 90 minutes. The downside is that there are three possible outcomes and the threat of a draw is always looming.
Double chance wagers reduce the risks, but also the odds, so draw no bet accumulators can be an answer. They are based on a very popular type of market that returns the stakes if the matches ended undecided.
In this guide for 2021, we review the draw no bet accumulator rules to help you make the most of it at football betting sites UK.
Draw no bet accumulators – The updated guide for 2021
The draw no bet markets mitigate the risks of a draw without crippling the odds. Draw no bet accumulators are even better because they open the possibility to punt multiple events without worrying about an undecided game.
Such betting slips work similarly to traditional accumulator bets, while incorporating the DNB mechanic. In our up-to-date guide, we give you draw no bet accumulator tips that can be incorporated in sports betting systems to help you make money betting on football.
🥇 Best betting sites to place draw no bet accumulators in 2021
Rank
Bookmaker
Bonus
Safe & Trusted
Rating
Get Started
What is the draw no bet market?
In order to properly explain what is draw no bet accumulator, we need to look at the two key components.
Betting accumulators

are complex betting slips that include more than one selection and have the odds multiplied. They offer the

best odds margins

but require players to correctly predict the outcome of all the games.

The draw no bet market is a type of wager that will void the bet if the match ends undecided. Essentially, you will have the stakes returned if you bet on any of the teams and the match is drawn. This is a big advantage when betting on the favourites, as it reduces the risks of losing accumulator bets.
How do draw no bet accumulators work?
Before we can craft an effective draw no bet accumulator strategy, we must get a thorough understanding of DNB accumulators.
Using draw no bet accumulators – Step by Step
Step 1
Find sports with three possible outcomes, draws included
Step 2
Pick the winning team with the draw no bet safety net
Step 3
Add the bet to the accumulator and repeat the process
Step 4
When you have sufficient selections enter the stakes
Step 5
Wait for the matches to conclude and claim the profits
Draw no bet accumulator example
Can you use a draw no bet in an accumulator is a question better explained through examples. Let's check this one out to get a better sense of how to win football accumulators involving DNB events. Let's assume you want to bet on three derbies on the same day and have all selections on the same betting slip. You choose:
AC Milan vs Juventus

Manchester United vs Liverpool

Real Madrid vs Barcelona.
What are mixed draw no bet accumulators?
Once you get a thorough understanding of what does draw no bet mean in accumulator, we can move on to more complex systems.
When you place the bet you get the potential profits which represent the existing odds multiplied. This is a perfect example to understand what happens with a draw no bet in an accumulator.
Let's assume the combined odds for your betting slip are 15 and the DNB selection has odds of 1.50. If that match ends undecided, the odds will automatically be reduced to 1.00, so you are paid at total odds of 10.00. These are easy to calculate, but beginners can use a draw no bet accumulator calculator to simplify the process.
Are draw no bet accumulators worth it?
Draw no bet accumulators are quite popular among veterans and amateur punters. They are regarded as a superior alternative to double chance betting because they offer higher odds on favorites and underdogs. Some bookmakers have even created their own special markets, such as the Betfred goals galore no draw offer. Its greatest merit isn't to figure out how to win big on football bets, but how to mitigate the risks.
Imagine losing an entire combination of bets, just because one leg of the accumulator ended in a draw. DNB accumulators will offset this risk, which increases the rate of winning. For football fans, it is the equivalent of each way betting on horse races and it is just as popular.
Pros and cons of draw no bet accumulators
PROS
Reduce the risk of losing on a draw
You can combine multiple selections
Better odds than double chance wagers
CONS
Lower odds when betting on both favorites and underdogs
Draw no bet accumulators FAQ
If you bet at a legitimate bookmaker, licensed and regulated you have nothing to worry about. You can learn more about how do bookies set odds to understand the mechanics behind DNB accumulators.
Only the game that ends in a draw will get odds of 1.00, so the accumulator itself isn't voided. You can accept all odds movement when placing the bet and still be paid if one match results in a draw.
This depends exclusively on your appetite for risk taking. It's the same as if you lay the draw or bet on any other types of markets. The more selections, the better potential payouts, but the risks also grow.
Keep the risks low with draw no bet accumulators
Punters love accumulators and for good reasons. They enable them to maximize the return on investment when having multiple betting ideas. They are perfect for football, although the risk of one game ending undecided and compromising everything is always looming. If you don't know how to bet on draws or don't like this type of wagering, do the exact opposite. Harness the power of draw no bet accumulators and get paid even if teams split points in one game, thanks to this amazing safety net.
Other articles you might enjoy: