Parlay Insurance Meaning and Importance: The Ultimate Guide 2023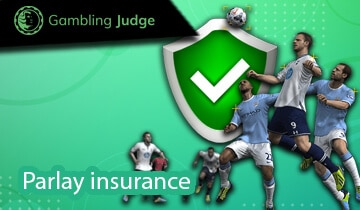 Parlay insurance ensures that you do not lose your entire stake if you lose a single bet in your parlay wager. This is a way that sportsbooks use to entice and retain bettors. Parlay betting is undoubtedly lucrative. Bettors combine several bets into one bet, which results in higher odds, hence better returns if all hits are successful.
The only risk with this bet is that all the hits must be successful in winning. But with parlay insurance, you will not lose your stake even if all bets are not successful. Let's learn how to use parlay in insurance claims.
Top 10 bookmakers with parlay insurance
Rank
Bookmaker
Bonus
Safe & Trusted
Rating
Get Started
What is a Parlay? Is more like a system
A parlay is a single bet combining multiple wagers. This bet has different names in different parts of the world – you may call it "multis" or "betting accumulators". Every single bet within a parlay is called a leg, and for a parlay to win, each leg must be successful. 
What is parlay insurance? We are getting closer
 Before using this insurance, here are some questions to ask yourself:
Since parlays are risky, this insurance offers a partial refund if you lose a parlay by a single leg. This may vary with bookies, but generally, the insurance pays up to $25 for a lost parlay. 
⚖️ Terms and conditions for a parlay insurance
Parlay insurance rules are not similar across all sportsbooks. Therefore, you must read the fine prints to know what you must adhere to use this insurance effectively. However, here is how to win sports betting parlays:
The insurance on parlays is usually awarded via targeted promotions. Always select the

best betting bonuses.  

Some bookies offer event insurance, which covers only some selections. Usually, the number of events eligible for event insurance is displayed on the award. For instance, if a bookie offers a four-event parlay and two events are settled as a loss, the initial bet is paid as a free bet. 

In the case of full parlay insurance, all selections are covered, and the refund can be a free bet or MoneyBack and Cashback offers. 

Minimum odds – you require a particular number of minimum odds to use parlay insurance. Usually, +100 unless otherwise. However, the maximum odds payout us +300.

Free bets cannot be combined with other bonuses and promotions.

Free bets or Cashback can be used on parlays, straight wagers, and teasers. 

The maximum Free Bet amount is $25.

You cannot partially a parlay insurance bet.

A sportsbook reserves the right to cancel or modify parlay insurance any time without prior notification.
Top 4 major types of parlay insurance with examples
Parlay insurance comes with various variations. This caters to the needs of different bettors who may want to preserve some money on their bets. The common variations are: 
What is one game parlay insurance?
This insurance is your protection against unpredictable results such as early game injuries, dud performances, and buzzer-beaters. It protects you with particular terms and conditions for a specific predetermined amount.
But a multi-sport parlay insurance?
The multi-sport parlay is specific to particular sportsbooks. Precisely, with multi-sport parlay insurance, you must place 4+ legs in any sports and get up to $25 back if you hit all legs except 1. However, each leg in that parlay must have bets greater than or equal to -200.
Other types of bets recommended by GJ:
Tips and tricks about parlay insurance: bet like a pro 😎
Here are essential strategies, tips, and tricks to keep in mind:
More picks mean fewer chances – a parlay becomes harder when you choose several picks. While many picks mean more odds and a vast potential payout, chances of landing a win become slimmer. So, start small.
Read and understand the terms sounding the parlay bet insurance to avoid last-minute surprises.
Each specific parlay insurance bet has requirements, which vary from one bookie to another. Study these requirements before choosing any one of them.
Build a parlay using bets that you are familiar with – totals, teasers, money line betting, etc. However, avoid point spread if you are a novice.
Place parlays on sports that you are knowledgeable about as they are harder – bet with your head.
Find the best odds, especially picks that look to have good value overpriced odds.
Introduce the element of skill-making picks. This allows you to predict players, teams, and other factors with knowledge. For instance, when betting on football, get tips on how to win football accumulators.
Include multiple sports in your parlay.
Use statistics from the parlay app; you'll know the parlay of the day.
PROS and CONS about parlay insurance
PROS
Risk-free betting
With many variations, you can choose a variant cognisant to your skills
It is not an expensive bet - a maximum of $25 is enough
You can get a refund as either cash back or free bets
CONS
Strict terms and conditions
Since it is a promotion, it is only found on a few sportsbooks and within a limited time frame
FAQ about parlay insurance
Many operators offer parlay insurance bets. However, the standout options are Draftkings, Fanduel, Pointsbet, Caesars, and BetMGM.
Absolutely! If all of your selections within parlay bet insurance except one goes through, you are eligible for a refund which can be cashback or free bet. If all legs are successful, you will get real money.
Yes. It minimizes the risk of losing the entire wager. However, it is worth noting that the ROI is similar to that of single-game bets in most cases. A five-leg or less accumulator insurance bet is worth it if you are betting for fun.
The parlay insurance itself is a promotion offered by sportsbooks. However, the conditions could differ—for instance, types of variables available, maximum possible value, turnover requirements, and limit.
This bet involves placing a 4+ leg parlay from bets on the same game per day.
Yes. Different betting sites offer mobile apps, making it possible to place these kinds of bets. However, the mobile apps must be highly responsive and have a stellar layout.
This is the profit you make on a parlay bet without insurance on that specific bet.
Bet insurance: Minimizing the risk of loses
The value of having an insurance policy is indisputable in betting, as it can make the difference between winning and losing. With insurance on a parlay, you can look for the best bore draw promotions, and accept all odds movement, if it suits your play.
Furthermore, you can get ACCA insurance free bets, cash refunds, or other promotions and bonuses such as reload offer UK offers. Or you can access edit my ACCA for more varies for a better sportsbook experience. Thus, before claiming it, check the terms of use
Payment methods recommended for parlay insurance: