What Does Bar Mean in Betting? | Bar Price Explained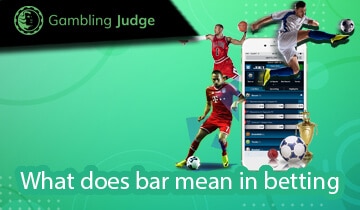 Online bookmakers have diversified their betting markets and offer more wagering opportunities than traditional betting shops.
When you bet online, you are more likely to encounter betting terms that you are unfamiliar with.
In this guide, we explain what does bar mean in betting and how can be used on football and UK horse racing betting.
What does bar mean in sports betting?
Best Sports Betting Sites
in 29 September 2023 – Updated List
Rank
Bookmaker
Bonus
Safe & Trusted
Rating
Get Started
What sports have bar betting options?
Now that you know what does bar mean in horse racing, it is time to check out what other sports offer this type of bet.
It is offered by bookmakers when betting on outsiders in tennis, football and golf events that have many participants.

Sports books will shorthand the favourite teams and competitors and list them individually while grouping underdogs in a bar.

Punters who prefer

each-way betting

focus on favorites will be more concerned about the

horse racing nap

and care less about the horses in the betting bar.
Example of bar price in sports betting
The best way to understand what does bar stand for in betting, it pays off to give an example. For this purpose we take football to have the bar betting term explained, even though it is more often used for football. Let's assume you are interested in Champions League betting and at the beginning of the season you want to place a forecast bet on the  winner.
How can I get the odds of underdogs placed beyond the bar price?
Now that you know what does bar mean in betting odds, a new question arises. How can you get the odds on a team or horse that is not listed, assuming you want to bet on that underdog.
Bookmakers offer odds on request, so if you want to bet on someone that is not listed you need to contact customer support and request a bet. They will promptly provide you with the odds, so you can pursue your betting goal.
FAQs: Your questions on Bar bets answered
Those who know what does bar means in horse racing are also aware of the fact that such odds are more frequent online. The good news is that it is also easier to request a bet on any contender at online bookies.
Once you learn what does bar stands for in horse racing you can use this knowledge to bet on other sports. That's because the bar price is suitable for any major tournament with a high number of contenders.
Learning what is a bar in betting will allow you to understand what I stand for regardless of sports. 20/1 bar signifies the fact that you will be paid 20 times the stakes if any of the underdogs in the bar pool wins.
Yes, most bookmakers allow bar betting.
Set the bar higher with a special type of bet
When you bet online you provide yourself with more options and can tap into the potential of major tournaments. Whether you choose to bet on horse and greyhound races, football, tennis, golf or other large-scale events you should know what does bar mean in betting. It allows you to bet on any of the underdogs and win regardless of which causes the upset. The odds are still surprisingly high, so you set yourself up for success while mitigating the risks.