Dutching | Extensive Guide to Dutch Betting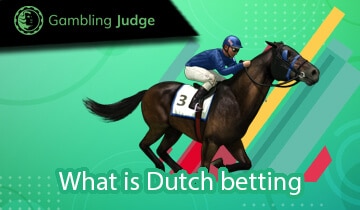 If you want to start making money with sports betting, you need to learn a lot of terms, and "dutching" is one of them. It is also one of the "weird" terms – what is dutching and what does it really mean? Well, this is your lucky day: We prepared this dutching explained guide to teach you this advanced betting technique.
When used right, you can guarantee a payout with dutch betting no matter what the outcome is. We will start by explaining what is dutching betting, give lots of examples to show you the dutching formula, share some tips & strategies, and finally give you a list of the arbitrage friendly bookmakers so you can start using this technique right away. When you finish reading our dutching guide, you will learn everything you need to know.
Best Bookmakers for Dutch Betting
in 18 September 2023 – Updated List
Rank
Bookmaker
Bonus
Horse Racing Offer
Rating
Get Started
What is dutching in betting?
Nowadays, however, dutch betting is used for all kinds of sports and includes lay bets too: It almost means the same thing as matched betting. There are even dutching strategies football out there and it became very easy to calculate the implied probability thanks to dutch betting calculators.
Today, dutch betting means placing multiple bets to cover all outcomes and securing a payout no matter what the actual outcome is. Check the examples below: After reading them, you will have a better understanding of what this term means.
How to find dutching bets?
Now you have a basic understanding of what is dutching: Let's give some actual examples so you can find out what it really is. Doing so will also teach you how to find dutching opportunities. Based on the odds and betting types, we can divide dutch betting into four main categories. You can see them below – we also explain how to calculate them (even without using a dutching tool).
1. Each way dutching
This is the simplest example and the most common use of this technique – it is also known as dutching matched betting. You find two bookmakers that give the same odds for two different outcomes and place the same amount of bet on each. Let's use a dutching football example:
2. Unequal dutching
In the example above, the odds and the stakes were exactly the same. While that example tells you how dutch betting works, these values won't be that "equal" in real life. However, you can still guarantee a profit by calculating payouts even the odds and stakes are different. Here is an example based on another football dutching system:
3. Fixed-bankroll dutching
In this scenario, you have a fixed bankroll and you cannot simply divide it by two: You need to stake much different values at each bookmaker to secure a profit. Simply put, the bookmaker with the lower odds gets more than half of your bankroll. Here is an example that will also show you what an ideal dutching staking plan looks like: 
4. Fixed-profit dutching
And in this scenario, you are targeting a specific profit amount, so you need to look for the right odds. Let's say you want to make a net profit of 30 EUR. This time, we will use a greyhound dutching system for the example and bet on three different outcomes (note that the same example works for UK horse racing betting too). This technique is also known as dutching first three favourites.
5. Reverse dutching
If you noticed, all of the dutching examples above are based on betting two or more teams/horses/dogs. However, you can use a single team for dutch betting too by using back and lay bets together – this is called dutching and laying.
Moreover, if you use a betting exchange, you don't have to look for multiple bookmakers: You can place both bets at the same place. To explain this topic, we will use Betfair as an example, but all betting exchanges will do – check our best sports betting exchanges article for more suggestions. 
So, what is dutching on Betfair? Well, a betting exchange is a place where members (bettors) can create their own odds and sell them. A member can create a back bet, another a lay bet, and you can "purchase" both of them at the same time – this is called double dutching. Let's give an example to dutching Betfair so you can understand what it really means: 
Dutch betting system with an example
Above, we talked about calculating implied probability values using a formula: Now, it is time to talk about it. Our goal is to find whether the implied probability is below or above 100: If it is below, there is a dutching opportunity. If it is not, there is no opportunity – simple as that. So what is that formula that will help you to find this result?
The formula is: 1 / (Bookmaker A odds) + 1 / (Bookmaker B odds)
Let's say Bookmaker A offers 2.1 odds for the outcome of "Bayern Munich wins".
Bookmaker B, on the other hand, offers 1.8 odds for the outcome of "Liverpool wins".
1 / 2.1 + 1 / 1.8 = 0.476 + 0.556
0.476 + 0.556 = 1.032
The result is over 100: There is no opportunity here
But what if we find another bookmaker that offers 1.95 odds for the outcome of "Liverpool wins"?
1 / 2.1 + 1 / 1.95 = 0.476 + 0.513
0.476 + 0.513 = 0.989
Now the result is under 100: This is a dutching opportunity.
We highly recommend reading our how to beat the bookies guide for more info about implied probability. This formula will show you how dutch betting works but we mentioned that this technique can cover multiple outcomes, right?
So let's give another example using a horse racing dutching system, which will also work for dutching greyhounds and/or greyhound betting. Dutching horses for a living is perfectly possible and you don't even need to use a dutching calculator to find opportunities. Check the table below:
1
Implied Probability
0.5 (1 / 1 + 1)
Bookmaker pays
100 EUR + bet price
2
Implied Probability
0.25 (1 / 3 + 1)
Bookmaker pays
150 EUR + bet price
3
Implied Probability
0.20 (1 / 4 + 1)
Bookmaker pays
160 EUR + bet price
4
Implied Probability
0.10 (1 / 9 + 1)
Bookmaker pays
180 EUR + bet price
Now, this table tells us: 
The total of the implied probability values is 1.05 (over 100)

We are betting 210 EUR in total 

No matter which horse wins, the bookmaker always pays 200 EUR in total
Simply put, there is no dutching opportunity here: The bookmaker beats us by 10 EUR. You can add more horses to this table – you can even add a dozen ones. As long as the implied probability total is less than 100, you can guarantee a profit no matter which horse wins the race. But if it is over 100, the bookmaker has the advantage.
Dutching vs Arbing: What is the difference?
Dutching for a living: tips and tricks
While there is no single best dutching system, we can give you some dutching tips and tricks to increase your chances. Our first three tips are basic and understandable:
👉 Pick a sport and stick to it. If you are interested in horse racing, stick with it: Don't look for dutching opportunities in multiple sports at the same time. In general, football, horse racing, and greyhound racing are the best sports for this technique. 
👉 Use dutching software to make calculations. Using a lay dutching calculator, for example, will make the whole job much easier and prevent you from making mistakes. The software and calculators are freely available on the internet. 
👉 The lower the number of outcomes, the better the dutching results. It is, of course, possible to cover multiple outcomes as we stated above, but as this number increases, the calculations become more complex and the budget you need to allocate becomes bigger. Therefore, try to keep the number of outcomes as low as possible.
Let's also share some of the best dutching strategies for specific sports too. 
Dutching strategies for football
Try to keep it simple: Dutching on the winner of a match is the best bet you can place (check each way dutching example above). Dutching correct score is also a good option. You can try similar bets too, such as over/under dutching or BTTS (Both teams to score) dutching.
Dutching greyhound or horse racing
Likewise, try to bet on fewer horses. In general, dutching first three favourites will be your best option, and do not bet on more than four horses. You can also use the features of bookmakers to your advantage, such as the "best odds guaranteed" feature.
Are dutching bets really profitable?
The good news is yes, when done right (as explained above), dutch betting will let you secure a profit no matter what. The bad news is; this won't be a big profit: You cannot become a "millionaire" with dutching. This technique is used by professional bettors for getting a low but constant income – you are not interested in the performance of the teams; you are betting on the math. In short, yes, there is a guaranteed profit in dutching, but it is not a big profit.
What to really expect from dutch betting: Pros & Cons
PROS
You can make a profit no matter what
You can make a living with it
You can cover more outcomes
CONS
The profit margins are not too high
Calculations may be complex for beginners
FAQ about dutch betting & dutching strategies
Dutching is the name of an advanced betting technique where you place a bet for more than one selection in a race or an event, so you can guarantee a payout.
Just like arbitrage/matched betting, traditional bookmakers don't like dutch betting and they can ban your account for doing so. Betting exchanges, however, do not have such restrictions.
Yes, dutch betting is perfectly legal. However, as mentioned above, it may be against the terms and conditions of use of the bookmaker.
When done right, dutching is risk-free: You can make a profit no matter what the actual outcome is. However, bookmakers also know this technique and they check their implied probability values too. So there are not too many dutching opportunities out there.
In a way, yes, both techniques focus on securing a payout regardless of the actual outcome. Dutching is a special version of arbing that focuses especially on horse racing & multiple outcomes.
Yes, because they do not restrict the use of dutch betting techniques – you don't have to use multiple bookmakers for your bets.
Place your dutching bet and secure your profit today
You learned what is dutching and how it works, so it is time to start using it. Check our compare bookmakers tool to find a bookie that allows dutching and place your first bet today. Dutch betting offers lots of advantages and you don't have to worry about the result of the game anymore: You can make a profit no matter who wins or loses! As always, we wish you good luck: See you out there!
Other articles you might enjoy: