Fibonacci Betting | Understanding the Fibonacci Betting System in Sports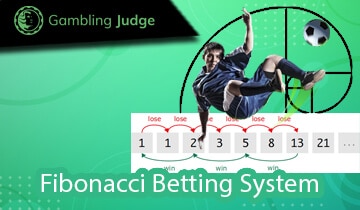 What is the Fibonacci betting system?
Best Online Bookmakers
in 01 November 2023 – Updated List
Rank
Bookmaker
Bonus
Safe & Trusted
Rating
Get Started
The Fibonacci betting sequence explained
As might be expected, gamblers and bettors are also interested in Fibonacci numbers for the same reason. A formula used even on Wall Street works well for sports betting too, right? There are two betting systems that use these numbers, and they both set the wager amounts according to certain rules.
How does Fibonacci sequence betting work?
Betting Fibonacci is actually a simple technique: You don't need to learn advanced sports betting math. In fact, it is probably one of the simplest sports betting systems out there. There are two types of Fibonacci betting and while both are based on the same sequence, they work quite differently.
1. Fibonacci positive betting progression
This one is quite simple and only asks you to increase the bet value according to the original sequence after every time you lose. In this regard, it is very similar to the Martingale system, but instead of doubling the wager, you increase it by using the Fibonacci sequence.
2. Fibonacci negative betting progression
This one is also known as the reverse Fibonacci betting. You don't simply increase the bet after every loss. Instead, you sometimes increase or decrease the wager according to certain rules.
So the Fibonacci betting formula is different from the original sequence: It is based on the numbers in this sequence but uses them differently. In any case, to use the Fibonacci sports betting system, you just need to know the numbers in the sequence: You don't need to "understand" it.
How to use the Fibonacci system in sports betting?
Let's give an actual example so you can understand how the Fibonacci sports betting system works. We will use soccer betting in this example, as it is a very common sport and Fibonacci football betting is quite popular. However, since this is not a guide for how to bet on football, we will keep things brief: If you are a beginner, make sure to check our profitable football betting and football betting strategies articles to learn more.
We will keep things simple: This Fibonacci betting system football will be based on 12 games. More importantly, this will be a negative Fibonacci betting system, as the positive one is very easy and needs no example to understand.
As you can see, with the exception of the first bet, we erased the numbers of the last two wagers when we won and increased the wager every time we lost, according to the Fibonacci sequence. In total:
We wagered 68 EUR

We won 105 EUR
Of course, things won't be simple all the time: Even in a simple Fibonacci betting football sequence, there will be different odds and more losses (or wins). In any case, however, you will be able to make a profit in the long run, as long as you play with a big enough bankroll – we will explain what this means below.
What to really expect from the Fibonacci sequence in sports betting system
Simple tips to boost the betting system Fibonacci
👉 You can use Fibonacci betting at betting exchanges too. Doing so will allow you to get higher odds and use additional strategies to actually increase your winning chances, such as dutching and/or matched betting. Check our
Betfair trading strategies
article for more info.  
👉 Always use bonuses or risk free bet offers for your first bet in the sequence: You can place it completely for free and even without making a deposit. Check our no minimum deposit betting article for more info. 
👉 Keep your stakes low: Do not pass 377 in the sequence if you keep losing. Control yourself, limit your actions, and make sure to play at low stakes betting sites. Start with low units (i.e. 1 EUR) so you can control the flow and not take unnecessary risks. 
👉 Never use the positive progressive Fibonacci betting system: It increases the wager amounts too fast. Negative progressive Fibonacci betting should be the only system you use.
FAQ: Your questions on the Fibonacci sports betting system answered
Yes, but as long as you have a big enough budget to cover all your losses until you start winning. It is true that sooner or later your bet will win, but you should be able to last until that happens.
Fibonacci betting is based on the idea of increasing/decreasing your bets according to a specific sequence. The bet type (bet on draws or any other) makes no difference because it doesn't increase your actual chances. However, in order to increase your odds, it would be best to pick bets with fewer outcomes, such as "who will win the match".
Not specifically, but even money bets will be much easier to track & calculate. Once again, Fibonacci betting is a money management system and not related to winning chances: Bet types do not matter.
You should definitely stick with the negative progressing Fibonacci betting system: The positive version will increase the total stake very quickly and too high – you may go bankrupt before you win anything.
Unless you are very lucky to win with your first bets, yes, Fibonacci betting works much better in the long run. And as long as you can last until the end of that run, you can make a profit.
Use a Fibonacci betting strategy at the best bookmakers
This is the end of our guide to Fibonacci betting: You have learned how this system works and what to expect from it. You can now start using it by picking one of our recommended bookies: Start with our list of the new bookmakers. We also recommend checking our guides for how to win at sports betting and value football betting, as this is the easiest sport to bet on and offers lots of opportunities for the Fibonacci betting system. Good luck!
Other articles you might enjoy: