Sports Betting Math – How To Win Money at Sports Betting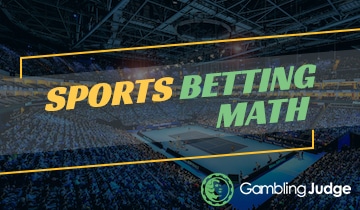 Sports betting is a popular pastime that people from all backgrounds enjoy casually at land-based operators and over the Internet.
It's easy to have fun betting on the favorite team and the occasional derby, but savvy and professional punters know that this is not the way of making a profit.
In the long run, the only way to come on top and beat the proverbial house edge is to use sports betting system math to your advantage.
Don't let the term have a deterring effect on you, because as you will see from the paragraphs below, only basic use of mathematics is needed to thrive in this line of work.
Best Online Bookmakers
in 01 November 2023 – Updated List
Rank
Bookmaker
Bonus
Safe & Trusted
Rating
Get Started
Why Should I Learn Sports Betting Math?
At the first glance, betting on sports is a straightforward activity, as punters are simply tasked with choosing the winning team or athlete. A keen eye for details and strong knowledge about the sports seems to be enough to prevail, but sadly this is not the case. The reason why bookmakers are still going strong is that they use sports betting math to their advantage and count on punters to rely on luck and intuition.
If you want to know how to beat the bookies, you need to start by grasping how sports betting math works and how it can serve you. In the early stages, it is enough to understand the probability of an outcome and to find value in the odds offered by bookmakers. Later on, punters can start using sports betting mathematical formulas to craft complex strategies. The good news is that the learning curve is pretty smooth and you can become a winner in sports betting without being a math genius. You can also improve your winnings with our guide on buying points sports betting.
How Do Bookies Make a Profit?
Bookmakers have been around for a long time and they are here to stay, mainly because the house edge is always working in their favor. Anyone who considers doing sports gambling for profit should learn how the sportsbooks make a profit by exploring the odds. Essentially, the sports books only pay back a percentage of the money collected, so regardless of outcome, they make a profit. Depending on the quality of the sports book these returns can be greater or lower, but they generally revolve around 90%.
To put things into perspective, the bookmaker will offer odds of 9/10 or 1.90 for coin flip events. This means that if half of the punters bet on one athlete and the other half on his opponent, the sports book will still win 10% regardless of outcome. Betting exchanges and the best sports books offer significantly higher odds, which can go as high or even exceed 1.95. The betting chances to win are the same, but in the long run, these discrepancies in odds make the difference between a successful and the losing player.
What Sports Betting Math Do Bookies Use?
Bookmakers use math for sports betting lines and their own algorithms and systems to correctly set the odds for upcoming events. They have large departments and teams of experts who use software and advanced sports gambling math to set the odds. Sharp bookmakers are the ones that lead the pack, as they set the odds first and then the rest of the sports books pick them up and adjust them to their portfolios. But for more information read our article about: What is sharp betting?
There are plenty of advanced calculations in play and sports betting formulas that bookies use and which are beyond the reach of regular players. This explains why it is so difficult to constantly find value in the odds, especially if you lack the necessary experience as a punter. The good news is that there are a couple of advantages that players have today, when they can shop around for top odds at several bookmakers.
They can also take advantage of the trends and try betting against the public, to capitalize on surging odds.
Sports Betting Math Improves Your Record
The time spent trying to learn and master sports betting math will improve your track record in the long run. There are essentially two ways to beat the house and both of them require a thorough understanding of the odds and the manner in which they are set. The obvious way of increasing the profits is by making correct predictions more often, hence boost the winning probability.
The use of statistics in sports betting will help players determine which team is a favorite and which team is an underdog even without seeing the odds. This knowledge is used to determine if the value offered by the sports betting odds reflect the difference between the teams or athletes involved. The goal is to always choose the odds that exceed the risk and this is where math for sports betting lines comes into play.
Statistics and Math go Hand in Hand
Sports betting is all about numbers, but having access to these figures doesn't mean much if you don't know how to interpret them. Professional sports bettors rely heavily on statistics to determine a team's quality, form and ability to compete against a certain opponent. They use these numbers to come up with a complex sports betting strategy that can help them increase the winning rate. In conjunction with their constant pursuit of finding top odds, savvy punters use the math of doubling down on sports betting.
Access to information is essential in online gambling, but the inability to correctly interpret the bookmakers' statistics in sports can backfire badly. Bookmakers are fully aware of these numbers and they factor them in when calculating and posting the odds. Assuming that punters have access to more data or more complex sports betting math formulas than the house is a fatal mistake. Take the numbers with a pinch of salt and don't overplay your hand with allegedly safe bets; instead, seek matches where the value outshines the risk.
How do Bookies Calculate Sports Betting Odds?
Some things will forever remain a mystery, while others are simply too complex for regular people to understand without a lot of effort. The manner in which the bookmakers calculate the odds is somewhere in between, as they rely on self-developed statistical models. Spread betting sports math is being used to come up with the right values that will guarantee a house edge.
The models used by bookmakers calculate the chances for various outcomes to happen and determine the odds accordingly. During the initial stage, the sports handicapping formulas are used to come up with an accurate number. Later on, the bookie will apply the desired profit margin, which will eventually determine the odds and the inherent house edge. On the other side of the fence, punters try to find miss-priced odds and deficiencies, using their own sports betting mathematics to maximize their profits.
What sport is the easiest to bet on?
The beauty of mathematical sports betting systems is that they work equally well on most sports. This means that once you learn how to use math in sports betting, you can successfully improve your odds of winning, regardless of the sport of choice. Punters who use proper bankroll management, know how to find and interpret statistics and shop for the best odds are already halfway through.
What is left is to choose the sport that you feel comfortable betting so our advice is to stick to the one that you know best. If you are well-versed in the art of football wagering, you should stick to this sport as you have an easier time identifying value in the odds. The sports betting math football strategies and systems are just as good as those aimed at beating the house edge in tennis, but here you can find out more about the best tennis betting strategies available from our guide, or other sports like hockey, basketball or anything else.
All You Need to Know about Odds Formats
There is a certain link between risk and reward and the odds are the reflection of this delicate balance. Bookies use them as instruments for gambling and they are displayed in one of the three main formats. Players usually get to choose between decimal odds, fractional odds and American odds, each of them with slight particularities. They can also use online odds converters, which help them make the needed calculations automatically, so they can focus on the math of doubling down on sports betting.
Decimal Odds
Decimal odds are the most common odds at European bookmakers, and also some of the easiest to use when calculating winnings. An event that has a 50% chance to occur would normally get odds of 2.00, out of which the sports book will subtract the house edge. In order to calculate the potential winnings players simply have to multiply the decimal odds with the stake and the result is the revenue. As for the net profits, they are the result of subtracting the stake from the total earnings. They are popular among amateur and casual players and also used by the casinos for players interested in winning the jackpot.
American Odds
Commonly referred to as moneyline odds, the American odds are not surprisingly popular on the other side of the Atlantic. They are used mainly when betting on baseball, ice hockey and basketball, as well as collegiate American sports. Players who choose to make the transition from decimal odds to American odds will have them displayed like this: -200 are the odds offered on the underdog, while +200 indicates the fact that the team is starting with the first chance. In order to calculate the profits, players have to divide the odds by 100 to determine the net winnings.
Fractional Odds
Fractional odds are still preferred by UK punters and at most European bookmakers, players have the option of switching from decimal to fractional odds. They look like 1/1 for coin flip events, 1/4 and 1/2 on favorites, and 3/2 and 5/2 on underdogs. The math and sports betting calculations don't change if players choose to use the fractional odds, only the manner in which the profits are estimated. Basically, punters need to subtract one unit from the available odds and then multiply the resulting number with the stakes. They will end up with the profits so this manner of displaying odds is result-oriented.
Online calculators are particularly useful for beginners who end up on a website that doesn't offer the odds in the desired format. These are free to use tools and some of them have advanced functions that also help players calculate the sports betting ROI.
Walk the Thin Line between Probability and Odds
Bankroll management sports betting math is at the cornerstone of any long-term successful strategy. Once players establish a proper bankroll for betting, they need to divide the stakes in such a manner as to make a steady profit. Investing no more than 1% of the entire budget is a surefire way of keeping risks slow, but exceptions are acceptable for low-risk matches. In order to properly evaluate the risks, distinction needs to be made between the odds offered by the bookmaker, the implied probability and the probability of a certain outcome.
The probability represents the chance for a certain event to happen and it can be expressed in percentages. By comparison, the odds reflect the value at which players are paid if the event occurs according to their calculations. The trick is to find those odds where you will be paid more than the amount corresponding to the risk percentage that you are taking.
For example, if you bet at odds of 1.80 on an event that has a 70% probability to occur, you've made the right decision. These calculations require a mix of experience and sports betting statistical analysis, so veteran punters are more likely to succeed than amateurs.
Master Implied Probability to Extract Value
Implied probability is a concept that punters will encounter often when gambling and it is a key concept in sports betting theory. Players are expected to calculate the odds themselves on a certain match, before even looking at the values displayed by the bookmaker. Once they come up with these figures, based on extensive research and personal expertise, they compare their findings with what sports books have to offer.
The implied probability allows you to consistently spot those differences between the odds you consider to be correct and the values currently available. Obviously, one has to be 99% sure that those calculations are correct, otherwise they will simply rely blindly on the wrong figures.
Sports Betting Math Keeps You Safe from Gambling Fallacies
There are plenty of things that can go wrong when you bet on sports and quite often, it is the common gambling fallacies that end up crippling bankrolls. Players should first and foremost make sure they don't commit any of these errors, so they don't end up throwing money down the drain without even knowing it. Some of them can be prevented by using sports betting math to double check your conclusions in your process of making money with sports betting.
Martingale systems can't fail
In theory, the Martingale system, just like the Fibonacci betting system, will allow players to recuperate their losses by betting indefinitely on coin flip events. The problem is that the unlucky streaks can go on far longer than you can stay solvable and bookmakers have certain protections in place. They will limit the amount that players can wager so after a certain sum, it will be impossible to keep doubling the stakes. The math behind sports betting will convince you that even matches with odds that exceed even value will not solve this tricky problem.
The bookmakers don't know the facts
One of the most common gambling fallacies is that bookmakers either don't have the right information, or are unable to interpret it properly. Sadly, the sports books are always better informed than punters and have significantly more resources at their disposal to process the data. Punters are simply playing catch-up with the house and by mixing sports betting and mathematics, they can barely stay afloat. In most cases, everything that you have figured out after extensive research, the house already knows.
Absolutely safe bets exist
Arbitrage is the only system that allows players to extract value from the odds and make a profit regardless of outcome. Arbing and sharbing requires them to open betting accounts with several bookmakers (or go directly to a physical betting shop) and place opposing bets on odds that exceed even value on coin flip events. EVS betting means placing even value or even bets, with 2.00 odds. This can happen when you bet early on the favorites and then back the underdog once the public jumps on the bandwagon to support the better team. In theory, this can result to both bets being placed at odds that will guarantee profits. Except for that, no match is truly foolproof unless fixed and playing outside your bankroll is a huge mistake.
FAQ about Sport betting math
So, Sports betting math is a big deal around the bettors, you can use math to increase your possible outcomes, you can calculate the probability and odds to become a better gambler.
Yes, you can use math to make smarter and profitable bets, the internet is full of tactics and tricks about how to use math and win real money from bookmakers.
The math underlying odds and gambling can help determine whether a wager is worth pursuing. The first thing to understand is that there are three distinct types of odds: fractional, decimal, and American money line. The various types are represent different formats to present probabilities.
Yes, actually all the odds are mathematically calculated by some automatic algorithms that make the bookmaker's life easier, you can use math to know when is better to place a bet or how to win more money.
In Sports Betting Math We Trust!
Sports betting math is an invaluable tool in the uneven battle that punters fight against the house edge. By using math for sports betting lines and trying to find value in the odds offered by bookmakers, people can level the playing field. Instead of relying on luck and inspiration, trust the numbers and use mathematics whenever possible and rely on tangible results. The Internet is an ocean of information that can provide everything from statistics, the latest news and a plethora of features that can help you beat the house edge.