Head to head sports betting – What is H2H & how does it work [2023]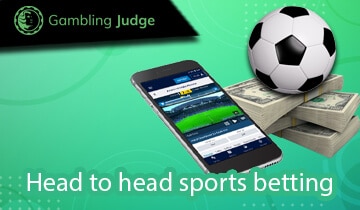 Head-to-head sports betting is arguably the simplest type of bet there is.
For many players, you will scarcely need much advice and probably already know the answer to the question, "what does head-to-head mean in betting?".
However, for those new to the experience or not in the know, our review will cover the popular bet in detail.
If you are ready to have head-to-head betting explained to you, look no further.
If you fancy simple, straightforward, no-fuss betting, then get ready to learn everything you need to know with our guide. If you are ready, let us begin…
Best Bookmakers for Head to Head Betting
in 01 November 2023 – Updated List
Rank
Bookmaker
Bonus
Safe & Trusted
Rating
Get Started
Your guide to head-to-head sports betting in 2023
What is head-to-head sports betting, and how does it work?
Head-to-head betting rules are incredibly straightforward to understand. The head-to-head definition is best described as being a wager on the winner of a contest. Ultimately, this type of bet can go by the name 1×2 betting. It is an outright bet on which contestant out of two will ultimately be successful.
H2H bets will see you bet on the outcome of a match or contest. It is one of the most common ways to make money betting on football, although there are other sports you can bet on, too. The objective is to pick the team which either has the advantage (the favourite) or offers the best odds (the underdog). To win your bet, you need to predict the outcome of the game successfully. Another option involves head-to-head betting on a draw, but this is not usually that advantageous.
Head-to-head sports betting: An example
How to place a head-to-head bet
Step 1
Head over to your choice of sportsbook and look at the fixtures which interest you
Step 2
Decide on the match that you want and check out the odds that are available
Step 3
Select the team or contestant you want to win. Your selection will now appear in the betting slip
Step 4
Enter your stake into the betting slip to see your possible return
Step 5
Accept the bet and confirm it. If you are successful, your winnings will be paid out into your account
Top sports to wager head-to-head bets on
H2H sports betting is not limited to football. There are other types of sports betting events that you can wager on. Here are a few of the most popular head-to-head sports betting options out there:
Aside from the examples above, you can also wager head-to-head bets on player props. These are tailor-made, custom bets, often used in American sports such as NFL and NBA, where the statistics in a match (for two players) are compared to determine a winner.
Top tips for betting head-to-head betting
There is not really a bona fide head-to-head betting system that you can use to guarantee
profitable football betting
. However, there are
live betting bonuses
that can help you financially and a series of head-to-head betting tips that can help you avoid common
sports betting mistakes
. They include:
Check the form of the competitors: Form and confidence can play a big role in determining outcomes. Have a look at recent events to see if your choice is motivated to give it their all.
Look at stats on previous clashes: Have your competitors met before? What was the outcome? This may give you a clue what is going to happen, and there are plenty of bookmakers with statistics to help here.
Explore competition stats: Other stats linked to the competition in question can be useful, too. For instance, in football betting, some teams may play watered-down, weakened squads against underdogs because they have a bigger match coming up. This can lead to a surprise and unlikely victory for the minnows. For instance, assuming you already know the answer to "what is a clean sheet in soccer?" you could look up the odds of no clean sheet bets and other types of wagers to help you formulate an overall picture of what is happening.
Consult a tipster's advice: Seeking betting advice from a tipster is ideal if you want help. They will often do all the dirty grunt work, so you do not have to.
Collate all the data and evaluate different odds: How do bookies set odds? In some cases, they have collated all the stats and data they have obtained. They have weighed up all the above to determine the best odds margins, and you should do the same. Perhaps visit multiple bookmakers to find the best odds out there.
Pros and cons of head-to-head betting
PROS
Arguably the most straightforward bet you can make online
Every bookmaker offers these options
Simple to calculate and often to predict
CONS
Tend to feature relatively short odds
Cannot be used on all sporting events
Frequently Asked Questions about head-to-head betting:
Yes, it can be. However, head-to-head betting usually involves betting on shorter odds than more fanciful, difficult to predict bets.
Virtually all of them do, yes. You would be hard-pressed to find European, UK or even international bookies which do not offer head-to-head bets.
It does not. A head-to-head bet is a wager on two opponents or contestants. If a draw is involved, then it becomes a three-way bet. You cannot place head-to-head bets on more than two contestants.
That varies. In most cases, the answer will be no, with bets based on 90 minutes and added/injury time only. Some bookmakers include extra time and penalties in the event of a knock-out game, but you would have to check this first.
Yes. This type of each-way bet is possible by backing and laying contestants. You will need the use of an exchange of multiple bookmakers to do this.
Place head-to-head bets with leading bookmakers today