Each Way Betting Guide – How Does Betting on Each Way Work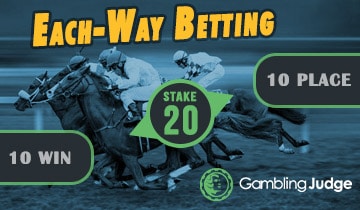 It is a form of betting that, at times, works as some type of insurance to bettors to minimize losses. It gives room for you to lose the win part of the bet and still get some returns. And by doing so, it also increases your chances of winning.
It is very common in horse racing but it is also available in other games including football, golf, and tennis. Read further and discover everything you need to know in our complete guide!
Meaning of Each Way Betting - How Does It Work
Each way bet is a wager consisting of two bet parts, the win bet, and a place bet part. Some people mistake it for the double chance bet and double result bet. However, they are totally different.
Based on each way betting rules the winning return can only be achieved if the horse you select wins the race. If you make an each way bet, you will have more than one bet.
Best Bookmakers for Each-Way Betting
in 31 May 2023 – Updated List
Rank
Bookmaker
Bonus
Safe & Trusted
Rating
Get Started
How to Place an Each Way Bet
To place an each way bet, first you have to consider the following:
The betting odds provided
Before placing any bet, one usually considers the odds. The same applies to each way betting system. It is wise to consider the odds as some may not be suitable for placing an each way bet. Odds vary depending on the number of participants in the competition and the type of bookmarker.
The number of places
The number of places influences your chances of winning. The higher the number of places, the higher the chances of winning compared to the low number of places. The number of places may vary depending on the number of people in contention. The number of places, which are influenced by the number of competitors, also influences the odds. The odds tend to increase with a decrease in the number of places.
Each way fraction
This is the fraction amount you stand to get should your horse fail to win but still manage a slot in designated places.
Below is an each way betting guide and steps:
After making those considerations, you can make the decision on your preferred selection and decide how much you want to stake each way.
You can then place the win bet.
You can then make the place bet on the horse to finish at specified places, normally 1st, 2nd, and 3rd, but can vary depending on the number of participants in the competition.
Note:
The win bet and a place bet must be the same, i.e., if you stake £10 for the win odd, you must also stake £10 for the place odd.
The win bet and place bet are separate instances; winnings from place bet will be given irrespective of the outcome of the win bet.
Example of Each Way Bet
Take, for instance, each way betting football; if you are backing Leicester to win the premier league at the odds of 20/1 at William hill each way betting and you stake £20. Your winnings will be:
20×20= £400 for the win bet, and place bet winnings will be 20×20/4= £100
The total winnings will be: 400+100= £500
However, if Leicester fails to win the league and only manages a runners-up position, you will only earn the place bet returns, which is £100, and earn nothing if Leicester finishes lower in the league and you can't win either half.
Or
When you are betting each way horses, you choose the horse you think is going to win and place a win bet on it. But, you can still earn a place bet even if the horse you chose fails to win the race as long as it finishes in the place slots. Remember to always look at the bookmaker's horse betting terms each way to make the right decision.
Sports Covered by Each Way Bet
Each way sport is very common in horse racing. However, nowadays it can be found in other sports as long as the sports category has many competitors such as each way betting bet365. Bettors can access this option in sports, including football, golf, tennis, and Motorsport races such as F1, among others.
For golf, you can always opt for each way bet golf masters. If you select Tiger woods, who has an odd of 10/1, to win the tournament, you will win £100 if you stake £10. You can also receive a reduced amount of winning if Tiger finishes the tournament at 2nd or 3rd place.
A first place finish by Tiger will give you a total winning, which includes the initial stake and winning, as well as the place part of the bet. However, for a 2nd or 3rd place finish, you will only receive the part of the bet.
Calculating Place Odd When Using Odds in Decimal Form
The place odds are calculated as a fraction of the winning selection odds. But they can also be in decimal form. Take, for instance, a bettor who opt for each way betting on Betfair and places a clean sheet bet backing Liverpool's Allison to keep the most clean sheets at an odd of 10/1 and use a stake worth £10, the winnings will be:
10 × £10 = £100. The winning will also include your initial stake to bring the total winnings to £110.
If Allison keeps no clean sheet, you will earn nothing.
Each Way Bet Tips
It is advised that you bet on what you are familiar with. Unlike normal betting, where there are various options like a win to nil or draw no bet, each way bet does not offer such options, which makes it even more essential that you familiarize with the limited option for better design choice.
It is advisable you stake the amount you are ready to lose.
Various Types Of Each Way Bet
There are different types of each way bet as listed below:
You can still earn from the place part of the bet even though one of you win selection fails as long as the rest of the bet falls under the place. And, if one of the selection fails to win or be placed all the amount is lost.
Each way double betting: 2 selections
Each way double bet is similar to each way single bet, with the primary difference being that double bet has two bets. And, wins can only be valid if both win bet go through, but you will still get paid for the place part of the bet as long as they lie within the place slot.
Each way treble betting: 3 selections
The single bets guidelines also apply to each way treble. The difference is that they are three bets, and the win element can only be won if all the other three elements manage to win.
For each way treble, if any of the three selection fails to win and the other two or one manage to be placed, the win return is lost, but place return remains valid. You may read more on the differences between a treble bet and an each way treble bet by reading our treble bet guide.
Betting each way accumulators: 4 selections or more
In this type of each way fourfold bet, it is a bit different from others as the bookmaker does not choose the selection for you, but rather, the choices are made by you. Each Way bets also work with a Trixie bet, Patent bet or Yankee bet.
When You Should and Not Bet On Each Way
Each way bet is best suited for odds above or equal to 2.00. If less, avoid it and go only for the win bet. Betting each way when the odds are below 2 only minimizes the losses rather than increasing the winnings. Although each way betting does not give more betting options like outright betting, it offers insurance to bettors.
Outright betting allows bettors to choose markets like over 1.5 goals or under 1.5 goals but at higher risk. It is best suited for odds equal to or above 2. Otherwise, it is advisable to go for only win bet if odds less than 2. It is also suited for instances where the options to choose from are many. If you enjoy betting on goals at higher risks, we definitely recommend checking out Betfred's Goals Galore No Draw offer.
Pros and Cons of Each Way Bet
PROS
The winning chances are increased as you can bet for multiple instances. You can still win some amount without necessarily winning the winning part of the bet as you have the place part of the bet to rely on.
The winning of each instance is a separate entity from other instances. You will be paid for each instance won no matter the outcome of the separate income.
CONS
The chances of winning are increased at the expense of a better payoff. You can win the place bets which are just a fraction of the win bet.
Each way betting is limited to fewer options; bettors may miss markets like under 3.5 goals and under 0.5 goals as they are only suitable for instances where options are many.
Each Way Bet FAQ:
Depending on the odds and amount staked, if you happen to win, you get your stake, your win return, and place bet return back. You can also get each way betting returns from place bet if you fail to win otherwise you lose all.
It means placing a bet with two parts; the win part for the horse you think is going to win and the place part for the horse you have chosen to finish on place slot depending on the race terms.
Yes, it is. It is, however, more suitable for sports with more competitors and big odds. Good for odds greater than two.
It varies from one bookmarker to another. The number of places also increases with the number of competitors in a race and depending on the type of race.
Yes. But, each way accumulator cannot be won if one of the bet fails to lie within the place slots. But can still be won without necessarily having a win in a win bet so long as all the other bets lie within the place slot.
Calculation of each way betting return is done using decimals or fractions odds plus one.
Summary: So Is Each Way Betting the Way to Go?
Each way bet, having two bet parts, increases your chances of winning. Unlike other types of bet, each way bet insure you from losing by providing you with a chance to lose the win part of the bet and still receive a payout from your bookie. If you manage to predict the winning part and the place bet, you will receive payouts that incorporate both.
However, if you are unsuccessful with the win part, you can still recoup part of your placement. Therefore, unlike outright betting, each way bet provide you with multiple winning chances. So, why not try it out when it is this lucrative?
You can find this type of bet on horse racing and other sports including football, golf, tennis, and motorsports. But wait, this is not all, you can also learn more about sports bet from our guides. Read more, learn more and start betting even on under 3.5 goals. If you wish to play a bet with an odd of 2.00 or greater, each way bet is the way to go!
Other related articles you might like: