Goals Galore No Draw – Enjoy the Betfred's Goals Galore no Draw bet | [2023] Ultimate Guide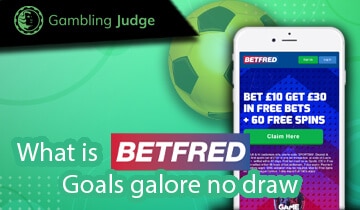 Football is an exciting sport watch and also a potentially profitable one for punters.
Fans love high-scoring matches and the same goes for bettors who wager on a high goal production.
In this 2023 guide we will review the popular bet offered exclusively by this bookmaker. You will understand what does Goals Galore no Draw mean and how to use it to enjoy better odds.
This can be one of the most profitable types of sports betting options you can hope to find at football betting sites UK.
Best Online Sports Welcome Bonuses
in 01 November 2023 – Updated List
Rank
Bookmaker
Bonus
Safe & Trusted
Rating
Get Started
What is Betfred's Goals Galore no Draw Offer?
How to place a Goals Galore no Draw bet
The Goals Galore no Draw bet is only available to Betfred punters, so you'd have to set up an account with this bookmaker. The registration process and bet placement are simple and straightforward. These are the 4 steps you must complete to take advantage of the superior Betfred Goals Galore no Draw odds.
Sign up for an account and complete the registration process

Check out the list of matches eligible for Goals Galore no Draw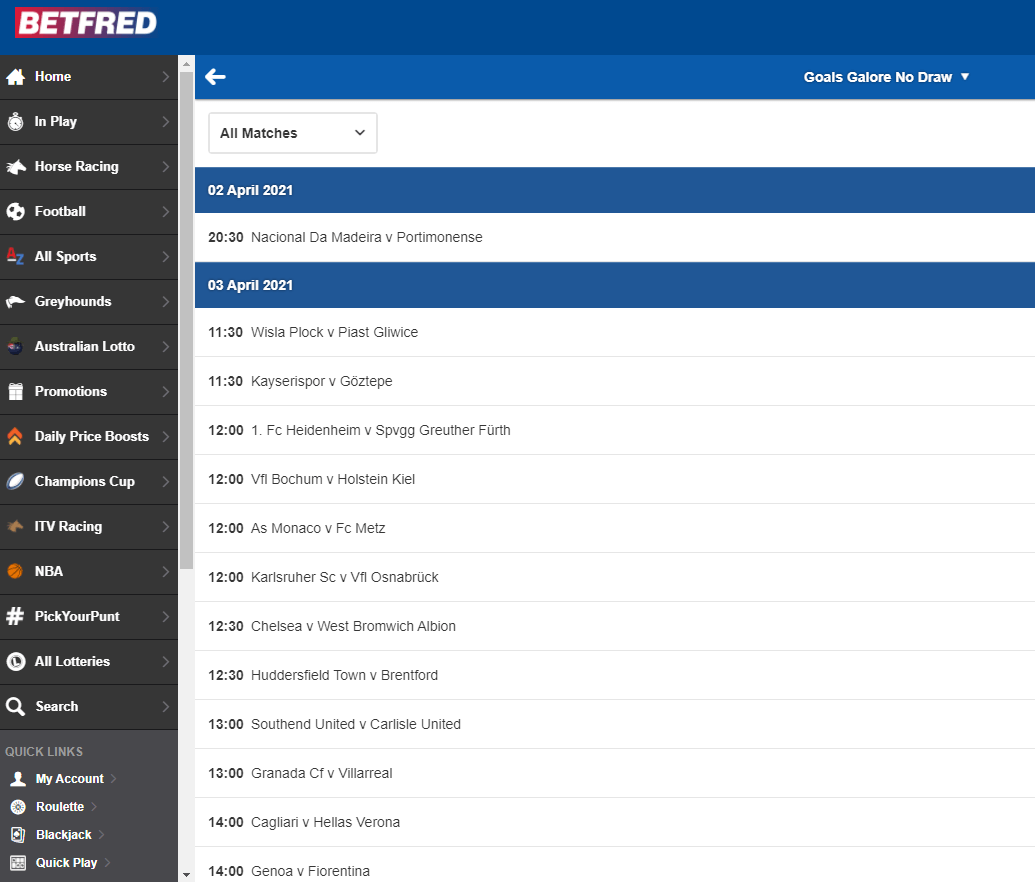 Add one or more teams on your betting slip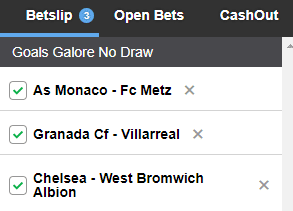 Choose at least three selections or more to boost the odds

Betfred Goals Galore rules
Betfred Goals Galore no Draw coupons
Betting accumulators is tempting because of the bigger odds that players can assemble from multiple bets. The risks are also higher, so in order to learn how to win football accumulators, you need practice and tenacity. Betfred Goals Galore no Draw coupons offer all these perks, while adding extra challenges. On one hand, the match has to be over 1.5 goals and have a winner. The coupons can be found on the bookmaker's website and they can be claimed automatically without using a promo code.
In exchange of accepting the greater risks, this betting market will offer inflated odds. It is like if you were claiming a Goals Galore no Draw promo code to enjoy potentially bigger winnings. The bookmaker will present players with the list of matches that are eligible for coupons.
Not all the over/under betting options in their portfolio apply, so you have to settle for them. Depending on how many selections they and on the betting slips, the bonuses increase, with the maximum ones requiring 15 matches.
Try Betfred Goals Galore with a mobile app
Goals Galore no Draw betting strategies
Punters have to travel a long and twisted road from learning how to place a bet at the bookies to how to win football bets. Those who are not afraid of a little challenge can tinker with the Goals Galore no Draw Betfred option. Once you get a thorough understanding of what is Betfred Goals Galore, you can harness the power of betting strategies.
First you must understand how do bookies set odds. If you succeed, you will be able to find the matches that are suitable for the Goals Galore offer. The odds must justify the challenge of both teams scoring and one claiming all three points. Simultaneously, learn how to bet on draws, to be able to use it as a hedge against the risks. If you find a generous promo code, you can even use this strategy for arbitrage.
One of the best Goals Galore no Draw tips is to choose teams that play offensive football. This increases the odds of them scoring, while exposing themselves to counter attacks and conceding. The more events you have on the same betting slip, the more difficult will it be to make right choices. You should first focus on how to win sports betting parlays before taking on Betfred's challenge.
Betfred's Goals Galore coupon odds table
The Betfred Goals Galore no Draw is one of the betting terms that describe a complex betting market. In exchange of betting on both teams to score and one to win, players enjoy bigger odds. These can be further inflated by choosing matches from the Bonus List selected by the bookmaker.
The reason the odds are superior is that players also take greater chances by betting on difficult matches. There are multiple games on this list, so players still enjoy some freedom in choosing the ones that meet their expectations.
The ratio at which the odds are boosted depends on the number of selections added on the betting slip. You can't combine these bonus coupons with mainstream or special selections. This means that punters need to stick exclusively to the game selected by the bookmaker and make the most of them.
On the bright side, savvy punters can combine special betting markets with these coupons to further increase the odds. Second half betting is a shining example of special betting market compatible with Goals Galore.

Pros and cons of Goals Galore no Draw
PROS
Significantly bigger odds on selected games
You still have a chance to win until the final whistle
Fun way to bet on football matches
CONS
Difficult to predict winners and high house edge
Frequently Asked Questions about Goals Galore no Draw:
Not all the matches in their selection are available for Goals Galore no Draw. The list is even more restrictive when it comes to bonuses and coupons, but the odds are higher.
Yes, football is the only eligible sport for the Betfred Goals Galore no Draw market.
You can select anywhere between 3 and 15 games and the more matches you add, the bigger the odds.
Both teams to score is a safer alternative to the Betfred Goals Galore no Draw but the odds are lower.
Make high scoring football games pay with Goals Galore no Draw
Risk-averse punters would probably be happier sticking to mainstream betting markets. If you're not afraid of risk-taking and like the idea of cashing in on boosted odds, Betfred has the answer. The Goals Galore no Draw bets are challenging, involve a certain degree of risk but they pay well.
Choose some of the matches from their extensive list and add multiple selections on your betting slip. Use our teams to boost the odds of winning and make football betting more exciting and potentially more profitable.