Best both teams to score(btts) strategies, predictions and tips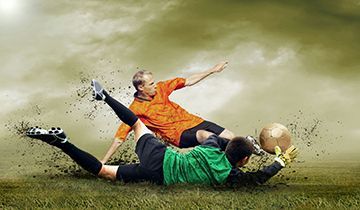 Let's start by answering the obvious question: What does BTTS mean?
This is actually short for "both teams to score" and if you think that the excitement of a game of football is only as high as the number of goals produced, then you will surely like the idea of both teams to score bets.
This wager is also immensely popular with bookmakers, so those who wager over the Internet will have the chance to place lucrative bets of this type.
Every now and then bookies offer bonuses and freebies to those who bet on a high number of goals, so this is pretty much a win-win situation.
The name of this wager says a great deal about how it works and in a nutshell players should be rooting for both teams to find their way to the net. Both teams to score rules are simple: You don't even have to predict the winners or indicate the result at half time, as long as each of the participants scores at least once.
Furthermore, if the match gets out of hand and both teams score multiple times, this doesn't interfere with the outcome of your wager. Both teams to score system is truly advantageous.
Bookmakers are allowing customers to wager on multiple events simultaneously and you can have a both teams to score coupon containing other types of wagers. ACCA insurance and partial cash outs could complete a great BTTS strategy. It is not the only BTTS betting strategy, of course: We will talk about additional strategies below.
Unlike other types of bets, the both teams to score predictions are usually validated before the end of the match. Assuming the two teams defeat the opposing goalkeeper in the first half, you should have the corresponding profits credited to your online account minutes after the second goal has been scored. With a BTTS both halves bet though both teams need to score at least one goal each, in both halves.
Top 10 Bookmakers where you can bet on Both Teams To Score (BTTS) [2021]:
Rank
Bookmaker
Bonus
BTTS Betting Available
Rating
Get Started
Both teams to score rules
Before talking about a BTTS strategy, we must explain the rules of this bet. It's hard to find a wager with simpler rules, so if you're in the market for a basic bet that requires minimal user involvement, this is the perfect way to make the first step. The only requirement is for both teams to score for the wager to be deemed a winner and they also need to do it in regulation time.
A both teams to score accumulator also need to factor in this key requirement, but the goals scored in the few minutes of overtime awarded by the referee also count. This is also important to know in order to create the most accurate BTTS predictions.
It goes without saying that the goals scored in extra time and the ones resulting from penalties are not going to make any difference. On the bright side, you can place a single bet, but also a double bet, trebles and virtually any type of system you can think of. This can be an important part of your football betting strategy.
Finding and using a both teams to score strategy is really not that hard: The rules are simple enough and you can develop a strategy even by yourself.
In those cases in which the game is abandoned or postponed, the both teams to score bets will be voided and removed from the betting slip. This is standard industry practice and applies to all the wagers regardless of their nature.
Best BTTS Tips for Maximizing Profits
The fact that this type of bet is so easy to master, might lead to the conclusion that virtually any game qualifies for a successful both teams to score wager. Obviously, players can take a leap of faith with a random football match and hope that the two teams will follow through.
However, this won't be a good both teams to score betting strategy: You still need to do your research.
A better BTTS betting strategy would be to undertake a little research and go over the btts betting tips available to make an educated decision.
The first thing that players should consider when making btts predictions is the form and the strength of their offensive department. Those squads that have capable strikers and a manager that is inclined to play offensive football are more likely to create scoring opportunities.
In the long run, by betting mostly on these type of squads, the odds of losing your investment as a result of narrow margin wins or teams keeping clean sheets are relatively low. Use this kind of bet in conjuction with a promotion of late goal insurance, first goalscorer or boosted prices and you might realise you are standing on a gold mine.
The obvious downside with this both teams to score strategy is that bookmakers are quick to respond by lowering the odds. Finding the value in their odds margins is something that comes with experience and is also a catalyst for bigger payouts. You can check the bookmaker withdrawal limits here and of course always choose the safest and most secure payment methods if you want to withdraw large sums of cash. Trustly betting sites are among our top recommendations.
Even amateurs can go over the recent form and distinguish between the teams that struggle offensively and those that are on a scoring spree. It's also easy to pick up on the vibes and find those teams that have a weak backline or struggle with injuries and suspensions.
The btts tips today are factoring in all these structural elements and many of them are updated, as kickoff draws near. Even if a single player returns to the starting formation to consolidate the offensive or backline, the odds of goals being scored change.
It is pretty easy to get up to date with the latest team news and many sportsbooks have dedicated sections, where players can read everything that matters regarding prominent football teams from Europe and other continents.
When it comes to btts betting, no other player is more important than the goalkeeper and whenever the main ones are injured or suspended, the chances to win improved. To some extent, playmakers are equally important and virtually anything that might affect the basic strategy used by managers need to be factored in.
The head to head results (check here our head-to-head sports betting guide) are also important, but they should be taken with a pinch of salt, especially if the most recent games took place years before.
Whether you place a btts accumulator or bet on individual games, it is mandatory to be fully aware of the motivation in both teams. If one of them is in dire need of points to advance to the next stage of the competition while the other can settle for a draw, the btts wager makes little sense. A bet on draws or accumulators with draw bets would be more suitable in this case. Alternatively you could go with draw no bet accumulators.
It's even worse to bet on such a market when the teams involved have nothing to fight for and are simply waiting for the season two end. They won't come out firing on all cylinders and even if the other team manages to take the lead, they will probably refrain from throwing everything they've got to score the equalizer.
Both teams to score and win tips
One wager that draws inspiration from classic btts bets is the both teams to score and win. This is a slightly more complex type of bet that requires players to also indicate the name of the winner, in addition to having both teams scoring at least one goal. It is not to be mistaken with betting on both teams to win, which we explain more in detail in the "Can you bet on both teams to win?" article.
Since there is an indissoluble link between the risks taken and the return on investment, it comes as no surprise that btts and win wagers that are successful will lead to more significant profits.
Most btts and win tips are following the same guidelines as the ones applying to the standard bet, as the number of goals is at the cornerstone of this strategy. It is not sufficient for the chosen team to defeat its opponent and when punters wager on lopsided games, the real challenge is to actually have the underdog find its way to the net.
Both teams to score and win tips are usually focusing on the lesser squad, by highlighting the reasons they are worth your confidence.
It pays off to place such a bet when the underdog desperately needs points and is willing to press on for 90 minutes despite crushing odds. If such a team plays on the road, then it's even better to bet on the favorites which also have the home pitch advantage.
Football tips both teams to score and win can be a bit tricky in the final stages of international competitions, rendering the visiting possibility of games being settled in extra time or penalties.
It is better to steer clear from such games, as there is a good possibility for the team ahead to barricade itself in its own half. Perhaps even more dangerous is the scenario in which none of the competitors score in the first half and the two managers decide to take fewer chances after the 60th minute.
Win and btts tips sometimes go sour due to the fact that when two teams are tied in the second half, they prefer to bolster their defenses, despite having plenty of time to mount consecutive attacks.
The both team to score and win tips are basically the same hints given to punters who bet on btts markets, with a twist. Many of these strategies are also built on the assumption that players don't mind betting on several events simultaneously.
The advantage of accumulator bets is that you can combine low-risk events on the same wagering slip and have the odds compounded.
Risk-averse players would be better off placing individual wagers on both teams to score and win markets, even if they have access to excellent btts and win predictions. The odds are high enough not to require punters to take additional chances, something that they feel compelled to do when wagering on outright btts markets.
Generally the odds are also higher when betting on balanced games, as opposed to wagering on fixtures between huge favorites and the underdogs. Many times when two teams stand more or less an equal chance to win the bookmaker will have difficulties setting the odds. That's why you encounter even odds (2.00 or 1/1) and EVS betting is exactly taking advantage of these odds and double your money.
Top bookies for btts wagers
The popularity of this type of bet has resulted in bookmakers of all sorts coming up with special promotions available exclusively to those betting on these markets. While these operators stand out from the crowd, in an attempt of finding the best both teams to score bookmakers, it is essential to pay attention to the odds.
In the long run these are the ones that make the difference between a breakeven player and a successful punter.
Betfred sits at the top of the list for the simple reason that this was the first bookmaker to introduce the both teams to score wagers. Not only were they at the forefront of innovation, but they also managed to stay ahead of the pack, by offering excellent odds on these markets. Check Betfred's Goals Galore No Draw offer for further details.
Whenever players add several events on the same wagering slip they will benefit from bonuses if both teams score as they predicted.
If you prefer more exotic markets, this is also a great place to set up a real money account and wager, because they've got btts and win bets among other types. It can also be very exciting to bet on football specials such as the 30 minute limit, which demands players to predict if a goal will be scored in the first half hour.
The best part is that these promotions are not mutually exclusive and you can participate in several simultaneously and enjoy all the sports.
Skybet is uniquely positioned to offer outstanding betting opportunities for those who wager on British football and enjoy watching the games live. They've got an excellent btts accumulator and this package includes enhanced profits for those who managed to correctly predict the outcome of several games.
In conjunction with the weekly offers and other money back betting offers, they make it easier for players to stay afloat even when luck deserts them. The bookmaker also has the both teams to score rules clearly displayed on the website, so those who are new to this type of wagering will get up to date with the regulations.
Paddy Power is one of the few bookmakers that allow customers to place both teams to score's wagers while the games are underway. The odds they offer are comparable to the ones available prior to kickoff, which comes in handy to those who plan on placing both teams to score accumulator in real-time.
Every now and then, they will refund the losing bets on these markets and players will receive a free bet.
Other articles you might like:
Other For sports