Over 0.5 Goals Betting Strategy – Ultimate Guide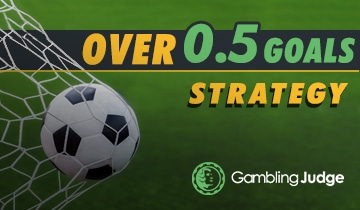 Sports betting is one of the best ways youths of this age entertain themselves while simultaneously earning big online. There are different bookmakers available online, each one having unique differences peculiar to them. Some things still bring them together and make them share things in common, one of which is the odds displayed for each of the games on their site.
There are various odds for all the league and cup games, which online sports bettors can select and win big. Of the numerous odds available, one of the most sought after is the over 0.5 goals. Newbie bettors usually want to know how does over 0.5 goals work, this will be extensively discussed in this text. 
What does "Over 0.5 Goals" mean?
In sporting games, especially football, two teams play against each other. The two of them play for a particular duration of time, precisely 90 minutes, total timing. Online bookmakers or other betting sites now pick each of these games and present several possible chances of the outcome of the game.
For the over 0.5 goals betting system, it generally implies that the number of goals that will be scored by both teams put together throughout the match must be at least one goal. This means that when a bettor predicts that the total number of goals in the game must be at least goal, then he or she automatically wins the bet.
Other options can be linked to 0.5 goals apart from the total number of goals in a single match, and this will be discussed further. 
Best Bookmakers where You can Bet on "Over 0.5 Goals" [2021] – Updated List
Rank
Bookmaker
Bonus
Safe & Trusted
Rating
Get Started
Further Details on the "Over 0.5 Goals" Market
This is much larger than having to score a goal in a single match; the 0.5 markets consider other possible outcomes that relate to this. The over 0.5 goals market brings together all the possible ways of making the single goal work. Some of these include over 0.5 goals in any half, which implies that as long as any team scores in any half, then the betting option stands.
It could also mean that over 0.5 in both halves or over 0.5 goals first half, which implies that there must be at least one single goal in both halves of the game. This means a team has to score a goal in the first half and then the opponent or still the same team scoring in the second half of the game. This is similar to a win both halves bet, where the team you back must win both the first and the second half, in this case a 1-0 result in first half and a 2-0 result at full time.
It is also possible to consider over 0.5 goals for either of both teams. This implies that odds will be displayed for either of the two teams scoring at least a single goal throughout the game. Once this happens, then the bettor wins automatically.
Why You Should Bet on Over 0.5 Goals - Tips & Tricks
When you watch the game of football so well, you can easily predict whether there will be goals in a match, especially when they have gone half an hour into the game. This is the beauty of having to play the football betting strategy over 0.5 goals odd in the game.
All you need is for any of the two teams to score at least one single goal, and your ticket will be fine. You do not have to worry about who is winning and who is losing, as long as someone is scoring you are fine.
It is also very easy to play an over 0.5 odds because you can be sure that some teams will almost always score in every game. In fact, according to the statistics, only about 5-10% of footballs in the European league only end up being a goalless draw. This implies that you have a larger chance of winning the game if you put your money on the odds.
Although the odds might be small, usually between 1.05 to 1.1 odds, but if you do a careful analysis, you should be able to get several teams and games per week that can earn you more than you can ever dream of from betting.
Betting Over 0.5 Goals at the Online Bookmakers
There are different strategies and approaches you can use in playing the over 0.5 goals at online bookmakers that can guarantee you at least a 90% chance of winning the game. One of the ways of playing this game is navigating your way through different countries, check their league games and study the top scoring team and the top conceding teams, in other words, checking theirs over 0.5 goals stats.
The team that has the highest goals are most likely the most consistent of them all, especially when they are a team with 100 over 0.5 goals first half; this means that they can at least get to score a single goal in every game. The other team that has a track record of consistently conceding goals will almost always still do in other games.
You can place your bet on over 0.5 goals second half or first, for each one of these teams, spanning over different leagues of different countries.
Another method of playing this game is to study the absence of the top defenders, which can be due to different reasons. This point will be further elaborated in the latter part of this text. 
One last way of playing the over 0.5 goals odds and winning is waiting for the game to begin before you go ahead to place your bet. When you study the progression of a match, you can easily predict which side is stronger and whether or not a goal will come in the game, especially when you check out the number of shots as well as the number of shots on target in the game.
After the first half of the game, you can then go ahead to place your bet in the second half of the game, and you might just stand a chance of winning big. The only difference is that you will not be able to play the win either half option any longer.
It becomes more enjoyable when you wait till the last half hour of the game of just fifteen minutes to the end of the match before you place your bet on over 0.5 goals. This is riskier because a goal might not come in till the game ends, but the upside of this is that the odds of playing over 0.5 goals will be higher around this period than other time in the game.
You need to do a careful study and ensure that there is a big chance of goals coming in before you go ahead to put your money on the bet. The option of playing the game while the game is on is what is referred to as In-play or live to bet. 
Over 0.5 Goals Statistics for Various Leagues and Teams
This has been pointed out earlier, and the main idea about this is that most of the league games that are ongoing in different countries have teams that love to score or at least concede a goal before the end of the game. Recently, it has been observed that the number of goals in the game of football has greatly increased.
This implies that more players are scoring, while more teams are conceding goals. Some teams have some previous record of accomplishment of not ending any game in a goalless draw throughout the season, meaning they have the highest number of games without a goalless draw.
Some of the notable ones include Barcelona, Real Madrid, Liverpool and PSV. Some other ones have gone goalless in a single game or two. This makes the probability of having odds on over 0.5 goals higher in recent years. 
Does Over 0.5 Goals Betting Exist in other Sports apart from Football?
Over 0.5 goals are most popular in football, and this can be easily traceable to the meaning of the concept. There are only a few other sports that count goals a means of winning the game. Rugby is one, and some individuals count the points in Handball as goals and have some other common terms like the no clean sheet, clean sheet bet and others.
Some players bet on this, but the odds are usually infinitesimal because it is inevitable that there will at least be a single goal in the game. Most of the online bookmakers do not even reckon with any other match apart from soccer.
Factors that can Influence the Outcome on the Over 0.5 Goals Market
There are several factors that bettors should consider in their analysis of the team to put money on while staking the over 0.5 odds. Some of them have been discussed while some other ones will be pointed out below:
Injured strikers:

Most of the top teams that are available in different leagues and countries usually have a star player who most of the time will be a striker; this person scores for the team. When the striker is injured, it might be tough for the promising team to keep up with the scoring streak and the

chances of there being a goal

be reduced. Bettors should find out if a striker is fit to play before going ahead to put their money on the player.

Defenders missing:

The defense is the wall of the team, and they are the next shield to the goal post after the goalkeeper. The moment a defender is absent, this might make the team present with a leaky backline, especially if they do not have a suitable substitute. This can cause the team to concede more during the game.

Late-stage tournaments:

During the latter part of a match, the chances become increased that there will be more goals in the game and hence this might just be the perfect time to place the odds for over 0.5 goals.

Mismatches:

Having a mismatch between two teams can also lead to one team winning massively and the other opponent suffering a significant loss. You can look out for those mismatches and capitalize on them.

Players sent off:

when the team is reduced to 10 players or worse; this might destabilize the team and lower their morale. It also implies that they are one player short and the opponent team might just capitalize on this to score more points against the team with the lesser number of players. This might favor the bettor if he has placed his or her bet on

halftime over 0.5 goals tips

and a goal has entered before the player was sent off.
Best Leagues to Bet "Over 0.5 Goals" On
It has been noted that in recent years, more teams have been scoring that they used to. The notable sides are the English, Spanish, German and Italian team. The teams in this league, together with the Brazilian league, have been known to record at least one goal in every match in 80-90% of cases. This is where you can get the under/over 0.5 goals in 1st half tips when you study their game.
Over 0.5 Goals vs. Over 1.5 Goals
The difference is this is just a single goal. The over 1.5 goals betting is such that at least two goals must be recorded in each of the games. This is more difficult to predict when compared with the over 0.5 betting option.
However, the plus side to this is that the odds for over 1.5 goals is always higher than over 0.5 goals, hence, bettors who are willing to take the risk will win bigger amounts with over 1.5 goal option. You could also try an alternative goal line bet displayed as over 1 – 1.5 (over 1.25).
Pros and Cons of Over 0.5 Goals Betting
PROS
Easy to play and predict, all you need is just a single goal
Chances of winning are huge
CONS
Odds are very small (Usually between 1.05 and 1.10)
Low odds request a high stake, which might result into a bad surprise
Frequently Asked Questions about Over 0.5 Goals Betting:
Yes, all the online sports betting platforms that incorporate football have the over 0.5 goal betting option as this is the most basic, next to the win, lose or draw option. Some of them regard it as the under 1.5 goals option.
The minimum amount and the maximum is entirely dependent on the platform you are choosing to play the game. It is usually the same as the amount for the other options.
Yes, there are other options, some of which include the win, lose or draw option earlier stated. There is also the win and over/under 0.5 goals meaning, which is quite different as it is a double chance bet. There are also other options ranging from over 1.5 goals and above. There are also the under games and the combined winnings like the under 3.5 goals option, the win to nil and others, but the over 0.5 goals option has the highest probability.
Discover the Joy in Betting on "Over 0.5 Goals" and Get Started!
Betting on "Over 0.5 goals" is fun, easy to predict, and even easier to win. Use our tips and tricks regarding this highly underrated betting market and get started.
If you like to risk more when betting on goals, you should definitely check Betfred's Goals Galore No Draw offer.
Learn the details, find out the teams and leagues with the highest potential of an "over 0.5 goals" outcome, and bet like a pro!