Under 2.5 goals | 2023 updated guide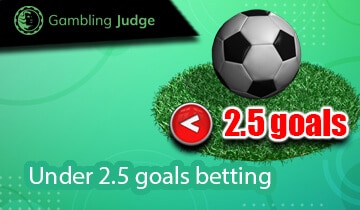 Only a few people can comprehensively explain the under 2.5 goals meaning. Indeed, under 2.5 goals is a financial betting market offered by almost all low deposit betting sites across a number of sports. Therefore, any bettor must know how it works to make meaningful wins whenever they choose.
This 2023 guide about betting answers the question, what does under 2.5 goals mean? Besides the explanation of under 2.5 goals, this writeup offers under 2.5 predictions alongside tips and tricks about betting, especially on over under betting. After reading this comprehensive guide, 2.5 goals betting should be straightforward regardless of your betting scams and experience level.
Top 10 bookmakers to bet Under 2.5 goals 01 November 2023
Rank
Bookmaker
Bonus
Safe & Trusted
Rating
Get Started
What Under 2.5 Goals Means?
How Under 2.5 Goals Work
Manchester City vs. Liverpool
This is an English Premier League match between Manchester City and Liverpool at an odds of 1.63. for a punter to win, the game must end with goals totaling less than 2.5. so, possible winning combination will be:
Manchester City vs Liverpool: 0 – 0, 1 – 1, 1 – 0, 0 – 1, 2 – 0, and 0 – 2. Any other combination will result in the loss of the bet. So, if you stake £160 on this match, and it ends as a 0 – 0 draw, you win the bet. so, the payout will be:
Payout = odds x stake 
= 1.63 x £160
= £260.8
If the match ends as 2 – 1 in favor of any team, the total is three. This is more than 2.5; so, the bet is lost. 
How to Place an Under 2.5 Goals Bet
Step 1
Sign up for a bookie of choice if you don't have an account. If you already have a betting account, top up with enough money to place a football bet.
Step 2
Navigate to the sports section and choose a sport of interest. Alternatively, you can use the highlighted sports that most online bookmakers offer.
Step 3
Select the teams to create the bet slip. When you click on a team, a bet slip appears on the right side of the window (it depends on the bookie).
Step 4
Enter your stake and click on the "place bet" button.
Sports Covered by Under 2.5 Goals Bets
Beyond answering, what is the meaning of under 2.5 goals, it is crucial to know sports that allow this kind of betting. Ideally, any sport in which goals determine a winner can be put in the category of under/over betting. However, in some sports, players score more goals; thus, not suitable for under 2.5 goals betting. Nevertheless, the standard sports are:
Other Types of Bets Like Under 2.5 Goals
Under 2.5 goals betting is part of the under-over system bets. It ranges from 0.5 to about 7.5 goals. But that heavily depends on the goals. The standard options are:
Under 2.5 Goals Accumulators
How to Predict Under 2.5 Goals in Sports
Step 1
Use stats. Historical stats may not tell you a winner but will show you the best leagues and teams to follow.
Step 2
Under 2.5 goals betting is best suited for low-scoring sports like football(soccer); do not place these bets on high-scoring sports like basketball.
Step 3
Select teams with the best defensive records but struggling to score. Best defence teams always record clean sheets. So, you can find two matchups for better predictions.
Tips and Tricks About Under 2.5 Goals
Apart from looking at the number of goals the participating teams have conceded in at least five matches, you also need to explore other options that will boost your cabs of winning. Look, betting analysts, bet prediction sites, and sports enthusiasts provide tutorials and strategies for different types of sports betting; it is up to select those that suit your betting needs. For under 2.5 goals, try the below latest tips.
Above all, remember to study statistics comprehensively, and if possible, have a betting partner.
PROS and CONS about Under 2.5 goals
PROS
It gives you a 50% chance of winning (win or lose), which is much higher than the traditional 1X2
Both teams play for you – it doesn't matter who scores/wins
CONS
You have to wait until the tail end of the match to be sure, unlike the over 2.5 bets – if a team scores three goals even in the first 10 minutes, you win.
FAQ About Under 2.5 Goals
Sure! Most online bookmakers have a mobile app for android and iOS operating systems. Still, you can use your phone browser to place under 2.5 goals bets.
Yes. But you need to be on bookies that have a live betting feature. This feature lets you place bets when the game is underway.
Under 2.5 bet is a legitimate bet, provided you place it on a fully licensed and secure website. All successful real money bets bring returns based on the odds.
Yes. Almost all bookies offer first-half/full-time betting options. You can exploit this feature to win money on the first half betting.
If you place under 2.5 goals, the successful match result would be a match ending in two or fewer goals, i.e., less than 2.5 goals.
What is Under 2.5 Goals? Final Thoughts
This writeup has fully addressed the full-time results and under 2.5 goals meaning. Nonetheless, if you still have questions about what does total goals under 2.5 mean, know that means that you predict that a match will have between 0 and 2 goals. However, you don't need to specify the exact number of goals. And with the under and over betting terms and tips we have provided, you can easily bet on any sports offering this betting market. 
Other interesting articles you might like: