Under 1.5 Goals – Top Underrated Profitable Betting System Explained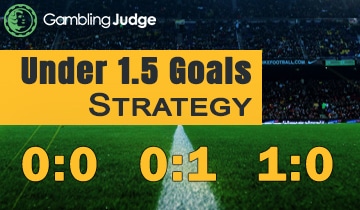 The game of sport has over the years and counting becomes a very lucrative source of income for players and managers of the sports team.
Under 1.5 Goals like over 0.5 goals deals with predicting the outcome of a game and making monetary returns from its outcome, without actually participating in the game.
With the advent of the internet, culture and location is no more a barrier to one's participation or betting in the game of sport.
With consistency and calculative observation, one is sure to predict certain categories of bet that would amount to a win.
The Under 1.5 Goals Explained
In betting, If you place a bet on under 1.5 this implies that only 1(one) goal can be scored in the game, and if there is more than one goal, then the bet is a loss. As an example, say Arsenal were to play against Barcelona in the Champions League, the player expects this game to be a very tight affair and then bets on under 1.5 goals.
If such match ends in 0-0, 0-1 or 1-0, such player has won his bet and his predictions were correct and was a tight match. But if such a result were other than the result got, such bet would be said to be a loss.
Best bookmakers for placing "Under 1.5 goals" bets
in 27 September 2023 – Updated List
Rank
Bookmaker
Bonus
Safe & Trusted
Rating
Get Started
Best Betting Strategy to Guide you in the Under 1.5 Goals
The bets placed for this strategy are never before the match but only on the Live In-play games. With the alluring nature of predicting match-winner, under and over bets makes it marginally easier with strategies that beat the system.
The two sets of strategies are the progressive betting system (like the Fibonacci betting system, for example) and late goals. When betting on under 1.5 goals, some factors to put into consideration are:
One should look at the average number of goals that each team has been involved in per game.
Study how often under 1.5 goals have occurred in the games for both sides
And lastly, calculate the implied probability of every given odds.
The 'Under 1.5 Goals'' and some Clubs associated with it
After know what is over/under 1.5 goals, one should also ask, ''which clubs are with Under 1.5 goals''. Some of the best clubs with under 1.5 goals games include Joinville, Yeni Orduspor, Foolad Khuzestan, Padideh FC, UMS de Loum, Vitoria de Setubal, Banfield, Teuta Durres, Baroka FC, etc.
Leagues That Have the Most Under 1.5 Goals Result
There are several soccer leagues with under 1.5 goals. Here are a few of the Leagues that have the highest percentage of match result in the under 1.5 goals.
Brazilian Football League – Série D
Turkish Super League – Amateur League 1
Nigerian Premier League
Egyptian Premier League
Argentine football league
Premier Soccer League
EFL League 1
South African Premier Division
TFF Third League, e.t.c.
This is How to Best Predict Under 1.5 Goals at Half-Time?
The Under 1.5 goals in each half time  there'll be at least one goal scored in the 1st or second half of a game. The odds may not be at its strongest in the market, therefore, finding a good selection of under 1.5 goals tips or stats could be very useful to predict which team will win either half.
Players could find teams that are experiencing streaks in the market, as most times, these streaks might not have been properly priced by bookies and they often represent strong value.
Strategizing how to predict under 1.5 goals at halftime helps player to pick whether there would be at least 1 or more goals scored in the first 45 minutes of a match, the first is often very profitable as the odds get exponentially larger during gameplay, this is because the first half is limited to 45 minutes and as less time remains, the bigger the odds.
Hence, to best make predictions, the player should explore both teams' stats and see what team receives goals in the first half of their games. Make a comparison between teams' line-ups and tactics, as it's preferable to pick the offensive team tactics because they will be more forwarders to scoring goals and fewer defenders to stop goals.
It is best to avoid derby games as both teams can't afford to lose and they often play defensively. The Under 1.5 Goals Ht is a code that can still be re-written as UN1.5 HT, and this means a prediction that there will be less than two goals scored in the first half of the game.
What is the 1.5 Goal Stats?
The Under 1.5 goals stats lists out the teams that have the highest percentage of matches and the totals goals scored in the match. Therein, players can check the latest under 1.5 goals predictions for the next match and make odd for such games using under 1.5 goals tips as oft as they may. In the Under 1.5 goals stats, players can select the content to view on stats or make a selection of games that are played by teams at home and/or away.
The Profitability of Building Under 1.5 Goals Accumulators
If one can be regular in betting, paying attention to every under 1.5 goals tips as much as possible and keep doing the needful daily, there are high chances of winning at least 4-5 times a week with high profit.
Under 0.5 Goals Betting
The bet under 0.5 means in this sports confrontation of nominal hosts, goals will not be scored. The under 0.5 goals betting is relatable with the clean sheet bet where no goal is expected, as opposed to the no clean sheet.
Some Alternative Betting Strategies to Under 1.5 Goals
Here are some alternative betting strategies to the under 1.5 goals bet. These markets have the same basic principles, and each one has different odds. They include the following:
–Over/under 0.5 goals: this is a very popular betting market and has with punters across a variety of football leagues. It's quite easy, as the player's place bets on no goals to be scored or more.
–Over 1.5 goals: The over 1.5 goals is placing a bet on the game, and expecting nothing less than 2 goals at the end of the game.
–Under 2.5 goals: in a match by either, if two or less than two goals are scored, it is said to be a win. And one wouldn't wish more goals than that as the game progresses.
–Over 2.5 goals: this betting strategy means one can place a bet on over 2.5 goals and it will be a win if the result is three or more at the end of the game. The advantage of this bet is that one is assured of a win once 3 goals get scored in a game of one's selection.
–Under 3.5 goals: sometimes the over/under 3.5 goals can be confusing, but it's quite an easy concept. If one places bet on a game with under 3.5 goals being scored, it becomes a win with 3 goals or fewer.
–Over 3.5 goals: with this, you are making a prediction on four or perhaps more goals which expect to be scored within the next 90 minutes of the game. If you enjoy betting on over 3.5 goals, you should definitely check Betfred's Goals Galore No Draw offer.
–Win to Nil: this is a football patterned bet that involves players concurrently placing two bets, the first, that a team would win, which is known as back bet and secondly a bet that the opposition team will fail to score. And both outcomes must be met for players bet to payout.
–Win both halves: this is a bet most commonly used in football, but can be found in other sports such as basketball, American football or tennis. Practically the team you back must win both in the first and the second half, as the score is reset at halftime.
–Over 1.0 1.5 bet: with this example of alternative goal line bet you are betting for an exact goal (1.0) and a half goal (1.5), dividing your budget in two parts. If more than a single goal is scored you win; if only one goal is scored you wil get a refund for the first part; if less than one goal is scored you lose.
Over 1.5 Goals Betting
For the over 1.5 goals betting, the market is very appealing as the player takes the side of cheering on goals to be scored and need not worry about who will win the match. All the player needs in the over 1.5 goal betting is basically 2 goals in the game for him to have a successful bet. The over/under 1.5 goals betting is one where there is no tie, as you either win or you lose.
Pros and Cons of Under 1.5 Goals Betting
PROS
It is quite simple because you are familiar with the direction of the game, and fewer surprises are expected. Under 1.5 goals will always steam downward, the market will do the opposite, leaving no second guesses on the market.
It is worth the time and effort spent, as one's bet can still be a win even if the team you bet on back loses
Another good thing is that you will find most matches end up with a profit, and this prompts some form of psychological boost that makes one forget about the losing days.
CONS
Having to make a consistent profit in the long run is both stressful and not guaranteed
Staying to watch the game and keeping track/record of the live score can be time-consuming at times.
One needs good technology, a fast and up to date computer to keep up with other under 1.5 goals tips and stats, it would seem disadvantageous after investing much in some sort of technology and not yield returns on betting.
Factors that Could Affect One's Bet on the Under 1.5 Goals Market
When strikers incur injury, this could influence the game.
A missing defender could end up becoming detrimental to end scores.
When there are Late-stage tournaments it increases the chances with which the under 1.5 goals market is being influenced/affected.
A mismatch could influence the game negatively.
Having to send Players off from a game for performing certain actions or inactions is yet another factor of consideration.
Is Live Betting on Under 1.5 Goals a Profitable Feat to Try?
The ability to predict rightly is both player and game dependent, as well one's research into stats and from the under 1.5 goals tips; after placing the right pegs into the right holes, betting under 1.5 goals is likely to end a win-win.
Frequently Asked Questions about Under 1.5 Goals Betting:
It is the possibility of a goalless match or 1 goal.
No, the Under 1.5 goals is simple, easy to understand by anyone and very profiting.
No, it isn't. A double chance bet allows one to cover 2 or 3 possibilities in a match and with just one bet; and is one of the most common at football betting sites.
Yes, it is well-structured, legit, and safe. Also, very profitable.
What are the Strategies for Trading the Over/Under 1.5 Goals Market?
In the over/under 1.5 goals system, two main strategies for betting; Strategy one, which is Breaking down the Stats, and strategy two, the Going in play. The over/under 1.5 goals strategy therefore is one where you bet on whether there will be more or less than 1.5 goals in a game.
The over/under 1.5 goals market does not suggest getting a half goal from a match, but it is a setup that makes provision for a win or loses and not a draw.
How about Betting to Fortune on this Market?
Having known more about the Under 1.5 goal, its meaning, under 1.5 goals tips, strategies as well pros and cons, it should be well understood that this is a good way to make a financial fortune with consistency and investing/betting wisely.
Having made the Choice of under 1.5 goals, betting on the right team, and observing odd carefully, your financial freedom is sure a few steps to attainment.