How to Bet on Football Accumulators | Best Tips on How to Win Big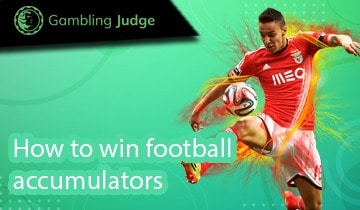 Accumulator bets, such as 8 fold bets, are quite popular in football and we are sure that you are wondering how to win football accumulators, as well as how to bet on football accumulators. When done right, these bets can help you to score really big payouts with very low investments: You can even win hundreds of thousands by wagering only hundreds. Did we manage to get your attention?
So, how is this possible? Is there a "trick"? How to win football accumulator bets, and, more importantly, what is the best way to win football accumulators? We will answer both of these questions and teach you how to win sports betting parlays and also at parlay insurance. When you finish reading, you will find out how to win big with football accumulators: Let's start!
What is a football accumulator?
An example of a football bet accumulator
We answered what is a football accumulator question above, so let's continue with an actual example. Let's say there are four matches that day and you want to bet on a different outcome on each. These matches are:
Log in to your favorite bookmaker and, if you need help, don't forget that we can find the best bookmaker for football accumulators for you: Just check our recommendations in this article, each of them is the best betting company for football accumulators.
After logging in, pick the Team A vs Team B match first, and, for example, place a bet on who will win the match. Next, pick the Team C vs Team D and place another bet. Do this for the other matches too.
In the end, you will make four selections in total, and, at this point, your betting slip will transform into a multiple accumulator automatically. Your slip will contain four selections and look like this, for example:
Who will win the match
Team C vs Team D
How many goals will be scored
Team E vs Team F
Who will win the match
Team G vs Team H
The score will be over 1 point
You get the idea: You can make a different prediction for each match. These can be the same predictions (for example, all your selections may be about who will win) or different ones: It is up to you. The important thing is, you will place a single bet for all these predictions, not multiple ones. This is how to bet on football accumulators: You have a single slip with more than one selection.
Betting accumulators need at least 4 selections but there is no actual limit: Most bookmakers allow you to make as high as 20 selections. The more you pick, the better the payouts will be. However, the cost of your bet (and the risk you take) will also increase. And now, since we explained how to bet on football accumulators, we can move to our next topic: how to win on football accumulators.
How to calculate an accumulator bet
But first, let's quickly explain calculating accumulator bets – if you want to learn the best way to win accumulators, you need to find out how to calculate them too. This is actually not that hard and requires basic mathematics knowledge. Do you remember our example above, about four matches? Let's list them again but this time with odds accumulator.
In other words, this accumulator bet with four selections offers an odds of 17.10. If we bet 10 EUR and win, the payout will be 171.10 EUR. If this sounds complex, you can also use an accumulator odds calculator, they are freely available. And if you make too many selections, using a calculator is highly recommended: doing so will prevent you from making a mistake.
Best Football Betting Sites
in 29 September 2023 – Updated List
Rank
Bookmaker
Bonus
Safe & Trusted
Rating
Get Started
How to bet on football accumulators and win?
In order to place an accumulator bet on football you need to follow these simple steps: 
Step 1
Log in to your favorite online bookmaker
Step 2
Pick "football" and start making selections. After selecting at least 4, your bet slip will automatically turn into an accumulator bet
Step 3
Select your stake and click the "place bet" button after you are done with your selections
We explained this process in detail in our how to bet on football in UK guide, so check that article for more info. Your winnings are calculated according to the odds of your selections, and since you can combine multiple odds, they can be quite big. Have a look at the example below:

Using boosts to score football accumulator wins
Taking advantage of these bonuses is of crucial importance if you want to learn how to win money on football accumulators. So, before anything else, make sure to check the promotions & features of your bookie before placing a bet: This is the best way to win a football accumulator.
How to win big on football accumulators?
Let's continue giving more football accumulator betting tips and explain various football betting strategies that will help you to win bigger & more often. These tips will also help you to learn how to win big at football bets, not just accumulators.
1. Do your research
As always, start by doing research and continue this throughout your betting career. The more records you keep, the better: Follow your teams and players throughout the season, take note of their performances in different conditions (e.g. home/away), and try to learn (literally) everything about them. This is the most important requirement for you to be able to make consistent and accurate predictions.
2. Use value bets in your accumulator
Value bets have the best cost/payout ratio and their low house edge rates allow you to reach your maximum profit potential. So don't forget to use them in accumulator bets. For more information, check our value football betting guide.
3. Use multiple markets and leagues
Do not stick to a single market or league if you want to get higher odds. The best thing about accumulators is that they are flexible, so you can combine different markets and leagues together, like lower leagues. WDW (win-draw-win), BTTS (both teams to score, which is the BTTS meaning), Over/Under betting, and Asian Handicap markets are the best options for football accumulators. You can even use draw no bet accumulators. But remember that you must be knowledgeable about each of them. If you are not, you can start by reading our how to bet on draws guide.
4. Do not exaggerate
If you increase the number of selections, the payout will also increase. If you make twenty selections, for example, it may be possible to earn a million-dollar with a figure like 10 EUR/USD. But don't let this mislead you: the higher the number of choices, the less likely you are to win. There is no "magic number" that will suit everything, but generally, we recommend that you stay between 5-7 selections.
5. Betting on favorite is the general rule
As a general rule, favorites have a better chance of winning and therefore your accumulator selections should mainly include favorite teams. However, you need to achieve a certain balance here. A bet only made up of favorites will not offer a high payout. Find in our guide when is it right to back the favourite in sports betting. In some cases (end of the season, home/away position, etc.) you still have a good chance of winning if you bet on the underdog.
6. Use a

football accumulator system

 

This means placing accumulators using system bets to cover your losses in case you are not that lucky. For example, make seven selections (1, 2, 3, 4, 5, 6, 7) and place a "Yankee bet" with them (read 7 fold bet for more information). This means placing seven different accumulators with these selections: 1236 – 1245 – 1357 – 1467 – 2347 – 2567 – 3456. By doing this you distribute the risk: while some of these choices will lose, others will win.
7. Sometimes it is better to cash-out
Bookmakers may offer you cashout and partial cashout offers before the bet is settled. Consider these offers carefully: If all of your choices except one have won and you don't want to take risks, for example, cashout might be the better choice.
8. Check your odds
Note that in accumulator bets you are still offered different odds for each selection. These odds will also differ between bookmakers. In other words, if you play at bookmakers that offer higher odds for each of your choices, you also increase the overall payout. Therefore, remember to check the odds of different bookies as always.
Additional tips & tricks for football accumulator bets
Finally, we can give a couple of football betting tips accumulator too:
Start with five selections instead of a fourfold bet. Usually, five selections offer the best cost/risk performance and the payouts will be much better. Stick with five selections for a while before adding more, like five-fold bets.
If you think the odds are too low, try removing heavy favorites from your slip. They are usually the reason why you can't get high odds.
Combine different markets and do not stick with a single outcome. For example, do not choose the "who will win" outcome for every selection: Make a different pick for each. This way, you can reduce the risk and get higher odds.
If there is an acca insurance, get it. Likewise, take advantage of the acca boosts.
Using an app for online football accumulator
Learning how to bet on football accumulators is no different if you are using a mobile device. Likewise, learning how to win football accumulators is the same too. Everything we explained in this article can be done on mobile devices whether with an app or not. You can even place each way accumulator: There will be no difference. The device you use does not change the rules of accumulator bets and/or their payouts.
Making money with a football accumulator system in the long run
You have learned how to win a football accumulator but can you do this all the time? Is it possible to keep winning with accumulator bets in the long run? Let's be honest: Even with the minimum number of selections, it is still hard to win accumulator bets: There are simply too many variables. You can definitely increase your chances by using the tips and tricks we listed above, but none of them offer you a "guarantee".
Winning accumulator bets still require lots of luck, and for this reason, it is not a sure way of making money in the long run. You should try them, that's for sure, but don't see them as a way of constant income. There are other (and much better) ways of getting a constant income: Start by taking a look at our how to beat the bookies guide.
FAQ about the best way to win a football accumulator
Yes. You can combine several bets (i.e., full time results, both teams to score, number of goals, etc.) in a single bet and almost for any sport out there.
You must make at least 4 selections to create an accumulator bet. Each bookmaker has a different upper limit: Sometimes it is 10, sometimes 20.
An unnamed London bettor has won £650,000 with his £100 accumulator bet in November 2014. As far as we know, nobody even came close so far. To give you an idea, he beat the odds of 6542/1.
In general, a five-fold accumulator bet will be ideal, but there is no "magic number" here. Each match is different and you should decide again what the ideal number will be each time.
Yes, but most of the time, they are called "multiples", not accumulators. Each betting site has a different practice: For example, Betfair allows to combine a number of selections (between 2 and 8) from different markets into one bet.
This is possible at some bookmakers that offer the "edit my acca" option. As long as the bet is unsettled, you can use this option to change your selections. However, remember that doing so may affect the odds & payouts.
Play at the best betting site for football accumulators
We showed you how to make money betting on football with parlay betting: Now, you know how to win football accumulators. Here is one last tip: In order to win big, you should also play at the best football betting sites so you can take advantage of bonuses and a wider market coverage: This is the best way to win a football accumulator. Luckily, we already picked them for you: Choose one of our recommended bookies, create an account, and place your acca bet right now: Good luck!
Other Tutorials and Strategies