Lay the Draw | Complete Lay the Draw Strategy Guide with Tips & Examples (2023)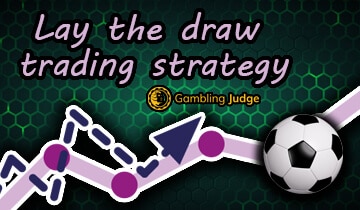 If you are planning on making a living on Betfair, you should know a couple of advanced betting strategies, such as lay the draw. When used correctly, this system almost guarantees a profit, no matter what the actual match result is. This makes it one of the best sports betting strategies you can use and thousands of people are already using it for profitable football betting or tennis betting strategies.
After reading our guide about lay the draw strategy, you can join them: Below, we explain this system in detail and give you a couple of lay the draw tips so you can make a fast start.
How does lay the draw work?
Betfair - the best exchange to use lay the draw betting strategy
We will give an example of lay the draw betting below, but before that, we must tell you that lay the draw strategy works only at betting exchanges: You cannot use it at regular bookmakers. We will also explain why, but for now, let's continue with the best betting exchange UK site to use this system. We highly recommend choosing Betfair: It is one of the best sports betting exchanges out there and offers several features that will make your job easier, such as:
✅ Offers far greater flexibility than traditional bookmakers
✅ You can find much more competitive odds: They are offered by bettors like you
✅ More odds mean more opportunities to use betting strategies such as lay the draw
✅ Liquidity is not an issue, especially in the football betting market
✅ New customers from UK or Republic of Ireland can get up to £100 in Free Bets
✅ Daily Free Bet offers for new and existing international customers
Top Bookmakers with the Best Odds
in 25 May 2023 – Updated List
Rank
Bookmaker
Bonus
Safe & Trusted
Rating
Get Started
How to lay the draw at Betfair: A lay the draw example
Matches & markets to use lay the draw system
There is one problem with lay the draw football strategy: It depends on odds dropping after the first goal is scored. Thing is, if that first goal is scored by the underdog, the favorite team is much more likely to score another goal – this fact may cause the lay bet odds to increase, instead of decreasing. The whole lay the draw in play idea is based on using the increased odds of back bets after the first goal, and if this does not happen, we cannot guarantee a profit. So there are two important things to consider: how to pick the right matches and when to lay the draw. Let's start with picking the right matches. 
👉 Do not pick matches with a heavily favored team and an underdog. The favorite team is always expected to score a goal (or even the score), so the odds won't be in our favor. (You should also check our underdog betting guide for more info.)
👉 We need the odds for the lay bet to drop (and odds for the back bet to increase). Teams known for their aggressive playstyle are the perfect choice: They will both score a lot of goals so the odds change between laying/backing will be in our favor. These teams are also suitable for BTTS bets. What does BTTS mean in betting though? It simply means that both teams need to score at least one goal during a match.
👉 Due to the high liquidity they bring, popular matches/leagues should be your preferred option.
What is the best lay the draw strategy?
And now, let's take a look at the timing of lay the draw bet: At what point should you use this strategy? There are several options for this and each one comes with pros & cons. The most common lay the draw strategy systems are:
Lay the draw and back 1-1
Your back bet (second bet) is about a specific score: You are betting on the match will end with a score of 1 – 1. You can get higher odds for this outcome but betting on a very specific score means taking more risk, which is against the "guaranteed profit" goal of lay the draw bets. 
Lay the draw at half time strategy
If you wait until halftime to play the back bet, you'll have a better idea of the teams' performance (and the number of goals they can score). In this option, you decide during halftime whether to play the back bet or not.  
Lay the draw back 0-0 at halftime
According to official statistics, 25.5% of matches that are 0-0 until halftime end at 0 – 0. This strategy is based on this data and again asks you to bet back on a specific score, but the lay the draw back 0-0 result is more likely to occur compared to 1 – 1. 
Lay the draw in the second half
You play both lay and back bets during the second halftime. The idea is simple: When you watch the first half of the match, you can make a more accurate prediction of what will happen in the second half. That's right, but since anyone can do this, the odds difference you get won't be much.
Lay the draw at 60 minutes
The difference between back and lay odds will increase towards the end of the match. Matches usually end in the same way as their score in the 60th minute. This strategy tells you to wait until the 60th minute to place the back bet. (Alternatively, you can lay the draw at 70 minutes.)
Tips & tricks for the best way to lay the draw
You can see our lay the draw tips & tricks below:
👉 Lay the draw strategy is not only used to make a profit. Sometimes you can't guarantee a profit even if you make the right choices. In such cases, focus on minimizing your losses. Place a back bet even if it won't bring any profit, as long as you can reduce your losses.
👉 Ideally, we recommend that you choose matches that offer 3.5 – 5.0 odds for the draw result.
👉 Most exchanges offer a lay the draw software to calculate the lay and back bet amounts. If there is no such software, you can use lay the draw calculator.
👉 If the underdog scored the first goal, try to hold your position for as long as possible. In such cases, it would be better to wait until the 60th or even 70th minute.
👉 As always, do your research and find out everything there is to know about both teams before placing your bets. Injured players, home/away status, and many more factors will affect their performance (and therefore the match result).
👉 You can use free bet bonuses to place the back bet. Do not forget to check the lay the draw daily tips and have a look at our list of reload offers for UK players.
👉 Don't spend your entire budget on a single game. Divide your budget into at least 10 units and use each unit in a different match.
Lay the draw for a living: Is it possible?
Truth be told, no: Although in most cases you can guarantee a profit, it is not possible to completely eliminate the luck factor. Lay the draw betting is similar to arbitrage betting but works in a different way: Unless the odds difference is not as large as necessary, you will not be able to make a profit. Therefore, it would be better to see the lay the draw strategy as a tactic that increases your chances of winning: It is very difficult to make a living with this method.
Should you try lay the draw betting?
PROS
It is possible to lock-in a profit
The basic principle is very easy to understand
Does not require a big bankroll
Can be used with free bet bonuses
CONS
Some matches are not suitable for this strategy
It may be hard to find out when to exit
FAQ about lay the draw selections
As a rule, lay the draw bets can be used in all sports where a draw outcome is possible. However, due to its rules and popularity, football is the best sport for this system.
The basic logic of the system is simple and beginners can easily understand what to do. However, learning when to place the second bet takes time and experience.
No, regular bookmakers only offer the cashout option. Lay the draw can be used efficiently only in exchanges such as Betfair.
Yes. Therefore, lay the draw is also a live betting system. To use this strategy properly, you can place your second bet only while the match is in progress.
Placing the second bet immediately after the first goal is scored. Whereas, holding your position for a while will allow you to get a higher profit margin.
Start with the best lay the draw strategy
You have learned what lay the draw bets are and now you know what advantages they give you: Now it's time to try them. Create a Betfair account, start using lay the draw strategy we recommend, and win.
We are sure that you will achieve satisfactory results in a short time using our lay the draw tips. We will always be here to help you, so don't forget to visit us often. Good luck!
Other related articles you might like:
Other Tutorials and Strategies