Hedge Betting – What is hedge betting and how to hedge a bet [2023]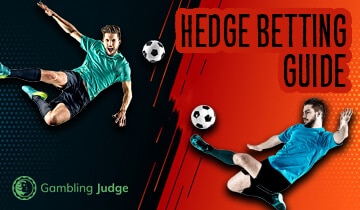 If arbitrage betting sounds too complex and getting insurance against the possibility of losing is enough for you, then hedge betting may be the solution you are looking for.
In this context, hedge bets can also be used as the answer to the question of how to get max value when betting: Even if you lose your original bet, you still have a chance to make a profit. We have prepared a special value football betting guide for more info.
This system, which you can easily use on bookies that don't limit your options, is also suitable for beginners and does not require previous experience.
You can find everything you wonder about this system that you can start using right now in this guide.
Below, we will first answer the question of what is hedge betting and talk about the best sports betting strategies you can use for these bets.
Best Bookmakers for Hedge Betting
in 01 November 2023 – Updated List
Rank
Bookmaker
Bonus
Safe & Trusted
Rating
Get Started
What is hedge betting?
The meaning of 'hedge your bets'
A football hedge betting example
Suppose you made a EUR 100 bet with odds of 1.60 on Team A to win FIFA 2023 in January.
However, in March, you saw that Team A performed less than expected: You realized that Team B is also likely to win FIFA 2023.
Therefore, you have decided to place another 100 EUR bet with 1.30 odds on Team B as well.
Congratulations, this is called hedge betting and you've successfully completed it. This is a simple example, but it allows you to understand how hedge bets work: You placed two different bets on the two most likely outcomes. Thus, you have insured your first bet: Even if you lose it, you can still win your second bet.
If you win your first bet, you will receive a total payout of 260 EUR. You invested 100 EUR for this bet.
If you win your second bet, you will receive a total payout of 230 EUR. You also invested 100 EUR for this bet.
In other words, you spent 200 EUR in total but will earn either 230 EUR or 260 EUR: You will make a profit anyway.
Guaranteed betting vs hedge betting: Are they the same thing?
While hedge betting is a
profitable football betting
strategy, it does not guarantee that you will make a profit. In the example above, Team C could also win FIFA 2023: In such a case, you lose both bets.
Hedge bets
allow you to increase your chances of winning by simply placing a bet on the second most likely outcome, but they give no guarantee.
Calculating a back to lay hedge bet: The hedge betting formula
First, let's briefly answer the question of what is lay betting: Laying is betting that an outcome will not happen (for example, a team will lose the match or with lay the draw, that the match won't end in a draw). Backing, on the contrary, is to bet that an outcome will occur (for example, a team will win the match).
Back to lay is simply to place an additional lay bet on a back bet that you have previously played, so as we explained above, you are hedging on the two most likely outcomes (the team will either win or lose the match).
Suppose you bet 100 EUR at odds of 1.45 for Team A's probability of winning (back) at the beginning of the match. 1.30 odds are offered for Team A's probability of losing (lay). If you calculate the amount of the lay bet (hedge bet) correctly, you will be able to make a certain profit in any case. The formula you will use to calculate this amount is:
(back price * back stake) / current lay odds = hedge bet amount
(1.45 * 100) / 1.30 = 111.53 EUR
By using the best odds margins at the best odds bookmakers, you can further increase your potential earnings. You can use this formula on the easiest sports to bet on, like football and tennis. So hedge bets are among tennis betting strategies and hedge betting tennis is possible.
How to hedge live betting?
Football hedge betting system: What you need to know
Football is one of the most suitable sports for hedge betting, and generally, the following two basic football hedging strategies will enable you to use hedge bets in the most efficient way:
If odds drop after playing lay bet, place a back bet.
If odds increase after playing back bet, place a lay bet.
You can use this simple football hedging system in all bookmakers with statistics and increasing/dropping odds tracking is all you need to do. In other words, it is a very easy strategy to use and can be used for both favorite and underdog betting. Hedge bets should be preferred mostly for outcomes that will occur in the distant future, as it will be easier to follow the changes in odds. As mentioned above, in-game hedge bets are possible, but future betting is the most ideal option for this system.
Using bonuses for hedge betting
Hedge fund betting
Sports betting hedge fund is completely different from hedge betting. However, let's explain briefly what it is because they are often confused with each other. Betting hedge funds are an asset class that investors can use in the sports market. It appeals to investors, not bettors.
They are no different from any other hedge fund. Only the resources needed to create the fund are chosen from the sports betting market, not from stocks or currencies. It is not actual betting; it is a type of investment.
Pros and cons of hedge betting
PROS
Easy to use
Minimizes the risk
Acts like insurance for your original bet
Can be used on any sport
CONS
There is no guaranteed profit
Sometimes arbitrage betting may be the better option
Frequently Asked Questions about hedge betting:
Is hedge betting legal is a popular question so here is the short answer: No. This is not an illegal method and there is no law that prevents it. Some bookies, however, may state that hedge betting is against their TOS.
Hedge bets are available as an option at many betting exchange UK sites. If they are not available, you can still use them because this is a method that involves placing two bets to cover every possible outcome. In this regard, you can use it at any bookmaker out there.
As mentioned above, we recommend watching the change in odds: If they drop after placing a lay bet, place a back bet too. If they increase, place a back bet against your lay bet.
The goal of hedge betting is to minimize risks and guarantee a profit if possible. In this regard, it can be used in all sports. However, football and tennis are the most popular options for hedge bets.
Start placing hedge bets today
You have learned what is hedge betting: It is time to make some practice. When used right, hedge bets can help you to score a payout no matter what and they can be used by anyone without the need for previous experience.
Simply put, hedge betting is your friend: You should start using it right now. Pick one of our recommended bookmakers and don't forget to check our other guides (i.e. low odds laying system, how to bet on draws, best staking plan for low odds) too. Good luck!