Hardest sport to bet on: Reality or fear? (2023 update)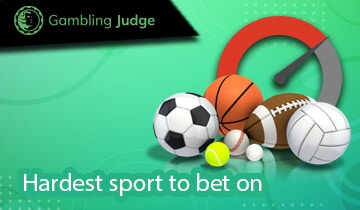 What is the hardest sport to bet on is the most asked question by novice bettors. There isn't a straightforward answer to this question. However, it may be tough to bet on almost all sports if you don't understand how it works, players' performance, and haven't studied statistics. However, according to sports betting facts, Baseball is the most complicated sport to bet on. Many reviews show that football is the easiest sport to bet on.
Other challenging sports to bet on include basketball, combat sports, tennis, golf, hockey, and cricket. This write-up looks at the different types of sports and the level of challenges they pose to bettors. If you want to minimize your gambling risk, you'll know the best sport to gamble on when you read this article to the end.
Top 10 Sportsbooks
in 28 September 2023 – Updated List
Rank
Bookmaker
Bonus
Safe & Trusted
Rating
Get Started
Hardest sport to bet on explained
Hardest sports ranked: Which sport is the hardest?
MAJOR LEAGUE BASEBALL
FOOTBALL
COMBAT SPORTS
TENNIS
NASCAR
NATIONAL BASKETBALL ASSOCIATION (NBA)
CRICKET
SOCCER
HORSE RACING
GOLF
FAQ about hardest sport to bet on
The most profitable sport is the one that makes money for you, and that varies with the bettor. However, many gamblers agree that soccer is the most profitable sport.
It depends on your experience. However, Over/Under, Goal-Goal and Double Chance Bets are the easiest football bets to win.
Basketball is one of the most predictable sport because it has many points and fewer surprises. Besides, the odds are attractive.
Soccer is the most popular sport in the world. According to Sportradar, betting and sports data analyst, about 70% of worldwide betting comes from betting on soccer.
Golf is the least predictable sport. Check its variance, huge fields within majors and the number of talented players.
It depends on how you understand the sport. But College Football, NFL, MLB and College Basketball are the safest sports to wager on.
Easiest sports bets to win don't exist
Each sport has its difficulty level, so knowing which sport is the hardest varies a lot. The best way out is avoiding the common sports betting mistakes and learning how to win at sports betting or  sports betting system by following the available betting tips. Without the best strategies and in-depth analysis, even the most experienced bettors will lose money unless luck is on their side.
Remember, for a professional gambler; none is the hardest sport ever to bet on, but is gambling a sport? Always remember, the best sport to bet on or the biggest sports bet to win is the one making you the most money. Some gamblers may find baseball the easiest sport, while others may find baseball to be highly complicated. Find what works for you, and that might take a lot of trial and error.