Arbitrage Opportunities | 2023 updated guide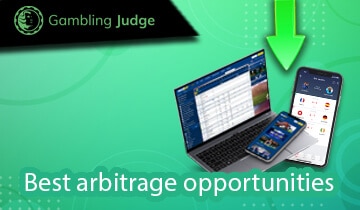 Arbitrage betting is the one sure-fire way to consistently beat the bookies. With this strategy, punters can generate profits every time they place their bets.
The money they make is a much smaller percentage than that won by winning a traditional bet but the money adds up over time.
It is definitely a worthwhile pursuit for those who have decent bankrolls. That's not to say that a punter needs a large bankroll to arb. Some of the best arbitrage opportunities online are available for everyone, and in this guide, we will show you how to spot such arbitrage opportunities.
It's just that arbing with a $25 bankroll will yield very small profits. However, that $25 bankroll will eventually grow to the point that an arber will generate a healthy chunk of change.
This is dependent on you finding the best arbitrage betting sites, and not missing any arb opportunities which come your way. The big question is, how to find arbitrage opportunities online?
There are a few sportsbooks that arbers can ply their trade at but they must keep in mind that the vast majority of sportsbooks have little patience for arbitrage betting.
Some of these are dependent on where you live. Players in France will find want to play at a French betting site, while those in Kenya may prefer arbitrage betting at Kenya bookies. On this page, we will cover those national options as well as free arbitrage betting sites and more.
A word of warning about taking live arbitrage opportunities, though; arbing, just like with dutching, is one way to get yourself suspended or banned from an internet betting site but don't let this scare you. To avoid raising suspicions you may place one of the bets in a high-street betting shop (you would then be "sharbing" or "shop arbing"). On top of that, live arbitrage opportunities exist via live in-play betting.
Punters can employ a variety of strategies to avoid detection at sites that frown down on arbers. This way, arbers can continue to take advantage of odds differentials.
One way they might go about that is registering at several to sites, to fully maximise any sports betting arbitrage opportunities. And choose bookies that don't limit you for arbing. If you find the proper ones, then hedge betting will also be a great strategy to apply.
Let's take a look at a few things that punters need to know when they want to start arbitrage betting, in our guide to how to spot arbitrage opportunities.
Top Sports Welcome Bonuses
in 30 May 2023 – Updated List
Rank
Bookmaker
Bonus
Safe & Trusted
Rating
Get Started
How to Find Arbitrage Bets
Experienced bettors will be able to spot arbitrage opportunities a mile away whereas novices will need to learn to look for the signs. There is a bit of math involved but nothing too intimidating. The use of simple formulas can confirm an opportunity and calculate an arbitrage profit margin.
The first step is to find discrepancies in lines that are offered by various bookies. This can be done by reading live odds comparisons which are offered at many websites including right here at GamblingJudge. It is these live arbitrage opportunities via odds that we are most interested in.
When you find significant differences in the odds offered by two competing sportsbooks then it's time to do a bit of math to figure out the "arbitrage percentage", profits, and individual bet amounts.
There are several arbitrage bet finder services that arbers can join to be alerted of opportunities. Be warned that they are not always reliable. Moreover, they are expensive to join and will take a healthy chunk out of your already slim profit margins.
Besides, there are many free sports sites that have alerts for their customers. They don't go all out and offer free arbitrage bets or provide specialised arbitrage betting services, but you'll get the idea.
An Arbitrage Betting Example
Using one of the many free websites that are dedicated to finding arbitrage betting opportunities, we found a match in which the Over/Under offers a great arbitrage betting opportunity. At Sportsbook A, the Over is listed at 2.00 while the Under is set at 2.32 at Sportsbook B. Right off the bat, any opposing bets which offer even odds (and betting on such odds is called EVS betting) and better will be an opportunity. Let's take a look at how to arb this.
Bear in mind that what follows may be way above your head. However, don't panic and read through each step carefully. This is how you will find the best arbitrage opportunities, and it is very much worth your while to understand how it works. If you're interested in learning how to identify arbitrage opportunities like tennis arbitrage betting, let's begin…
The first thing that needs to be done is to figure out the "Arbitrage Percentage". This is accomplished by using a pretty straightforward formula:
(1/ODDS 1)*100 + (1/ODDS 2)*100
Let's enter the odds:
(1/2.00)*100 + (1/2.32)*100
=(50) + (43.103)  These are the "Individual Percentages".
= 93.103%  This is the "Arbitrage Percentage".
In simple terms, if the arbitrage percentage is lower that 100%, it is an arbitrage betting opportunity. If the percentage is 100% or greater then it is not. In this case, we have a great arbing opportunity. Other decent sports betting arbitrage opportunities will work in much the same way.
So how does this translate into arbitrage profits? The profits will depend on the investment amount. Let's say that the investment on this arb will be $1,000. We will now calculate the profit using the following formula:
(Investment/Arbitrage percentage)-Investment
($1,000/93.103%) – $1,000
= ($1,000/.93103) – $1,000
= $1,074.08 – $1,000
= $74.08
This tells us that the $1,000 investment, equivalent to a dime bet, will yield a profit of $74.08. Give or take a penny because we are rounding the decimal points.
Unless you're playing with free arb bets, which is unlikely, we need to move onto the next phase. Now the big question arises. How much to bet on each outcome? Once again, we need to refer to a simple formula to calculate each bet.
(Investment * Individual Percentage) / Arbitrage Percentage
So, for the first wager:
($1,000 * 50%)/93.103%
= (1,000 * .50)/.93103
= 500/.93103
= $537.04
This means that you will need to place $537.04 on the Over at Sportsbook A
For the second wager:
($1,000 * 43.103%)/93.103%
= ($1,000 * .43103)/.93103
= 431.03/.93103
= $462.96
This means that you will place $462.96 on the Under at Sportsbook B. Now we can look at the results of either outcome:
If Over wins: $537.04 * 2.00 = $1,074.08
If Under wins: $462.96 * 2.32 = $1,074.07
The total outlay was $1,000 and the profit will be either $74.08 or $74.07. This represents a 7.4% return on the investment. If you were to invest $100 instead of $1,000, the profit would be $7.41. These profitable arbitrage bets are available every day. Of course, some are more profitable than others.
As you can see, finding profitable arbitrage opportunities take a lot of work, but pays off in the long run. It is not ideal for players who want lots of quick cash.
A good arbitrage betting website will have a list of all the opportunities out there for you. On top of that, they may also serve up a spot of live arbitrage betting. Inputting the formulas into a spreadsheet can make quick and accurate work out of the calculations.
Arbitrage Betting Along With Bonus Offers
The final part of our guide on how to find arbitrage betting opportunities deals with bonuses. A great way for arbors, especially novices who want to try their hands at arbing, is to take advantage of the many sign up free bets and other deposit betting bonuses that are featured at GamblingJudge. Because arbitrage betting requires a larger investment to be profitable, arbers are more likely to make larger deposits into their sportsbook accounts.
This is where punters can really take advantage of the sports promotions that are offered through Gamblingjudge. For instance, if you are looking at an arbing opportunity that involves opening an account and placing a bet at 1xBet, you can take advantage of  their sign up bonus. That bonus can then be used to snap up arbitrage betting opportunities found at the domain.
If you need to place the second half of an arbitrage bet at Novibet's sportsbook, you could get in on their match deposit bonus up to €100. Now you can use the bonus money to place arbs that will yield nice ROIs.
Arbers will find themselves needing to open accounts and deposit into several sportsbooks to bag the best arbitrage opportunities, and it only makes sense to cash in on some big bonuses while they're at it. You can place arbitrage bets using free bets, risk free bets or cash you get with money back betting offers.
When it comes to live arbitrage opportunities, a bonus goes a long way. All of these bonuses and more are found at Gamblingjudge and with their comparison table, the bonuses you are looking for are a cinch to find. Just check out the promotions section to find your awesome bonuses before you consider making a deposit into any sportsbook.
Now that you know how to spot arbitrage opportunities when you see them, go get 'em!!
FAQ about Arbitrage Opportunities
Yes, arbitrage opportunities are legal, which is a good method if you want to make money, you will annoy the bookmakers if you are doing this strategy will.
Yes, arbitrage betting is one of the best opportunity because is almost risk-free. Overall, is actually easy to make money from arbitrage opportunities.
Defense about your balance, for example, if you have 1,000$ and you will invest at least around 2% in arbitrage opportunities every day, at the end of the month you will be able to make 150$.
If you want to not get caught, you should round the bets, to do not deposit and withdraw money as frequently, you can also use some betting exchange or don't make maximum bets all the time.