Corner Betting Strategies – How to win at Corner Betting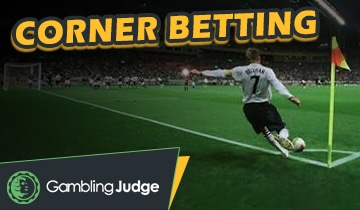 There are plenty of special markets for those who don't mind walking down the less traveled paths when betting on football.
One of the most exotic ways of placing a bet is to get fully immersed into the art of corner betting.
We are not mincing words here, because contrary to popular belief, there's a corner kicks betting strategy that savvy punters use to achieve the desired results.
In the paragraphs below we will provide you with corner tips football betting fans should know and highlight the best strategies available.
What is corner betting?
Even the longest journey begins with a single step and our corner betting article has to start with an answer to this obvious question. What does corner betting mean and how can players make the most of it without relying solely on luck. The name speaks for itself, as those who plan on betting on this market will focus exclusively on the corner kicks.
Punters can wager on the next team to be awarded a corner, the total number of corners, betting on penalties, betting on who will receive a yellow card and several other special markets. This is essentially a prop bet, since it doesn't depend on the outcome of the bet and it doesn't even directly influence the result.
Top 10 Bookmakers where you can bet on corners [2021] - Updated List
Rank
Bookmaker
Bonus
Safe & Trusted
Rating
Get Started
Why bother betting on corners?
The main reason why corner betting is so popular among both casual and recreational punters is that it keeps them at the edge of their seats. Instead of patiently waiting for the final result, you can enjoy the adrenaline rush of watching every single offensive play with interest. There are plenty of corners during the match and even more attacks conducted by both sides, so there's always a chance for a corner kick to occur. Bookmakers even offer the option of betting on "each team over 1 corner in each half", and we have prepared a great guide on this one.
Corner betting bookmakers allow players to place consecutive bets on this market, so one can turn even the least exciting football match into a roller coaster of emotion.
Then there is also the matter of making a profit. At the end of the day, corner betting can be just as profitable as any other betting market available on football matches. There are ways to maximize the return on investment and corner betting statistics can be found online if you know where to look for them. They make less sense for casual punters, but professional players can extract a lot of information from seemingly random strings of results.
We strongly believe that corner betting can work if you know how to overcome the most common obstacles.
What's the deal with corner handicap betting?
Now that you know the main plot, it is time to learn what is corner handicap in betting and how to tackle its inherent challenges. Under normal circumstances, home teams are expected to play more aggressively, so there's a high likelihood for them to be awarded more corner kicks.
The same applies to overwhelming favorites facing weaker opponents, as the latter are tended to play defensive football. In order to level the playing field and enjoy better odds on the team that will have more corner kicks, punters can use handicaps (either Asian or European handicap). They work just like classic ones, by requiring the favorites to cover a variable spread.
Depending on how balanced a game is, the corner betting handicap can be smaller or greater. In the case of perfectly matched football clubs, the handicap can be as low as -0.5, with slightly higher odds on the team supposed to cover the spread.
By comparison, when the difference is significant, the handicaps can go as high as -6.5 points for the better team. In these instances, punters frequently trust the underdogs to cover the spread, while enjoying odds that revolve around even value. Generally speaking, when betting on corner kicks, soccer fans must use handicaps to extract sufficient value from the odds available.
How unpredictable corner betting really is?
Recreational punters will likely frown upon the idea of corner betting because they regard it as totally random. Win average odds of 9/10 on perfectly matched teams, the prospect of betting on perfect coin flips doesn't sound appealing at all. The good news is that corner betting isn't the arbitrary venture that some might assume and punters can use pregame and in-play betting strategy to gain an edge.
To start with, home teams, better football clubs and those playing offensive football are more likely to have more corner kicks. Meanwhile, weak and defensive teams, as well as those traveling are usually awarded fewer corners. This is reflected by the odds, so a quick glance at the betting sites for corner betting reveals that.
While anticipating the team that will have more corners is relatively easy, predicting the first, next and last corner is a real challenge. Once again, the better and more aggressive teams have a certain edge, but in order to make an informed decision it is better to place the bet live. Truth be told, there is no secret corner system betting, but rather the power of accurate observation being used.
Leading teams, as well as those satisfied with the current result will be reluctant to attack, therefore less likely to get a corner. The eliminated players and the substitution of offensive footballers also influences the chance for corners.
If you like math, you will like multi corner betting
We have started our corner betting article with an explanation why punters sometimes choose to stray from the mainstream markets. It is time to flip the coin and remind you that on most occasions, the roads less traveled are less traveled for a reason. To better illustrate this reality, we shall explain what is multi corner betting and why we don't think it is a good idea. This is a special betting market, in which punters bet on the combined number of first half corners, multiplied by second half corners.
You need to be a huge fan of math and at the same time love randomness to enjoy this type of corner betting. There's a lot of uncertainty involved and you have virtually no control over the outcome, as the bet is placed before kickoff.
Betting sites for corner betting that feature this market will usually post numbers ranging from 20 to 30. That's because on average, 4 to 6 corners are being scored in each half, but there's really no science behind this assumption and few instruments to anticipate the outcome.
Keep it simple with 2-way corner betting
Just because multiple betting opportunities exist doesn't mean that you should divide your attention to all corner betting markets. It is always better to keep things simple and wager on markets that have only two possible outcomes which are not terribly difficult to anticipate. Two way corner betting is perfect because of its sheer simplicity and the fact that it actually gives you the opportunity to bet on several markets.
The Asian corner betting strategy is essentially like a classic asian handicap that removes the possibility of a draw. With Asian corners punters can bet on teams to cover the spread or not and they can also bet on the total number of corners, just like with round betting boxing. The standard betting corner Asian handicap is usually applied to home teams and those who play offensive football. The average lines for the over/under markets is set at 9.5, but players can get decent odds by moving them up and down by one point, to 8.5 respectively 10.5. This is also called alternative Asian handicap betting (available at Asian handicap bookmakers) and it works with quarter lines, too – like Asian handicap 0.25 lines or Asian handicap 0.75 lines.
Live corner betting is the way to go
Most punters feel that they need to make a decision between pre-match and in-play corner betting. We feel that there is value in pursuing both avenues, but if you were to choose, live corner betting is the smart choice. Before kickoff, you can look at the starting formation, the head to head record (check here our head-to-head sports betting guide), as well as the sheer strength of each team.
Factoring in the fitness, motivation and particular objectives of each team can also help in making an accurate prediction. There are, of course, betting sites that predict corner kicks, but we believe that it is always better to take these assumptions with a pinch of salt and do your own research.
Live corner betting has the perks of putting you firmly in control, as you can watch the action unfolding on the football pitch. First corner betting is usually the trickiest, because you only get to watch the match for a few minutes. The upside is that the odds on these markets are usually higher than those for the next corner, so punters are tempted to act quickly. Alluring as this might be, it is preferable to wait a bit longer until you have more information since there are many factors to consider when betting on corner.
No such thing as best leagues or matches for corner betting
A common misconception is that some divisions are better for corner betting or that certain matches are more likely to yield desired results. This is simply not true because the corner betting odds are the same for all matches and they depend solely on the bookmaker of choice. Even though some games are more likely to generate a high number of corners than others, there is always the possibility of betting on the opposite outcome. For instance, you can bet on a low total corner count in dull matches or games where teams lack the motivation and still make a profit.
Over-under corner betting is the perfect market because it allows players to take advantage of the subtle changes that occur during the game. When corner betting live, you can take advantage of sharp odds and line movements to extract the most value from each bet.
Whether you choose corner betting sites in Kenya or wager on these markets in the flagship European divisions, there's always an angle to take. Corner betting goes well with double result bets too. Some teams have a predisposition for taking corner kicks, while others are rarely awarded set pieces. As long as you know these details, you can make corner betting work anywhere and make a profit.
As we are about to wrap up our corner betting article, we'll give you a few tips and tricks. Granted they are not written in stone, they apply in most cases and can easily be used regardless of betting expertise.
1. Don't take coin flips in corner betting
If you don't have a valid reason when placing the bet, just avoid betting on corners altogether. Steer clear from odd and even corner betting as these are totally random markets with a house edge of at least 10%.
2. Chase shaky goalkeepers and central defenders
Poor defending teams and those whose goaltenders lack the confidence of grabbing the balls shot at them are more likely to concede corners. When they play against top opponents, they will deflect the ball and there's a good chance for these to result in a corner kick.
3. Follow English teams in European competitions
Premier League corner betting is a tricky business, because English teams will appreciate the importance of these set pieces. They go to great lengths to obtain corner kicks, but at the same time, do everything in their power to avoid them. That's why they usually get more corners than their European counterparts when playing in international matches.
4. Rain and snow are catalysts for corners
If you want to get a corner betting secret edge, you need to look at the elements beyond the game itself. Matches played in rain and snow are more likely to result in corner kicks because the ground and the ball are wet. This makes it difficult for goalkeepers to hold onto the ball, so it can slip into a corner.
5. High-scoring teams also get more corners
Whether you fancy high risk markets such as correct score betting or prefer to place a double chance bet, corners are to be considered. These are the perfect complementary markets when betting on matches that involve high-scoring teams. There is an indissoluble link between the number of shots at goal in the number of corners so keep that in mind.
6. Bet on FC Sevilla to have more corners at home
All the information above is based on statistics, experience and a careful analysis of corner betting rules. This particular tip, however, is the result of hundreds of bets placed on the popular Spanish team that has won the most Europa League trophies. When the team from Andalusia plays at home, it almost always has more corner kicks than its opponent, regardless of who comes to town.
Never frown upon corner betting again
You now have enough information at your disposal to know that corner betting is not a random bet that punters place just for fun. There is actually science behind betting on corners and plenty of elements to factor in when crafting a functional strategy.
The rule of thumb says that offensive football clubs, teams playing at home and those in dire need of victory are more likely to be awarded corners. There are other, more subtle factors at play and if you can properly interpret them, your corner betting will be hit.
Other related articles you might like: