Low Odds vs High Odds – Should you bet low on high odds or high on low odds?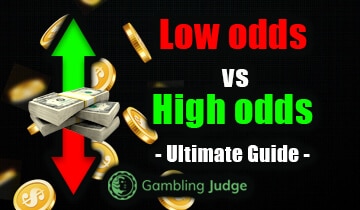 The eternal struggle between bettors always arises in regards to one thing, low odds vs high odds (or high odds vs low odds – same thing).
With sports betting and betting in casinos seeing a spike in popularity over the last couple of years, it's no surprise that the debate on whether players should go for low or high odds betting has heated up again: Odds high or low: What is your choice?
To help you, we've compiled a guide in various sports like basketball, that will make your decision on whether you should play low or high odds easier. Let's get started and find out what low odds vs high odds really means!
Top 10 Bookmakers with the Best Odds
in 27 September 2023 – Updated List
Rank
Bookmaker
Bonus
Safe & Trusted
Rating
Get Started
First things first - What are low odds?
What about high odds?
Just like with low odds, many people get confused by the name when it comes to high odds. High odds in betting means that the payout you might win from these bets will be very high, but the chances of winning the bet are quite low.
Betting on high odds gives bettors a chance to potentially rake in massive amounts on a somewhat small bet. Of course, the chances of that happening are slim, which is why high odds are also often referred to as slim odds.
Why do the betting odds keep changing?
Betting odds explained with types
Let's continue with the basics by explaining different odds types. Here we will talk about the main odds types and not explain advanced betting terms such as short odds or long odds: To learn more about them, we recommend checking out our accept all odds movements and odds shortening guide. In order to create a low odds betting strategy and place a winning bet, you must first learn the numbers you see on the screen and their meanings. All of the best betting sites with high odds use one of these formats by default, but switching to other formats is always possible:
Fractional Odds: This is the "British" version of odds and it is shown by a slash or a hyphen, i.e. 4/1 or 2-1. Basically, the right digit represents your bet amount and the left digit shows how much you can win. For example, 6/1 means that you will win 6 unit for every 1 unit you wager. In this regard, if you bet 10 EUR for 6/1 odds and win the bet, the payout will be 60 EUR. (You will also get your initial investment of 10 EUR back.)
Decimal Odds: These are known as "European" odds and they are pretty common. They are simply a number that shows how much you can win by wagering 1 unit. For example, 4.00, 2.50, and 1.20 are all decimal odds. If the odds are 4.00 for a bet and you wager 100 EUR & win, the payout will be 400 EUR.
American Odds: These are also known as "moneyline" odds, and as the name suggests, they are common in US betting sites. They are shown with "+" and "-" signs. If the minus sign is used, it means how much you need to wager to win 100 USD. If the plus sign is used, it means how much you can win for every 100 USD wagered. For example, "-150" means that you need to wager 150 USD in order to win 100 USD. Likewise, "+150" means that you will win 150 USD for every 100 USD wagered.
The odds range value explained
The confusion of odds and probability
As mentioned before, when looking at lower odds vs higher odds (or high odds vs low odds), people often get the meaning of the confused. A lot of this is due to people confusing odds with probability. Probability can be defined as the number of times we can expect an event to occur during many trials, and it always ranges between 0-1. However, odds are different. They're the probability that an event will occur divided by the probability that the same event will not occur.
We can explain this more easily with an example of dog betting. If a greyhound participates in 100 races and manages to win 25 and lose 75 of them, then the probability of that dog winning is 25/100 = 0.25, or 25%. The odds of that greyhound winning however would be 25/75 = 0.333, or 1 win to three losses.
Betting low on high odds vs. betting high on low odds
Which one is better? Betting low on high odds or betting high on low odds?
When you examine both of these strategies more closely, you can see that they both strive for the same goal. None is better than the other, it all depends on which one works best for the player specifically. With betting high on low odds, players can slowly build up a nice stack of winnings since the chances of a loss are lower. However, if you do lose, you'll lose quite a high stake. Check our
low odds betting strategy
guide to find more strategies you can apply with low odds.
With betting high on low odds, the wins and losses are reversed. Over time, players might end up amassing quite a big pool of losses if they're not lucky enough to snag a win, but if they do end up getting one, they're golden.
Like with all betting, the most important part of betting low on high odds and betting high on low odds is learning to best manage your money. This way you can make the most out of your experience and know when it's time to cut your losses and take a break.
Low odds and high odds betting strategies
We've already gone over some of the most popular betting strategies when it comes to betting on low odds and high odds, but that doesn't mean they're the only ones. Unsurprisingly, some of the best sports betting strategies like money management, software enhanced strategies, and only betting on one team can be applied to low odds and high odds betting, so looking into those might be a good idea.
Also, betting on low odds corresponds to the "over 0.5 goals" and "over 1.5 goals" markets, while betting on high odds means you can also focus on the "under 1.5 goals" bet.
Something else that might help you out, especially if you're new to sports betting, is looking into different types of sports betting. Some sports betting is easier to grasp than others, and one sport you might want to look into is football.
As one of the most popular sports globally, you'll find that profitable football betting is a very real option. You can find some great guides on how to read soccer odds (including soccer dropping odds and closing odds), how to win at sports betting, and how to avoid sports betting mistakes online to make things a bit easier.
Pros and Cons of low odds betting
PROS
Positive return over time
More chances to place separate bets
More betting opportunities
CONS
Less time to research bets
Bigger losses
Pros and Cons of high odds betting
PROS
Potential to score big wins
Low stakes can have big payoffs
CONS
Easier to accumulate losses over time
Less betting opportunities
Should you bet low on high odds or high on low odds?
The question of whether players should choose high odds vs low odds betting seems to be the center of a lot of confusion. With this guide, we hope we were able to clear up some of that confusion and help you make the choice that's best suited for your betting needs.
In the end, both low odds and high odds betting offer some great positives that bettors can take advantage of, it all depends on what they want out of their betting experience.
Frequently Asked Questions about betting on low odds and high odds:
One isn't necessarily better than the other. Both high and low odds offer their unique advantages and disadvantages. Depending on what type of betting experience you're looking for, one or the other might suit you best.
No. Chances are more closely related to probability. You can read more about the differences between probability and odds in certain paragraphs of this guide.
Betting on low odds long-term is a "safer" way of betting, it isn't necessarily better. Since the chances of winning when betting on low odds are higher, the player can accumulate solid winnings over time.
Betting on high odds long-term might minimize a player's losses if they place low stakes bets, it isn't necessarily a better betting strategy. If the player does manage to win however, their wins will be much bigger than their stake.
Are you ready to play at best betting site with high odds?
We explained the logic behind the low odds vs high odds and gave you a couple of tips to help you make a fast start: The rest is up to you. Whether it is high odds vs low odds or vice versa, you are ready to win big now. Pick one of our recommended bookmakers and place your first bet today: Good luck out there!
Other related articles you might like: