Win Reverse Bet – How does a Win Reverse bet work | Complete Guide [2023]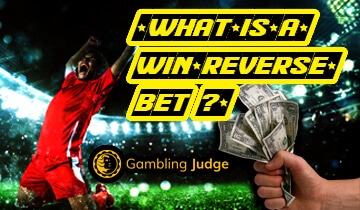 There are different types of sports betting and some are more exotic than others: A win reverse bet, in this context, is one of the most exotic wagers you can find.
When used right, placing a reverse win bet can be one of the best sports betting strategies, as it allows you to manage your bankroll efficiently and minimizes the risk you are taking.
However, most of the bettors do not even know that such an option exists: This is why we decided to prepare this "win reverse bet explained" betting guide.
We will explain this concept by giving out a win reverse bet example and teach you everything you need to know.
Best Online Bookmakers
in 18 September 2023 – Updated List
Rank
Bookmaker
Bonus
Safe & Trusted
Rating
Get Started
What is a win reverse bet?
To explain win reverse bet meaning, we need to explain reverse bets first. And to explain reverse bets, we need to talk about if bets: A win reverse bet is actually a specific type of an if bet. We know all of these already sounds complicated, so we will explain these concepts as simple as possible. Here is how does win reverse bet work:
An if bet contains at least two selections that feed each other. For example, you bet that Team A and Team B will win. However, your bet on Team B becomes active only when the bet on Team A wins and is activated using the same wager.
Let's explain this with an example. 1.10 odds are offered for Team A and Team B. You have a bankroll of 11 EUR. If you place an if bet on these teams, you are actually saying: "First Team A, then Team B will win the match – I am betting 11 EUR for these outcomes."
If Team A wins, you will receive a 10 EUR payout. However, your initial wager of 11 EUR will not be refunded. This wager will be used to fund your bet on Team B. This means that you automatically place another 11 EUR bet on Team B.
If Team B also wins the match, you will win another 10 EUR. Your total earnings will be 31 EUR: 10 EUR (Team A payout) + 10 EUR (Team B payout) + 11 EUR (initial wager).
If Team B loses, you will still receive the first payout (10 EUR) but you will lose your initial wager (11 EUR).
So far so good, right? We can now explain what reverse bets are. A reverse bet is two linked if bets placed in reverse order. By splitting your budget in half, reverse bets allow you to place an if bet on two different outcomes and distribute the risk. Learn more about how to place a bet at the bookies. Let us explain by giving an example:
You made an if bet so that Team A wins first and then Team B wins.
You also make another if bet where Team B wins first and then Team A wins.
So you "reversed" the order of winning teams: This is a reverse bet. So, what is the reason for this? To win if bets, your first selection must win, as we explained above. Otherwise, the whole bet will be void. Therefore, by changing the order in which you bet, you can be sure that you will earn at least the initial payout, no matter which team wins. Simply put, you are covering all your bases, just like with an up and down bet.
Reverse bets basically fall into two categories: Win reverse bet and action reverse bet. In a win reverse bet, both matches must result in a win in order to win the bet. In action reverse bets, it is possible for one of the matches to end in a tie or to be canceled in order to win the bet. We will explain this in more detail below, in the section where we compare the win reverse bet and action reverse bets.
Best bookmakers to place a win reverse bet
How to place a reverse win bet?
Step 1
Log in to your betting account and select "win reverse" among the available betting options
Step 2
You will see a list of sports (i.e. NFL, college football, soccer, basketball, etc.). Pick one
Step 3
You will see a list of all matches in that sports category that can be the subject of a win reverse bet. Pick your first bet and then your other bet
Step 4
Enter your bet amount
Step 5
You will see a confirmation screen that lists all your choices & wager. Click "confirm" to place the bet and wait for the results
Win reverse bet vs parlay
Parlay betting is similar to if bets at first glance. You have only one bet but multiple outcomes. Using tools like a parlay calculator, bettors place different bets for multiple matches by analyzing each probability. In order for this bet to win, all selections must win.
If even one does not win, the parlay bet will be void and no payment will be made. Win reverse bet allows you to still receive the initial payout when your first choice wins, as explained above. So even if your other choices do not win, you are entitled to a certain amount of payment.
Parlay bets can be found on almost all dollar betting sites and are very common. It is possible to say that it is one of the most popular betting categories, especially in USA betting sites. They pay more than a reverse win bet because they are riskier. In general, reverse win bets are more suitable for bettors who do not like to take big risks. Bettors who like only high odds may prefer parlay bets.
Win reverse bet vs action reverse bet
Tips & tricks for a successful win reverse bet
Use a win reverse bet calculator. Such tools can help you to calculate odds and whether you will really make a profit from the outcome.
Divide your bankroll into equal parts based on how many win reverse bets you are going to place. For example, if your win reverse bet includes two teams, divide it in half and use each part for placing different bets.
Practice with free bet offers until you learn the rules of win reverse bets. Remember that these are different from parlay/teaser bets, so you cannot simply use a teaser betting strategy. Do not risk real money until you fully learn how reverse win bets work.
Should you prefer a win reverse bet or simple straight bets?
You can also minimize the risk and cover all your bases by placing two straight bets on "Team A wins" and "Team B wins". However, straight betting is quite simple and payouts will never be as high as exotic bets. You can also win only one of these bets: you will definitely lose the other and therefore less likely to make a real profit.
Win reverse bets allow you to place bets on multiple outcomes without requiring a very high budget, and their payout is always higher than straight bets.
Pros and cons of reverse win betting
PROS
You can cover all your bases
The payouts are high enough
You can use your bankroll much more efficiently
You can minimize the risk you are taking
CONS
May be too complex for beginners
Winning chance is not as high as action reverse bets
Frequently Asked Questions about win reverse bets:
In general, yes, the majority of sportsbooks offer this option. However, only a couple of them supports multiple sports types for it: You should prefer our recommended bookies for the largest coverage.
Not really, but they look complex if you are a beginner. You are basically placing two different bets with multiple outcomes, and each one has conditions that affect the other.
They are worth it if you want to cover all your bases. If bets are good but if your first selection loses, you lose the entire bet. Reverse bets are the solution to this problem.
You will definitely get a payout and keep it as long as your first selection wins. Whether that payout will be enough to make a profit depends on odds.
You are more likely to win action reverse bets but they pay less than win reverse bets. It depends on your budget and expectations.
Place your reverse win bet with the best odds today
We have selected the best bookmakers that offer you the highest odds: Pick one and place your win reverse bet today. Minimize the risks and use your bankroll more efficiently.
A reverse win bet will let you cover all your bases. Don't forget to visit us often, as we will continue to choose new bookies for all bet types out there. Good luck!
Other related articles you might like: