NFL Football Betting- Ultimate Guide for National Football League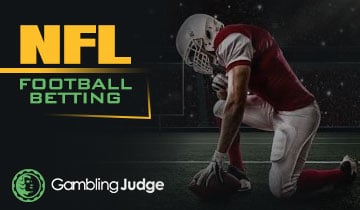 Many fans from every corner of the globe enjoy watching NFL football as much as placing stakes on these events.
In the United States, the National Football League is a big favorite among the American punters.
With teams only playing once per weekend, you have plenty of time during the week days to prepare, study the trends, look at each matchup, and track line movements.
Due to its popularity, American football betting is among the sports that see high action at sportsbooks.
Best Bookmakers for NFL Betting
in 07 June 2023 – Updated List
Rank
Bookmaker
Bonus
Safe & Trusted
Rating
Get Started
The Legality of NFL Gambling
Legal betting sites are licensed and regulated by a governing body. There are both offshore sportsbooks and state-regulated sites. Though the former is not licensed by bodies with the United States, they are still safe to wager online.
With the new season, more gamblers expect to make winnings and earnings. Wagering on sports has seen an increase in legalization across various states which have now created more room for customers to access these services.
However, this comes with regulations and taxes. According to the American Gaming Association, since the overturn of Federal Law in May 2018 by the Supreme Court, more states have legalized sports gambling, which has paved way for NFL sports betting across some of the best NFL betting sites. For bettors who have doubts on the legality of NFL betting we explain more in our article: Is the NFl rigged?
How to Wager on NFL Football
Single-Game NFL Bets
For each sports event, a reliable NFL gambling online platform provides three odds: point spread, money line, and totals bets. They are grouped together and appear in that order.
Betting the Point Spread
This is the most popular way to wager on American football. It is the sportsbook way of leveling the field. To win a point spread wagering, your preferred NFL bet prediction must win by specified points (the spread).
Point spread facilitates equal betting on both NFL teams as it gives points to the underdog. Spreads often have half-points attached, known as a "hook" to avoid the possibility of a tie (also called a push in betting). However, the money line offers a poor return on investment when wagering on the favorite. That does not mean that you should always consider the underdogs because underdogs have a lower probability of winning. However, in case your selected underdog comes out on top, you will earn more profit from your placement.
In some cases there is no clear favourite and underdog and the point spread is 0 for both teams and is expressed as "PK" or "pick". So if you didn't know what does PK mean in betting, you have the answer now.
Staking on Totals (Over/ Under)
It concentrates on the number of points that will be scored overall rather than which participant will come out on top. There is the presence of half-point to prevent push. The sportsbook sets a specific total, and so, the bettor chooses either over or under the given odds. When compared to money line betting, betting total promises better profit for bettors.
Multiple-Game NFL Placement Options
Online sportsbooks allow you to place stakes on more than one game each week, with anywhere between 13-16 matchups to choose from. Thus, players can wager on multiple bet options within a single slip.
Live Betting
In-Game Live Betting is where many sportsbooks allow you to wager on the money line, spread, total, and more throughout the game. The NFL football odds and lines for each team will change depending on how events unveil during the match. Live wagering gives you a chance to stake on the results of the next event.
These propositions involve general predictions as well as specific placements such as a gain of 1-4 yards or a touchdown. To fully optimize your chances of winning, you will have to be very quick as the odds of the options change and expire after a few minutes. Lucky for you, if you manage to land a high-end online sportsbook, you can use their live streaming feature to keep track of the events in a given match.
Parlays
Parlays include a combination of money line, point spread, or totals bets for more than one game every week. However, most bookies will not let you wager on the money line and the point spread on one NFL event. In some sportsbooks, you can select an unlimited number of bets in your parlay. However, on other platforms, there is a maximum allowable number of matches.
When developing a parlay for NFL football, your probable payout increases as you increase the number of legs for the parlay. However, your chances of winning will also reduce as you increase the number of legs for your parlay bet. You can try an if bet to reduce the risks. This gives you an opportunity to risk less and stand a chance to win more. But keep in mind, there is no prize for getting seven of eight events in a parlay correct.
Teasers
A Teaser is a type of parlay, like the sweetheart teaser, in which all placements are against the spread or the total, and the bettor sacrifices potential payout for more favorable spreads. Punters betting NFL football can employ teasers when wagering on the total. Certain sportsbooks provide a wide variety of alternate spreads to select from in each event. This gives you a chance to work the spread in either direction for each game. Consider the main key numbers in NFL betting when spread betting.
Just like in parlay NFL football bets, you will be required to predict all events correctly in a teaser to win the placement. The variety of staking options vary from one sportsbook to another; some sportsbook will declare an outcome null and void in the parlay/teaser if the outcome is a push, while others will consider a push as a loss. Always read carefully the terms and conditions, and our article on "why was my bet cancelled?" can help you.
NFL Prop Bets
Propositions are most common during the Super Bowl. However, you can also find prop betting options throughout the NFL season. Prop bets entails specific events in a game such as a team that will score first or how many yards a given quarterback will throw, among other options.
When propositions relate to individual statistics, the bookie will come up with a projected total, and you just choose over or under.
Sportsbooks will outline your betting options for props with their respective odds clearly.
Here is a list of popular props you will come across:
What will be the first scoring play?
Which will be the highest-scoring quarter?
Will the last-scoring team win the game?
How many touchdowns will be recorded throughout the sports event?
Which team will be the first to turn over the ball?
What will be the total passing yard by the quarterback?
What will be the receiver's total receiving yard?
These are only a few of the propositions that you can try out for each game. During the Super Bowl, you can place a wager on props that are not football-based.
You can even find prop bets on the national anthem, or the nature of the Gatorade will be poured on the couch from the winning team. You can also create a parlay with props, as well, but most books force you to have only prop bets in the parlay.
NLF Football Futures Betting
Football sportsbooks offer NFL football betting year-round in the form of futures. They are bets made on events that usually take place at the end of the season. You can bet on things like which team will win their divisions, which team will make it to the Super Bowl, NFL season win totals, total passing and rushing yards, and NFL draft pick.
Other common futures bets are the individual player recognitions for each season: MVP, and various categories of players of the season starting from the defense. The sportsbook will give an extensive list of options including a "FIELD" option. If you select the FIELD option, you can on place stakes on individuals whose names are not expected to win an award.  Other platforms will let you wager on other options such as the quarterback that will throw the most yards in a season, among other options.
Team win totals is a widely explored future bet. Betting platforms will come up with a number of wins for each sports team and let you predict whether the outcome will be over or under the set total. If you intend to make any futures bets, you should note that some sportsbooks will not make these bets available upon the commencement of the season. Most sports betting platform do not extend parlay on any futures bet.
Where Can I Bet on NFL games?
You can either buy ruffle tickets or place a bet in your preferential NFL betting website.
Online Football Betting
With an Online sportsbook, NFL sports betting is easier now than ever since you place a small, medium, or large wager for real money at the comfort of your home. NFL wagering websites provide the ultimate flexibility and convenience, translating into the best opportunity to have fun while making money. With the introduction of the NFL fixed odds football betting app, you can bet from anywhere and at any time provided you have an internet connection.
Betting Line in Football
It also referred to as point spread. This is the gambling odds used to determine the parameters for wagering on either the favorite or underdog in a sporting event. It encourages betting on both parties involved in the contest.
Why Should I Bet on the NFL?
There are many reasons why you should bet on NFL, but the main one is the fact there is an extensive list of wagering options when it comes to placing stakes on the NFL. Go through the NFL gambling guide presented above before you can kickstart your NFL wagering career or learn more about NBA vs NFL rivalry.
Besides, place stakes responsibly. If you fancy a full weekend on football wagering, college ball also offers exciting and profitable options for bettors. You just need to be within a state that permits sports betting.
With authentic gambling platforms, you stand a chance to collect high winnings while enjoying the thrill that comes with the National Football League. Increase your winnings even more by taking advantage of promotions. Bet365 has a great early payout offer available for NFL betting: if the team you back goes 17 points ahead at any stage during the game, your bet will be paid in full regardless of whether the opposition comes back to win the game. These promotions are available until the Super Bowl game is played.
With the multiple wagering options available, there is something for everyone!
Other related articles you might like:
Frequently Asked Questions
Yes. Moreover, you don't have to be based in the United States to do so. NFL betting is available at most leading betting sites and bookmakers across the world. There is certainly no shortage of options.
You've got many ways to bet on the NFL. Money line bets are straightforward if you solely want to pick a winner but spread or point betting is often the most popular way amongst keen NFL fans.
Spread betting is the optimal way to bet on NFL games. As most games are settled by less than seven points, this strategy and bet is worth considering when you decide to wager on American football.
Of course, you can't really go wrong with a money line bet on a favourite. The upside is that you stand a good chance of winning when you bet on a favourite. The downside is that you won't very much at all.
Predicting a football match requires skill and patience. You need to keep in-depth records, visit stats centres, and watch many games. Moreover, you can take advice from tipsters to verify what you already know. It is time-consuming but ultimately worth it.