College Football Betting Strategy – The Ultimate Guide [2023]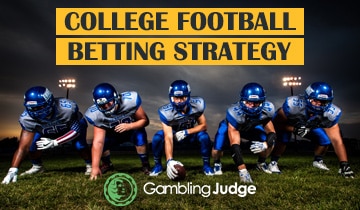 Every college bettor is looking to grab a share of opportunities that come with the college football season. But difficulties strike when it comes to picking winners.
This is the reason why every bettor is going an extra mile and capitalizing on every edge to get a leg up even in a sport with a tighter value.
This college football betting guide brings your search for a college football tipster to a halt by bringing to your attention the most handy college betting strategies.
Most of this information has been closely guarded by experts in the American football betting field. After all it's never a smart move to educate the betting public.
However, our team of experts working closely with other experts from renowned bookies bring you the most profitable secrets and strategies you can use on weekly basis to hunt down value in the college football gambling market.
But, first we set a few other things straight.
Top 10 College football bookmakers in 01 November 2023 – Updated List
Rank
Bookmaker
Bonus
Safe & Trusted
Rating
Get Started
The NFL Vs. College Football Betting Strategy
Are you a seasoned NFL bettor trying to forge your way into the college market applying the best betting strategy for college football?
You may as well be interested in knowing how the two markets compares.
Let's make it clear right away that NFL and NCAA football aren't the same. Yes, they're centered on the same sport, and the points accrue in a similar way, but the betting considerations are vastly different.
This also means NCAA football betting tips are significantly different from those used in NFL. We get this out of the way by looking at a few differences between NFL and NCAAF (college football):
Number of Teams
It's pretty easy to tell how many teams constitute the NFL. But numbers escalate when we come to college football. Numbers become significantly important when it comes to analysis. While it's easy to study 32 NFL teams, it becomes a major task is you have to assess 128 college football teams.
Also, theoretically more college teams means you have many games to bet on and better chances to find value spots.
 Range of Quality
Quality gap among NFL teams might be significant, but there is always a chance for each team to triumph against its opponent. College football, on the other hand, comes with a much bigger talent gap to the extent of a guaranteed blowout.
Frequency of Mistakes
The frequency of the unexpected makes football unpredictable, whether CFB or NFL. Conspiracies that the NFL is rigged will always exist. However, more often college teams fall victims of the unexpected than the professional NFL teams. These mistakes are as costly to you as a bettor as they are to the teams.
Media Coverage
Both NFL and college football are heavily covered, but NFL coverage is by far more extensive. Thus, it's generally easier to gather relevant betting info about NFL than college football.
Volume of Betting Activity
Generally, NFL attracts more betting interests than college football. This also means bookmakers and online gambling sites will focus more on NFL. With smart people setting odds and lines, it becomes a little more tasking to beat them. CFB lines receive less attention making them a little easier to beat.
NCAA Football Bet Types
Just like the NFL, college football gives you a variety of bet options. Standard bet types include spread, totals money lines, parlays and teasers. You could also try some exotic bet types like the if bet and win reverse bet.
Spread Bet
Spread bet is as popular in college football as it is in the NFL. Here a spread is set with a favorite and an underdog. This form of betting comes with equal chances of winning.
To win in such a bet one team has to cover the spread. A "+" for any spread indicates the underdog while A "–" indicates a favorite.
Next to the spread appears a large number called the 'juice.' This is basically the fee that bookmakers will charge you on a bet.
Sometimes, although not very often you may see the spread expressed as "PK", which comes from pick or pick'em. So to answer the question what does PK mean in betting, it means that there is no clear favourite in a match and both teams have equal chances of winning. The spread will be 0 and displayed as pk.
Moneyline Bet
The money line form of betting is equally common when it comes to college football. In this type of bet the bookmaker sets lines which represent the favorite and the underdog.
Totals Bet (Under/Over)
As the name suggests, this form of sports betting allows you to bet on the total number of points that both teams will score. If bookmakers set an over of 38 points in a Sentinels – Ducks match, your betting task is to decide whether the total scores will be under or over 38 points.
Prop Bet
A prop bet departs from the regular match outcomes and final scores to take different special forms. Player-based forms include how many touchdowns or yards a specific player will score. Others are centered around live betting i.e. if a team will score on a specific drive.
Parlay
In a parlay bet, various games and outcomes are linked to one another making a single bet. To win in such a bet all outcomes must unfold as predicted.
This college football betting model goes further to involve other bet options like moneyline betting and totals betting. Parlay bets are commonly known to increase risk and reward in college football.
Teaser Bet
A teaser bet is a parlay in a for that features 2 to 10 wagers combined, and allows you to adjust point spreads or totals to your advantage in exchange for a reduced payout.
When you're teasing a point spread you can choose to decrease or increase the spread for the favorite of the underdog respectively.
Teasing a total, on the other hand, involves increasing the under or decreasing the over.
It is very important that you learn the main key numbers in sports betting before teasing point spreads or totals.
Handiest Betting College Football Strategy Tips for Bettors
So, what is the strategy for betting college football? Follow these college football betting tips strategy and savor the most profitable college football season.
Don't Bet the Full Spectrum of Games
A temptation that accompanies us every step of the way is the urge to fire the entire series of games and bets. And they're an awful lot. After all, how can you win football betting systems if you're putting nothing in play? It's one of the longest standing and terrible pieces of advice in the gambling arena.
You're welcome to take that road if all you seek is a supreme rush, profits last. We can guarantee a healthy dosage of fun but extremely reduced chances of significant profits.
Our college football betting advice is right up your alley if what you look for are games that deliver value. Our advice is that you bet on only those games which give you a feeling that the line is wrong and presents a chance for a better win than a correct pick. You may only find a few such games over the weekend, or lots of them this week and none next week, but that's how you set yourself up for success. Betting smart value opportunities is a piece of our NCAA football betting advice that we can't stress enough.
Follow the Smaller Conferences
No doubt we squashed plenty of fun asking you away from massive betting. What now? Well, we recommend that you pick a conference you enjoy and specialize. Or that which you have a solid knowledge base about. Value is something you'll struggle to find if you're only interested in high-profile games which are often hit harder by masses of aggressive sharps.
Specializing in a conference with a nice spread of games is the best college football betting strategy towards great value opportunities. It's better becoming an expert on a small section of games than spreading yourself thinner over a range of games.
Remember no one stops you from expanding your skills elsewhere, but only after you have adequately mastered one particular conference.
Bet On Less Popular Teams (Low-Tier Games)
Low-tier games are basically those receiving less media attention and typically involve two smaller schools. These aren't the games you'll see on ABC or ESPN during some prime time on a Saturday. To watch such games you require a special football cable package. You're just about to discover how this area of college football is another great opportunity to savor value and can be a great betting college football strategy.
Sportsbooks Often Neglect Them
It's not like sportsbooks have all the resources they need to set their betting lines. What they do is allocate employees and technological resources they have accordingly across all the sports and bet types the offer. A perfect world would have them working with unlimited number of people to find perfect lines for different wagers. But reality dictates that they choose where to allocate their resources and achieve the best.
That's why they dedicate less time and resources on low ranking college games. This makes it easier to spot bad lines these games, and your opportunity to find long lines grows significantly.
Frequent shift in Lines
Let's advance the principle of more frequent line shift in college football than in the NFL a little further. Because of the huge reduction in the betting markets on smaller games, the smaller amounts of money will cause frequent and more severe shifts in lines. Master the timing of when and how these shifts happen when betting on college football and you have an excellent avenue to great value.
Act Fast On Favorable Betting Lines
The volume of betting markets reduces significantly when it comes to lower-tier football games and college sports in general. Betting lines in this case change much quicker and more frequently than in the NFL which features a high volume of markets. This makes timely betting a handy football betting strategy for college football sports betting.
Any favorable line you see has already attention from other sharp bettors. Don't waste your chance if you're betting at the sportsbook filled with sharps because the line won't last long. Therefore, if you're not going to find a sportsbook with less informed bettors then the best betting college football strategy in such a case is to jump on the favorable line at the earliest opportunity available. But for more information read our article about: What is sharp betting?
This requires a more aggressive eye on the lines than in the NFL or another sport. Well, it's about doing what's necessary because you want to win right?
Be Careful With Statistics
When considering the NFL history, you have a whole stretch of data all the way back. Take even rookie, for instance. You can dig into as far as college stats and you get a pretty good idea of their probable performance in the NFL. Not entirely ideal but at least you have the numbers at your disposal if you ever find them handy when making your betting decisions.
What about college football? All you have to consider is an extremely small sample size. These stats do not in any way represent a significant insight on the performance of players. Worse is when a player is fresh from high school. The massive variance in skills across different high school opponents render any statistics at this stage of the career pretty close to worthless.
The problem here is that most online betting sites and stats sites fail to factor in the undisputable relevance of the sample size. Take, for instance, college football betting systems that hinge on the yards per rush of a running back. Are these statistics good enough if the data you have belongs to a single game? Such data will be none but worthless from our stats perspective.
Reliable college football betting statistics is the point here, and it's two-fold. Start by ensuring that you're using stats from an adequate sample size and of course from the best bookamkers with statistics. By adequate we don't mean just a couple of games.
Second, see to it that these stats come from comparable opponents. We mentioned briefly the huge variance in skills across different games in college football. If a player bears incredible stats but only came against low-tier schools, and now they're facing a high-powered school, that's a piece you shouldn't miss in your equation.
Statistics can be one of the best college football betting strategies. But far from worth are the numbers if you aren't working with the right stats not to mention an adequate sample size.
Additional College Football Betting Strategy and Advice
Further into the college betting is the need to grasp some key concepts in college football. These concepts also shade a considerable amount of light on how to bet on college football games.
Understanding Value
Value is what separates casual college sports betting from real sports handicapping. A winning college football sports betting strategy requires you to find positive value, but for more read sports betting benefits.
It takes a bit of work to start taking action only on those bets with value but the payoff is significant once you have a football betting system that works and you understand what you're doing.
Implied Probability
Here we look at college betting odds in terms of college football betting percentages. Take –175 betting odds, for instance.
The favorite is tail in this situation and this converts to 63.6% as illustrated below:
175/ (175 + 100)*100 = 63.6%
This represents the likelihood of tails landing, like the odds imply. A bet is of positive value if the actual likelihood of an outcome in question is higher than what the implied probability has suggested.
How to Handicap College Football
We're done showing you value. Now we introduce you to the concept of real odds, which we compare against the implied probability.
Handicapping football is basically the process of collecting data, stats and other vital info and using it to make informed predictions.
All college football betting strategies in college football betting begin with data collection. The process further includes compiling, weighing variables and tweaking various metrics' weight to achieve more accurate predictions.
The Mike Wohl Moneyline Strategy
This is a betting strategy for college football that was first introduced by Mike Wohl, an MIT graduate during one of the Sloan Sports Analytics Conferences a few years back. Wohl found out that betting on heavy favorites with points spreads from 20 to 25 points on the moneyline translates into significant profits over the year.
Moneyline Parlay Strategy
This strategy involves finding home teams which are favored by 14 points or more. Bet these four – 14 squads on the moneyline instead, and return nearly even-odds.
This is another high probability strategy that doesn't bring huge returns instantly, but worth something in the long run.
Home Field Advantage is Over-Valued
Home field advantage is all real but the fact that it's often overvalued by oddmakers is also undeniable. Knowing how recreational bettors are obsessed with home teams, oddmakers shade lines towards them which cause these bettors to take bad overpriced numbers.
Road Underdogs with Low Totals
Adding to home teams for public sports bettors is their love for favorites. After all, any average bettor will want to bet on nothing but a better team. This translates to increased value on underdogs. It's harder for favorites to cover spreads due to fewer betting points, and that's how low totals benefit dogs.
Also, conference dogs play other conference teams once a year. The knowledge of each other's tendencies levels the playing field and the resulting familiarity enables conference to perform a lot better than non-conference dogs.
Short Road Underdogs
No spot is as profitable as a short spread for road dogs. This is when the dog is getting four or lesser points. Public bettors will always go for home favorites and even more when winning is by a simple touchdown.
Another public bias you can capitalize on.
Contrarian Hot Teams in Heavily Bet Games
The public has it wrong more often than not. This makes betting against the public another excellent option. However, it's not always about taking any team that gets less than 50% of the bets.
Your focus should be mostly on the lopsided games of the day which attract the heaviest amount of public action.
Follow Reverse Line Movements in Heavily Bet Games
The betting line moving in the opposite direction of the betting percentages is one way you can locate sharp action.
Home Favorites after a Bye
After a 'bye' is the time when a team gets a much-needed rest and plenty of time to rehab players with injuries. Coaches also get their players ready for the next opponent.
This in unleveled proportions benefits home teams (who don't have to travel) and favorites (who have better players and receive better coaching).
Hot Overs
An average Joe also loves taking overs. Exciting and high scoring games is such a thing among public bettors. Sportsbooks, bearing this in mind, will shade the totals accordingly.
However, temperature throws in massive discrepancy. The defense will get gassed easily when it's hot. This benefits the offense leading to more points.
Windy Unders
Do college unders benefit from the wind? Certainly. Unlike professional quarterbacks, college quarterbacks have weaker arms.
This means it's extremely tasking when to throw in the wind. Teams will often spend much of the time running the ball. Also the already unreliable performance of college kickers will significantly drop when they play in swirling winds.
Use Online Betting Sites
Using online betting sites though not significantly important has some advantages. First it guarantees safety and convenience. It's also fast and you typically land better odds and lines plus some bonuses and rewards.
College Football Betting Stats
There are some essential stats that you can keep your eye on and great value. We've illustrated the most common stats here.
Explosiveness – as measured by PPP (points per play)
A team making more big plays is likely to win against the opponent. Statistics indicate that a team leading in PPP will win 86% of their matchups.
The betting strategy here is to look for a team that tends to play big, and keep a close eye on the defensive stats. They're likely to lose if they're continually giving up high PPP numbers.
Efficiency – as measured by success rate
Success rate is measured in terms of the number of baselines. A team with high efficiency rating is likely to avoid drive-crippling passing downs. It also stays on schedule, controls the clock and keeps on the field thus wearing the opponent's defenses.
A team ahead of its opponent in efficiency is also likely to win the game 86 percent of the time.
Field position – as measured by average starting field position
Special teams win games, right? As such, a team that wins the field position is likely to win the game 72% of the time.
Finishing drives – as measured by points per trip inside the 40
This is pretty simple. A team must score touchdowns on majority of its drives that reach beyond its opponent's 40. Even with fewer scoring opportunities, a team that can still put points on the board wins the game 725 of the time.
Turnovers – as measured by turnover margins
These aren't big contributors in handicapping games but they still count. Minimize on your tendency to give up the ball and you have a better chance to capitalize on offense. A team on the leading end of the turnover wins the game 73% of the time.
The end of 2018-2019 college football season featured 40 bowl games.
Find the bowl game schedule for the 2019-2020 season online. The bowl game announcement happens after the conference championship games every year.
You handicap favorites by point spread. If you take a favorite on a point spread you will need a team to beat its opponent by that number (-10, for example). Underdogs, on the converse, pay out wagers on the spread should they lose by 10 points or fewer.
CFB features higher point totals than NFL majorly due to the increased pace of play plus lack of coordination on the defensive end of the ball.
Currently, Division 1 has 129 FBS and 14 conferences. Football Championship Subdivision has 125 teams and 11 conferences.
2020 college football semifinals will take place in Glendale on the 28th of Dec. The national championship will take place at Mercedes-Benz Superdome, New Orleans on the 13th of Jan.
Bowl games have grown into an incredible holiday tradition. It's also an exciting way for players, coaches and fans to end their season.
Our College Football Betting Football Strategies Wrap-Up
We didn't promise you any instant success in college football betting at the beginning of our college football betting guide however, at this point we've given you everything you need to one part of the equation right, and it's by far the most important.
What's left is a bit of effort from your end: carry out the research and find winners. Come up with a plan, follow our NCAA football betting strategy to determine who to bet on college football and crush the books placing college bets. Next you'll be figuring out how to spend the fortune that comes with the most informed betting.
Well, here is what we guarantee; a clear direction towards vital research and ultimate value in college football betting games. We hand you the right tools to stand yourself from the general betting public and set yourself to win big on a college football bet.
Other related articles you might like: