Action Reverse Bet Explained – What is Action Reverse Bet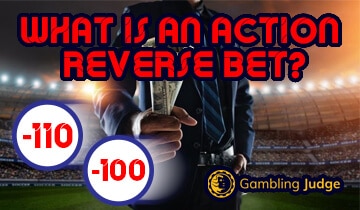 There are all types of sports betting options out there on the net, and the action reverse bet is just one of them.
What is a reverse action bet, though? In our review, we can help you understand this incredibly complicated and often risky bet.
Can it be used in point spread betting? Should you even bother wagering with action reverse bets, and are they different from typical parlays?
In our betting guide, we will try and straighten out this bag of snakes to make reverse action betting as simple and as straightforward as possible for you. With that in mind, let us begin…
Your guide to action reverse betting in 2023
You may be familiar with teaser betting strategy and pleaser bets, but still have no idea what action reverse betting is. That is okay because we are here to help. You may be wondering, what is an action reverse bet? Perhaps you are thinking, how does action reverse betting work?
If so, this is the guide for you. Although not a popular bet (compared to others in 2023), there are reasons why this bet may work for you. If you are patient and want to learn, read on to find out more…
Reverse betting 101: What is a reverse action bet?
Start learning your action reverse betting options
The conventional action reverse bet is not the only option you have open to you. Alongside action, if bets, there are a few other wager types. While some differ from the simple example above and can have different potential outcomes, these betting terms are well worth exploring when sports betting.
Double Action: A double-action bet is an if-win bet or a conditional bet that involves wagering on two events with different starting times on the same day. It is, in a sense, two of the straight bets we've listed above rolled into one, so you may need both to come good to pocket a win.
Fast Action Bets: Available at a handful of sports betting companies, this reverse bet wagering option allows you to place a winning bet on an event that is scheduled to start imminently. This may allow you to place wagers on improved odds than what was available before.
How to place an action reverse bet
How does a reverse bet work in practice? An integral part of learning how to win at sports betting, the action reverse bet is one of the most popular sports betting systems out there. Here's how you can get started with it today:
You need to find between two and eight games that you wish to bet on.
Your first bet is an "if bet", and you need to bet on these games in reverse order.
When one of your teams wins, then the second part of the bet is activated. You must ensure that your wager wins to continue.
If your bet wins, the second stake in your sports events wager will come into play, and so on.
If any of your bets lose, your entire betting slip is lost.
Get help with action reverse wager calculators
You must choose the right stake to make money with sports betting, particularly with your second bet. Action reverse bet calculators are a great way to gauge the lowest expected loss and how much you can win. For recreational bettors who aren't used to this sort of thing, they are of paramount importance and can be found across the net.
After finding an action reverse bet calculator, just pop the odds stated into the calculator, and try playing around with different stakes to give yourself the optimal result. This should allow you to find the ideal stake to wager with these bets.
Join the top online bookmakers offering action reverse bets
The main difference between action reverse bets and parlays
We have looked at how a reverse action bet works, but how does it differ from parlay betting? The only thing you need to know about action reverse bets vs. parlays is that the rules of a parlay state that you need to win all your bets to pocket a prize. There are strategies you can use on how to win sports betting parlays.
With a reverse action bet, you can still regain a chunk of your stake if some of your selection (or legs, as they are known) wins.
Understanding the difference between action reverse bets and win reverse bets
How do reverse bets compare against 2-team parlays?
You may be wondering which is the best option to go with – action reverse bets or 2-team parlays? Ultimately, the answer comes down to the type of bettor you are.
As mentioned earlier, 2-team parlays require you to get all your selections correct, so they often yield a higher payout, in relation to the stake. However, as you can see from our action reverse bet example earlier, reverse bets give you the chance to play with the lowest losses expected.
In short, if you want to take risks and win big money, then 2-team parlays are better. If you want to monitor and safeguard your losses but still pocket smaller wins, go with the action reverse bet.
Tips and tricks for action reverse betting successfully
If you are thinking of having a punt with action reverse bets, then here are the
best sports betting strategies
, tips, and tricks to pay attention to.
Bankroll management: If you prefer to manage your bankroll, win reverse bets are more favorable than action reverse bets, as the former only places a second bet if you have already made a profit from your first stake.
Use calculators: Unless you are a maths wizard, we recommend using an action reverse calculator. If you cannot find one, a parlay calculator will do, just to ensure that you covered all bases correctly before betting.
Pay attention: Practice before you play. It is always worth jotting down "fake" bets (and not wagering on them) first and seeing how they pan out, to make sure that you understand the action reverse bet rules before you bet real money on them.
Playing with bonus funds: Always make sure that you read the terms and conditions of any bonus offers you claim. Some may expressly state that the amount of bonus cash you receive cannot be used to wager on action reverse bets. Bear in mind that some promos require sports bonus codes to be used to trigger them. You can often find these on the promotions and bonuses page at your favorite sportsbooks.
American sites are ideal: Action reverse betting is most suitable for North American sports. NFL betting sites and other domains where you can use NFL or college football betting strategy options just make sense for these types of bets. Don't take conspiracies that the NFL is rigged into consideration, as we think that the league itself is fair and impartial.
Is it worth the trouble compared to straight betting on sports?
That depends on your "skill level". If you are something of a recreational punter and don't want to
become a professional sports gambler
, then things do not come much easier than
straight betting
.
Of course, if you want to become a more rounded bettor and fancy improving your chances of making money, then action reverse betting could be something worth looking at. Is it for everyone, though? No.
Pros and cons of offshore betting sites
PROS
You can cover many bases, protecting against losses
Ideal for North American sports and point spread betting
More beneficial than parlays, as you do not need to win every selection
CONS
Overly complicated to learn and use for newbies
Action reverse bets are not as ideal as win reverse bets
Frequently asked questions about action reverse bets
No. Dollar betting sites, for instance, do not generally accept these types of stakes. There will be one or two which do, but these bets usually require more considerable sums of cash to be wagered.
Yes. How complicated depends on how often you wager. If you bet on sports regularly, you will quickly pick up the concept. If you are a betting virgin, they are far too advanced for most players.
In a nutshell, this is a bet that links at least two up to eight bets and features "if bets", consisting of two wagers both ways. If your first stake wins or pushes, your second will be placed, and so on.
That depends. They can be far more beneficial than parlay betting but not as easy to predict as straight betting. The level of risk is a relative.
Yes. If used correctly, and assuming you have a sizable balance to tie you over, then it is possible to profit decent wins from action reverse bets. However, think of these bets as long-term investments. Wins will add up but over time.
People disagree on this. However, win reverse bets appear to be more favourable for players on budgets since the second bet is only wagered if the first one comes good. Action reverse bets are more favourable for players who like a touch of risk with the prospect of winning more.
Get started with top action reverse betting sites today
Now that action reverse bets have been explained; you may be tempted to place one. You cannot find action reverse betting options at all bookmakers. However, where major US sports such as American football are offered – especially at US bookies – there tends to be a few reverse betting markets available.
On this page, you can find the absolute best sites providing these types of complicated but ultimately rewarding bets. Feel free to browse around to find somewhere to play.