Lower League Betting – Top Tips for Online Football Betting on Lower Divisions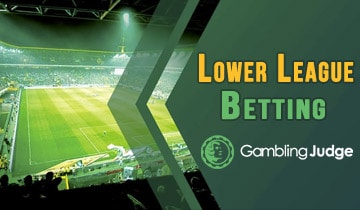 When most punters think of having a stab at the footy, they often run straight to the Premier League, Champions League, or other major competitions.
However, there is a case to be made for lower league betting. Betting in the lower leagues is a challenge, and you may not know much about the teams or the players involved.
It can be a risk worth taking, though, as the potential dividends can be far greater than you'd get with a typical Premier League bet. How so? Throughout this article, we will look at lower league betting. We'll tell you why having a stab at betting on so-called "Mickey Mouse teams" can be worth your while. Let's begin then, by introducing lower league footy betting to you.
Top Bookmakers for Lower League Betting
in 01 November 2023 – Updated List
Rank
Bookmaker
Bonus
Safe & Trusted
Rating
Get Started
Why should I bet on lower league football?
A step into the dark: Betting on unknown leagues
You aren't limited to lower league soccer betting on the Championship, League One, League Two or even the National League. Many regional leagues also spring up at bookies. So, too, do the lower echelons of other countries' football leagues. Serie B, Ligue 2, 2. Bundesliga and Spain's Segunda División can present exciting odds for the knowledgeable punter.
We wouldn't stray too far from home and what you know, though. The further into obscurity you go, the longer the odds become, but the less likely you are to know anything about the teams in question.
You can get odds of 10:1 or more on lower division football in Thailand or Iceland (check here our Iceland betting sites) for instance, but we wouldn't recommend straying too far from home. At least, not in the beginning.
Bottom of the pile – League Two odds
League Two is the lowest thoroughly professional football division in England. Betting on lower league football doesn't come much more exciting than this. Of course, engaging in
Champions League betting
or
Europa League betting
can yield more secure wins, but
profitable football betting
reaches in zenith when placing lower league bets, even at the risk of more
sports betting mistakes
. Draws are statistically more likely in lower leagues, as there are fewer David vs Goliath matches, and assuming you know
how to bet on football
; you will be in a decent position to take advantage of longer odds on games. We would recommend starting with these lower divisions.
Understanding lower league betting options
Unique factors which can affect lower league results
There are several things that can happen that can affect results when betting in the lower leagues. Take note of these lower league betting tips to ensure that you are prepared for any eventuality:
Bad Weather: In the lower leagues, not every stadium has under-soil heating. Games can be called off for water-logged pitches or snow. This can cause fixture congestion, which may mean that aside is not as well-prepared when the match is replayed.
Fixture Congestion: Speaking of fixture congestion, there are many matches in lower league football in England. Throw in the surplus of cup competitions, and matches can be postponed, and players can tire.
Fatigue: It is relatively easy for players to tire with so many games. Throw in the fact that not many lower league teams have decent squad depths and you'll find that performances are not at their peak. Moreover, injuries are more common due to the poorer quality conditions of the pitch.
Transfer Windows: Rising stars can depart to top clubs in the transfer windows, and many bigger clubs loan out their players to lower league sides. This can affect the balance in a team, and either benefit or hinder it.
Cup Runs: A cup run is hugely important for lower league football teams. They desperately need the revenue from a good cup run. Some may prioritize a cup run, which may see them perform worse in the league.
The Playoffs: Unlike the Premier League, the lower divisions in English football feature a playoffs system. This gives teams lower down the table a reason to fight and can spur on performance. Similarly, relegation battles (check here our relegation betting guide) can also dramatically alter results. Many European leagues also feature playoff systems or even split into two mid-way through the season. These, too, can affect the performances of teams and that will naturally adjust the odds.
Learn to use the unpredictability of lower league betting to your advantage
As you will no doubt have noticed, there is a low of unpredictability when betting in the lower leagues. Many sports bettors consider this a risk not worth taking. However, if you know your onions, then there is a reasonable chance that you can turn this unpredictably into a success story.
As mentioned, though, you're going to need to get up to speed quickly, if you're going to have a punt on betting in the lower leagues.
If you do your homework, watch matches, learn about the players and recognize the pitfalls (such as those mentioned above), then you may be able to turn unpredictability into an advantage against the bookies.
Top tips for winning with successful lower league bets
Pros and cons of lower league betting
Lower league football betting has different pros and cons from betting on the major competitions. They include:
PROS
Lower league betting often has longer odds
You can often make money quicker, as fewer punters bet on these games
Ideal for sports betting on football, especially in major footballing nations
English, Spanish, and Italian leagues all have excellent lower league competitions with established and famous teams that are easier to learn
CONS
Lower league football betting is not available at all bookmakers
Low deposit bonuses can often be used on "long odd" lower league bets
Frequently asked questions about lower league betting
You may still have questions about lower league betting, and we'll try to answer them as best as we can in this guide:
Not in the major leagues. Lower league soccer betting in far-flung countries may experience match-fixing. But in the lower leagues of major footballing countries, this is seldom ever an issue.
You could do that, but the chances are that most other sports bettors have the same knowledge, and the bookies will arguably have more. Bookies are not so knowledgeable about the basement divisions. Betting on lower league football may (if you know your stuff) give you an advantage then.
Lower league betting essentially means any division below the top one. In England, this means the Championship, League One and League Two. However, to some it can mean anything which is not strictly speaking "league football", so the National League, Northern Premier Division and others, for instance.
Yes. You should avoid betting on any lower league competition that you know nothing about. The odds are often very attractive for these competitions, but you're essentially betting blind. Always learn a thing or two about a lower league before having a punt on it.
Get started betting on lower league football today
If you fancy your chances of getting on over on the bookie, then we're ready to help. We've got plenty of leading sportsbooks which we can recommend on this site. All provide lower league betting options for you, and some have quite a range to choose from. Just remember to pick wisely and do your homework before starting out. Once you're ready to go, select one of our bookies to start betting on lower league football today.
Other related articles you might like: