European Handicap Explained – What is European Handicap Betting [2023]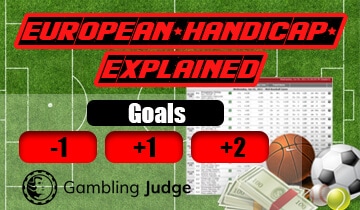 There are many different types of ways that you can bet on sports, and the European handicap is one such option.
In fact, this type of bet is becoming more popular. The European handicap system does take some getting used to, though, which is why we are here with our European handicap guide.
If you want to understand European handicap betting and learn how to incorporate it into your sports betting strategy effectively, then our guide is all you need.
We will show you in the ins and outs of using this method for football betting, and explain how it can be used for other sports, too. With that said, let's begin…
Best Bookmakers for European Handicap Betting
in 28 September 2023 – Updated List
Rank
Bookmaker
Bonus
Safe & Trusted
Rating
Get Started
What is the European handicap? Your guide to European handicap sports betting in 2023
Consider this a guide on European handicap betting for amateurs. What does a European handicap mean? Let us begin by explaining how such a bet can be used for underdog betting.
Unlike straight betting, a European handicap is designed to balance out the odds for an underdog. In effect, they give an advantage to the underdog and are commonly found with football bets.
In essence, the bets add points or goals to the underdog's tally, by subtracting them from the favorite. The bet is then determined by the result in a sports event, adjusted for the handicap which has been awarded. Confused, let us provide you with an example…
The ins and outs of European handicaps
European vs. Asian handicaps - The key differences
Aside from the fact that Asian handicaps bets are more commonly found at Asian bookies than European ones, there is another major difference between the two.
Both types of handicaps give an advantage, or head start to the underdog, but in different ways. A typical Asian handicap might feature whole numbers (like Asian handicap 1 or -1 Asian handicap) but also non-whole numbers, such as Asian handicap +0.25, Asian handicap +0.5, Asian handicap +0.75, Asian handicap -0.5, 1.25, 1.5 or 1.75 (corresponding to the alternative Asian handicap), which cannot happen with European handicaps – only whole numbers are used.
Using the example above, an Asian handicap bet would see the bet push if Italy wins with a single goal. The odds would be displayed as follows:
Italy (-1.5)
Ireland (+0.5)
Note that there is no winning draw in the Asian handicap. In the case of the European handicap vs. Asian handicap, we could argue all day about which is better. Ultimately it is up to you to decide for yourself, based on how you like to wager on underdogs.
How to wager with European handicap bets
Step 1
Head to your favourite bookie
Step 2
Look for odds displayed with (EH)
Step 3
Examine the European handicap odds to find something worth betting on
Step 4
Check other forms of odds to ensure that you are getting a fair handicap
Key things to look out for
These types of bets are most common in football betting. What is a European handicap in soccer betting, though?
What should you keep an eye out for? Here are just a handful of European handicap tips to keep in mind:
Form
Home/Away
Weather/Pitch Condition
Motivation
By examining the above, you can put yourself in an ideal position to analyse a European handicap bet and see if there really is value for money to bet had.
Using European handicaps in other sports
European handicaps are most favorable for football, but a variety of other low-scoring sports can be ideal.
Some of the different types of sports betting options commonly found at bookies appear in our European handicap table below. Not all are advantageous for European handicaps.
Pros and cons of European handicap betting
Every betting strategy and wagering option has pros and cons. Here are a few attached to European handicap betting.
PROS
There are European handicap betting strategy options available
European handicaps can be used to even-out heavily backed favorites
Suitable for low-score sports events
Frequently Asked Questions about European handicap betting:
It is understandable that when learning a new way to bet, you may still have a few questions. We aim to help you get answers to them in this short, frequently asked questions guide.
Any type of handicap betting is designed to lower the advantage that a favorite has, to make the game or match more balanced.
A European handicap can be used to bet on draws, although you may wish to follow a European handicap chart to ensure that you know when and where to do it. You will often need to bet on the underdog to prosper from a winning draw.
In a sense, yes. Some bookies prefer the term three-way betting, but they are essentially the same thing.
It depends on several things. Firstly, if you want to prosper from a winning draw, European handicaps are more favorable. However, if there is likely to be a flood of goals, Asian handicaps have their advantages.
Whether you can use the bonus money to place European handicap bets really depends on the terms and conditions of any bonus you opt to claim. Always read the rules of any deposit bonus first before claiming it.
Start betting with European handicaps at top bookies today!
Properly using a European handicap can be one of the best sports betting strategies around in 2023. We hope that our betting guide has helped you understand the perks of this betting option. We have also prepared a guide about making living on Betfair.
If you are ready to play, you need to find a top bookmaker. Have a look around our website, and we're sure that by checking out the odd review or two, you can find the perfect online bookmaker which offers European handicap betting.
Other related articles you might like: