Tennis Handicap Betting: Game & Set Handicap Tennis Betting Explained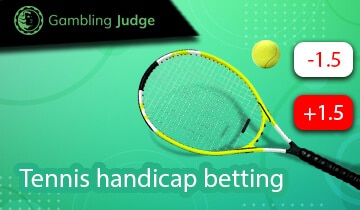 If you are looking for the best way to bet on tennis, you should check tennis handicap betting: It may  be the thing to give you more excitement and a boost on your winnings.
If you read our guide about handicap betting, you already know that this betting technique can be used for almost every sport out there and tennis is not an exception.
However, if you have not read that guide, don't worry: Below, we will explain how does tennis handicap betting work with examples and teach you everything you need to know.
Best Tennis Betting Sites
in 01 November 2023 – Updated List
Rank
Bookmaker
Bonus
Safe & Trusted
Rating
Get Started
Tennis handicap betting explained
To answer the "what does a tennis handicap mean" question, we first need to give some basic information about handicap/spread betting or even tennis handicap betting tips and tricks. In every sport, including tennis, every match has a favorite (team/player expected to win the match) and an underdog, such as tennis underdogs (team/player expected to lose the match).
Tennis betting sites give "positive" and "negative" points to both sides in accordance with these expectations. These points indicate what the outcome of the match must be in order to win that bet. This system is generally called handicap or point spread betting.
Let's give a simple example of the tennis handicap scoring system.
We won't be talking about tennis betting rules in detail here: For more information, we recommend that you take a look at our tennis odds explained guide. For now, just know that a positive odds represent the underdog, and a negative odds represent the favorite.
Remember that the points indicate what the score should be: whether you're playing European handicap, Asian handicap, or Asian handicap 0.5, you're betting on the score difference on the outcome. In other words, it is none of your business who wins or loses: You can win your bet as long as the outcome of the match matches the handicap points.
These are the general rules of handicap betting, but tennis handicap bets also have their own special features: You can bet on match points or set points. The outcome of the match is not your only option – below, we explain this in detail and with examples. Here you can see an example how Russian table tennis set handicap odds are displayed.

Games handicap tennis betting
If you want to learn how to handicap a tennis match, you can start with game handicap betting tennis. It is actually pretty easy and remarkably similar to handicap betting on the match result, which is why it is also called match handicap in tennis. However, due to tennis rules, a "match" is not a single game: It consists of multiple "sets" and the results of these sets will define the score difference.
Sounds complex? Let's give a simple example so you can understand better. In this example, we will assume there is a tennis match with 3 sets between Karolina Muchova and Varvara Lepchenko.
How does 3 way handicap betting work in tennis?
Set handicap tennis betting
Tennis betting set handicap is remarkably similar to game handicap tennis betting, but this time you are betting on the set results, instead of the game. The same principles apply to table tennis betting.
Once again, here is a simple example: This time, we are assuming that there is a game between Cori Gauff and Qiang Wang.
Once again, note that you are betting on the set results, not the game result. 
In play tennis handicap betting
We answered what is tennis handicap betting question above, but there is one more thing we need to mention before moving on: live tennis betting. Tennis handicap bets can be placed on live matches too, and they can be either for the game or set points.
Other than the fact that you are betting on a live match in real time, in play tennis handicap betting has no difference. However, we can say that you will get better odds (and tennis spread betting opportunities) with live betting. 
Tips & tricks for tennis spread betting
Now you know the answer to the question of how to handicap tennis, but we also want to share some tips for you to be successful.
👉 Don't stick to one
tennis betting strategy
. There is no such thing as a
perfect tennis betting handicap system
: Every match is unique, and you may need to use a different strategy in each. Ideally, you should do your analysis and decide which strategy you should use before the match starts.
👉 As always, research is key. Moreover, your job is easier this time: For example, in football, you have to follow multiple players, while in tennis this number will be much less. Collect and record any data that will tell you about the tennis player's performance and try to make more consistent predictions.
👉 You don't always have to bet on the favorite. Doing this can sometimes cause you to experience unexpected losses. Underdogs sometimes offer more chances to win and pay out very satisfying figures due to their high odds. For more information, check out our betting on the underdog and over/under betting guides.
👉 If you're just starting out, use tennis betting offers for your first tennis handicap bet: You can try tennis spread betting and even tennis crypto betting without any risk with the right bonus.
Are tennis handicap bets the right choice for you?
PROS
Pays much more than regular moneyline bets
Making research is simpler
You can use betting bonuses
CONS
Can be complex for beginners
3 way handicap bets are very rare
FAQ about tennis betting spread
For all practical purposes, no, there is no difference. Americans prefer to say "spread betting" and Europeans prefer to say "handicap betting".
This is a reference to the "spread" between points. Each tennis player gets a positive or negative point based on expectations, and the "spread" is the difference between these points.
If this is a positive value, it means the game must be won by more than 2 points. If it is a negative value, it means the game must not be lost by more than 2 points.
This means the tennis players are equal in power and no one gets an advantage. With zero handicap, this bet turns into a classic "who will win" bet, and as long as the result is not a draw, you can win with any point difference.
As mentioned above, only favorite players/teams get a negative point, so choosing a negative handicap actually means betting on the favorite. You can choose this option as long as there is no indication that the underdog is likely to win.
Pick the right tennis handicap market, win big
We answered the "is there handicap scoring in tennis" question: The answer is yes and with the right market you can win pretty big figures. Without wasting any more time, pick one of our recommended bookmakers and try tennis handicap betting with a bonus today. Remember that some of our bookies also offer a free bet bonus, which can be used for tennis spread betting. Try your luck today and use our tips to win big!