Courtsiding – Is it legal in 2023?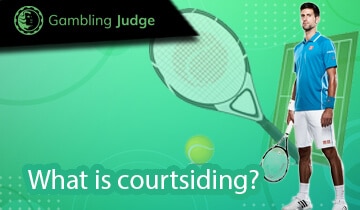 Courtsiding is a controversial practice in the internet betting scene. The legality of it varies worldwide, and it can be tricky to pull off. Bookmakers will have their view on whether to permit or punish courtsiding, but they are unlikely to look at it in a positive light.
The big question is, what is courtsiding? If you do not know and are asking, "how does courtsiding work?" you have come to the right place. Allow us to take you on a journey and reveal all. If you want courtsiding explained to you, read on to find out more.
Best Bookmakers for Sports Betting
in 28 September 2023 – Updated List
Rank
Bookmaker
Bonus
Safe & Trusted
Rating
Get Started
When courtsiding made the news
The most high-profile casino of courtsiding came in 2020. An unranked Spanish player, Joseph Platero Rodriguez, was given a four-year ban (six months suspended) from playing and a $15,000 fine. His crime – according to the TACP (Tennis Anti-Corruption Program) was courtsiding.
Rodriguez was found to have placed 75 bets online during the summer of 2019. Of course, he did not slap bets on his own tennis match but was on-hand to see fellow unranked players compete. He was in an ideal position to engage in tennis betting strategies from there. Thus far, Rodriguez is the first (and only) tennis player to be found guilty of courtsiding.
Is courtsiding legal or illegal?
Using courtsiding at online bookmakers
There are all sorts of tutorials and strategies for all types of gambling you can use when betting at a bookie. However, courtsiding is not going to be easy for you. If you want to place Australian Open bets, you will likely need somebody or contact at untelevised matches to relay information speedily to take advantage of Australian Open odds.
As the bookies often show major events, you would not have much luck betting on the Australian Open when live betting, for instance. Ultimately, your best chance of courtsiding at online bookmakers is to use courtsiding software – this will cost you money, though.
In which sports is courtsiding practised?
Courtsiding is primarily used to get an edge in tennis. However, there are other sports out there where you can use courtsiding. While courtsiding in football seldom occurs, you can certainly get a leg up via horse racing bets. Having somebody trackside to keep an eye on potential non-runners and injuries may help you with courtsiding when horse racing.
Of course, you will need to know how to bet on horses in the first place, and betting on tennis via courtsiding is still arguably easier than with other sports.
The pros and cons of courtsiding
There are pros and cons associated with all sports bets. Here are the important ones for courtsiding.
PROS
Ideal for low-ranking tennis matches
It can be used to make decent money from long odds
Courtsiding be applied to other sports
CONS
You "could" be banned from sportsbooks if caught
It relies heavily on speed information being relayed
FAQs: Your questions on courtsiding answered
If you still have questions surrounding courtsiding, we will do our best to answer them here.
How do bookies make money? ? Essentially, they can use courtsiding. It seems logical that you should be able to do the same. Each bookie has its own policy on this, but some will ban you if they suspect you are engaging in courtsiding.
You will need somebody on the inside or software. Apart from that, you can place your bet as normal (but speedily). Note thatarbitrage-friendly bookmakers are ideal for this type of bet, as they are less likely to frown upon it.
Courtsiding is considered a legitimate tennis betting strategy by punters, not necessarily sportsbooks. While it is always possible to participate in tennis betting and cheat to win decent payouts, you can be punished if caught.
Yes, but with live in-play betting, live streaming, and live stats centers, it is a lot tougher to get away with unless you opt to wager on obscure, unranked, and untelevised matches.
Place sports bets at top bookies today