Tennis Odds Explained | How to Bet on Tennis Complete Guide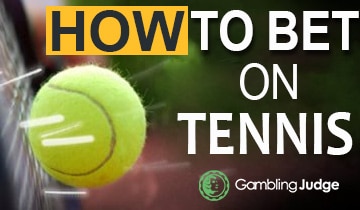 With tennis betting second to only football (soccer) in terms of the number of bets placed worldwide, this is a betting market you're going to want to take advantage of.
Take a quick trip to an online sportsbook, and you will see that the odds on tennis aren't really any different from those available for other sports markets.
Betting on tennis should be a doddle then, right? The truth of the matter is this – it is if you know what you're doing.
If you're not familiar with tennis terminology, the competitions, the players, and the different types of bets, you could be left in no man's land.
Fortunately, our tennis odds explained guide is here to give you a helping hand. Our guide covers all the above, even the Russian Table Tennis Betting industry.
It also breaks down how tennis odds work, showcases the types of odds you can find and much more besides.
In just a few moments, you should be comfortable and confident enough to start betting on tennis.
If you fancy a punt on "der weiße sport", and its stars, such as "Rafa", "Fed" or "Nole", this is the guide for you.
Best Tennis Betting Sites
in 19 September 2023 – Updated List
Rank
Bookmaker
Bonus
Safe & Trusted
Rating
Get Started
Looking Good - How to View Tennis Odds
Like most sports betting odds, those found in tennis can be broken down into several genres. Tennis betting odds can be displayed in three different ways. The first part of learning how to bet on tennis is understanding which odds format is ideal for you. These three ways of viewing odds include:
– Fractional Odds: Fractional odds are most popular with punters in the UK and Ireland. They will be displayed with the amount you can receive for a win on the left of the fractional, and the amount you must wager to receive that prize on the right. For instance, 2/1 implies that if you wager £1/€1, you will earn a £2/€2 win if your bet is successful. This gets a little trickier with odds such as 7/3 and 5/2, etc. However, most bookies will generally tell you what you can win before you book a bet.
– Decimal/Decimalised Odds: Decimalised odds are more common with tennis bettors in Europe, and everywhere else outside of the UK, Ireland and North America. Considered to be the international standard, decimal odds always showcase what can be won when you bet €1 on an outcome. In our example, we've chosen the decimal odds of 1.50 for a player to win a tennis match. If you were to bet €1 on that eventuality, and the player wins, you will win 1.50x your €1 bet, leaving you with winnings of €1.50 for every euro wagered. These are the simplest types of odds you can use to bet on tennis.
– American/Moneyline Odds: Moneyline (or American) odds are naturally most favoured amongst players in North America. These might typically be displayed as figures with plus or minus signs attached to them, also called positive and negative odds. The player who is likely to win will be the minus figure, so, -400, for instance. The underdog will be the plus figure, let's say +300 in our example. The values denote what you need to bet to win $100. If you wager $100 on the underdog at +300 odds, you will win $300. If you want to win $100 betting on the favourite, you need to wager $400.
It is important to note that if you win your bet, you will always pocket your original stake back, too.
Grab a Calculator: Breaking Down Tennis Odds
Having tennis odds explained in the manner above helps you understand how to "read" tennis odds. However, learning what tennis betting odds mean is one thing. That doesn't say much about how they are structured, though. The next step is to discover how tennis odds are calculated. To understand this, we're going to use the most straightforward and most commonly found odd format, decimal odds.
To break down tennis odds into something you can understand, we need to look at "implied probability". For the layman, we're talking about the likelihood of a bet coming off. This is typically expressed as the stake you wager divided by the decimal odds total.
Let us, again, look at the odds of a player winning a match, and those odds are set to 1.50. To figure out the implied probability or likelihood that the player will win, we take the stake (€1) and divide that by the decimal odds at a bookie (1.50).
1/1.50 = 0.6666
This figure can then be multiplied by 100 to give a total percentage. That percentage is the implied probability, or likelihood that the player will win the match, according to the bookie's odds.
0.6666 x 100 = 66.666 = 66.6%
In a short space of time, we've broken down the bookie's odds of 1.50 to learn that they are giving our star player a 66% chance of success.
See Tennis Odds in Action for Yourself
The next step in our tennis betting odds explained guide is to see those odds in practice, with a realistic example of how tennis odds work. Once again, we'll be using decimalised odds for this example, as they tend to be the best tennis odds to use for most eventualities.
Joe and Jane have just logged into their favourite online sportsbook. Joe fancies a punt on Rafael Nadal (or Rafa) to beat Novak Djokovic (Nole) in the Wimbledon final. Jane wants to go the other way.
– Rafael Nadal is the bookie's favourite, at 1.75 to win the match, and Joe decides to stake £10 on Nadal winning.
– Jane is adamant that Djokovic can win, and she fancies the underdog. The bookie has Djokovic at 2.25 for a win. Jane wagers her £10 bet on Djokovic to win.
If they win, the amount wagered by either Joe or Jane will be multiplied by the odds offered at the time the bet is staked. They can then subtract their original stake from this figure to work out how much profit they have. For example:
– JOE: £10 Stake x 1.75 Odds = £17.50 Payout. £17.50 Payout – £10 Stake = £7.50 Profit.
– JANE: £10 Stake x 2.25 Odds = £22.50 Payout. £22.50 Payout – £10 Stake = £12.50 Profit.
There can only be one winner. If Rafael Nadal wins the match, Joe is set to receive £17.50. However, if Djokovic wins the match, Jane will walk away with £22.50.
Popular Betting Markets and Classic Tennis Odds
You should now know how to read tennis odds. However, there are lots of betting odds and markets out there for you to get involved with. It is essential to understand the different types of betting markets which are open for tennis punters.
In this next tennis betting section, we will look at some of the classic types of bets you can make. These range from outright winners to each-way betting. Here is a sprinkling of the more commonly wagered tennis bets around.
– Individual Match Outright Winners: Individual match outright odds shouldn't need too much of an introduction. These are, of course, bets on the overall winner of a match. No ifs, buts, or maybes; you are merely staking money on one player to win a tennis match over another, as in our examples earlier. These are the most common type of tennis odds and outright odds you can find online. They also tend to be the most numerous.
– Betting on the Number of Sets: Betting on the number of winning sets is bizarre bet to make, but one which can commonly be found online. In a three-set match, there are four possible outcomes. In a five-set match, there are six. The more sets there are in a tennis match, the more risk there is involved.
– Betting on Individual Set Winners: As well as betting on the number of sets a tennis player will win, some bookies also take bets on the winner of each set. These can produce some spectacular odds, as there is a high degree of risk involved. As is the case with major sports betting (and tennis betting is no different); the higher the risk, the greater the odds. Players should note that betting on set winners is not as commonly offered at bookies as the other types of betting markets listed here.
– Tournament Outright Winners: Like the outright match winner, it is possible to bet on an outright tournament winner. Tournaments can last several days, sometimes over a week or so. Tournament winner odds tend to be short for the favourites, with considerably long odds for the underdogs. While playing with short odds on outright tournament winner bets is usually the way to go, there may be a case for the latter. First-time debutants such as Maria Sharapova in 2004, and more recently, Coco Gauff in 2019, can impress and advance quite far into tournaments. If those rookies were to go all the way and win, an outright tournament bet with long odds could net players a considerable sum, even with a small wager staked.
– Each Way Betting for Tournaments: In horse racing, an each-way bet often allows your horse to finish second and still cough up a decent win. The same type of bet is available in tennis. With tennis tournament each way betting options, players are placing one bet on their man or woman to win. However, they are also putting a second bet for that same player to finish as runner-up. You are guaranteed to win "something" with an each-way bet if your player finishes in the top two. However, you won't earn as much as you would if your star player was to win with an outright bet. Each way bets are often considered "safe" bets when used on heavy favourites.
Levelling Things Out - The Key to Understanding Handicap Tennis Odds
Another part of our tennis odds explained guide is looking at handicap odds. These are typically found in the American betting markets. Similar to spread betting in other markets, it is not necessary to fully grasp handicaps odds when learning how to understand tennis odds. However, doing so certainly won't hurt.
With handicap odds, one player is given an advantage over another, who receives a deficit. This is done to try and even out the odds, and remove any bias between two players. It is commonly used when there is a superior favourite and a serious underdog competing against other another. Let's look at tennis handicap betting variants a little more closely or even tennis arbitrage betting for some tips and tricks provided by our experts.
– Handicap Betting on Sets: In handicap set betting, a player may be given a set advantage (such as +1.5), while another may receive a set deficit, for instance, -1.5. In our example, to win by placing a bet with a set advantage (+1.5), players need to hope that their star wins by at least 1.5 sets. Winning by a single set is not enough. Alternatively, if you bet on the player with the set deficit (-1.5), as long as they don't lose by more than 1.5 sets, you'll win.
– Handicap Betting on Games: Handicap betting can also be used on games, instead of sets. These work in the same way as handicap bets on sets but tend to feature larger numbers. For instance, the player with a game advantage of +5.5 must win at least 6 more games than their opponents. A player with a game deficit of -5.5 can lose, but not by more than 6 games.
Things to Remember About Over/Under Tennis Odds
The next step on our tennis betting odds explained tour is over and under odds. These are also based on sets and games. The way that these work should be easy enough to grasp. You don't need an A-Level in reading tennis odds to see what's going on here. Let's look at the two types of over/under odds, and see how they work.
– Over Odds: Over odds can be placed on the number of sets or games in a match. With over odds, you will be wagering money that the match will end over a predetermined number of sets or games.
– Under Odds: By contrast, with under odds, you are essentially wagering that a match will end under the predetermined number of sets of games.
Here is an example:
A bookie is offering you over/under odds of 3.5 sets in a tennis match. If you were to bet "over" with these odds, the match must consist of at least four sets for you to win. If you were to bet "under", the match must finish with just three or fewer sets played.
The same principle can be used with over/under game odds. The bookmaker is offering you 3.5 games for over/under odds. This time, though, you're betting on whether the number of games in a match is four or more (over) or three or less (under).
Get a Slice of the Action as It Happens with Live Betting
Live betting is one of the most exciting ways to bet on sports, and tennis is no exception. Because there are so many matches played throughout the year, there is always something to have a punt on. If you aren't familiar with live betting, here's how it works:
Live tennis betting often allows you to wager on far more outcomes than standard betting. This is because you can bet as the action unfolds. Bets include the winner of the "next" set or game. Because the action is live, the odds change dramatically, depending on what is happening during a game. This can see you potentially unlock long odds which wouldn't be there for players who wagered before the start of a match. Some of the essential aspects of live betting include:
– In-Play Bets: In-play odds are adjustable. As the match unfolds, events will happen, which will adjust the pre-match odds. For instance, an underdog who is performing well may see their long odds cut, while a favourite who is stumbling could see their short odds increase.
– Keep Tabs on the Action with Live Streaming: Pre-match odds are easy enough to gauge, and any odds comparison site will tell you what the "average" odds should be for a game. However, with in-play betting, all bets are off. The action changes so fast that there is no way to gauge what is happening other than watching your bet unfold. To aid players with this, many top bookies live stream sports events. This adds extra excitement and drama to your bet.
– Early Cashout: Those online bookmakers which do feature live streaming may also feature early cashout options. Consider early cashouts like folding for half your bet back in poker, albeit with far more generous terms. These allow players to take out their winnings early (under certain circumstances), often for a slightly reduced rate.
This has its advantages. For instance, if you're watching a tennis match, and it looks as though the tide is turning against your bet, you may have the option to cash out now, while you're ahead. You'll receive smaller winnings, but that may be better than leaving your bet in. Doing so could see your wager fall by the wayside, as your player eventually loses to a rival making a comeback.
Not all bookies offer this feature, but it is undoubtedly one which is worth considering if yours does. You might wonder why a bookie would provide something like early cashouts. The truth is that it works both ways. Some players may cash out their winnings early (at a lower rate) because they are fearful of a comeback that never materialises, thus costing them the full prize they could have won. Early cashout tennis bets are really a matter of choice and no small degree of confidence in your player.
Study, Study, Study and Build Up Your Knowledge of the Game
We've been through the basics of understanding tennis odds. By now, our tennis odds explained guide has taught you all about the different odds formats, how they work, and the types of markets open to you. However, you still need a little more knowledge to feel totally confident. In the next tennis section, we will cover the leading competitions you can bet on, essential factors to consider when wagering on tennis, and a handful of tips and hints to consider when betting on tennis.
Let's start by looking at the major tennis competitions. While tennis matches take place throughout the year, and there is always something to have a punt on, these are the big ones, the main events.
The "Biggies" - Major Tennis Events Every Punter Should Have a Crack At
There are four Grand Slams in tennis. These are considered to be the major events, and every tennis bettor worth their salt will want a crack at these. Betting on Grand Slams is advantageous as there are many players invited to the tournaments, and all of the "favourites" will be participating in them. They include:
– Australian Open: Held during the final fortnight in January, the Australian Open is held in Melbourne. It is a hard surface event, held outdoors, and features men's and women's singles, men's and women's doubles, but also mixed doubles events.
– French Open: The French Open at Roland Garros in Paris began in 1891. It is currently played on a clay surface and takes place in late May. The same competitions are held as at the Australian Open. This is the only Grand Slam event held on clay, which makes for an exciting betting option for players who favour stars that perform well on the surface.
– Wimbledon: Wimbledon is the oldest tennis event in the world. This premier competition was first held in 1877 and is held in late June or early July. The two-week event is played on grass at the All England Lawn Tennis and Croquet Club. It is notorious for rain delays due to the British weather. Wimbledon has a strict dress code and is considered to be the most prestigious of all tennis tournaments. Gentleman's and Ladies' singles and doubles competitions are held, alongside mixed doubles. Wimbledon has a reputation for being a venue for fledgeling tennis stars to make immediate impacts and names for themselves with stunning debuts.
– US Open: The US Open is held in Queens, New York and is the final Grand Slam of the year, starting on the last Monday in August. The hard surface event first began in 1881. This prestigious event is held at the USTA Billie Jean King National Tennis Center. Again, men's and women's singles and doubles competitions are played, as well as mixed doubles.
A few other tournaments catch the eye, too. The Davis Cup (for men) and the Fed Cup (for women) are both team competitions which are renowned. Meanwhile, the ATP World Tour (Association of Tennis Professionals) and WTA World Tour (Women's Tennis Association) together feature over 100 professional events per year. They are open to players with all sorts of rankings at many venues across the globe.
When Odds Change: Hidden Factors to Consider with Tennis Odds
You might be assuming that the same odds would appear at the same competitions for favourites? Or perhaps you're thinking that underdogs will always feature long odds? That isn't always the case. There are many different factors which can see tennis odds adjusted. Learning how to bet on tennis involves much more than just understanding how bets are made the types of odds available. You also have to consider hidden factors which may influence the odds that you are offered. Below, you will find some tips you may wish to consider.
– Hobbling Along: Players who have picked up a tweak may perform below par, thus lengthening their odds of success. Players who are sufficiently injured may not appear at events at all, even Grand Slams. This can shorten the odds of outsiders.
– Scratching the Surface: Some players perform better on grass, others on clay and some on hard surfaces. A tennis player's weaknesses on one type of surface could lengthen their odds, while an athlete competing on their favoured surface will see their odds shortening.
– Left-Handed Players: Whether a player uses their left-hand or right-hand, as well as the hands of their opponents can also adjust the odds.
– Rained Out: Some tennis matches are played indoors, and some venues feature retractable roofs. Other matches are played outdoors. A rain delay might take the wind out of the sails of a player who is performing well. At the same time, a delay might also give an exhausted player time to recover. These can have an impact on live, in-play tennis odds.
– Form and Momentum: Players who are on a winning streak, winning competition after competition, or defeating star player after star player, are likely to see their odds shortened. Players in form become favourites, and that is worth considering.
– Is Your Player Up for It?: Tennis players can be motivated by various things. Victory over a rival who continually beats them could be a source of motivation. So, too, could winning an event they have finished runner-up in for several years. These play a less critical role in determining odds, but can still play a part.
– Big Cheers Spur On Success: Andy Murray is likely to perform better at "home" at Wimbledon. The same can be said of Venus Williams in Queens at the US Open. A home crowd cheering on a tennis player may slightly adjust the odds, particularly if that support sees their star go on a winning streak.
– Fitness and Fatigue: There are many tennis events taking place throughout the year. There are far too many for a tennis player to compete in all of them. The more events a tennis player enters, the more likely they are to suffer from fatigue. At the same time, not playing for a lengthy spell (due to injury, pregnancy, suspension or other reasons) could also see a player be out of shape. This can play a significant role in the odds you are offered.
– Wild Wind and Harrowing Heat: While we have discussed rain delays, it is also worth considering the wind and heat. These can also play an important role in determining the outcome of a tennis match. Intense heat can lead to fatigue, while the wind can interfere with the serves of even the best players. The bookies will be noting the weather and other playing conditions, and so should you.
Gain the Upper Hand - A Tennis Odds Hints & Tips Checklist
The final part of our tennis betting odds explained guide aims to provide you with a few nuggets, hints and tips which you can use when betting online. Our tennis odds tips come from professional bettors and tennis insiders alike. While you are under no obligation to use these (your own knowledge can often be enough), it is at least worth considering incorporating them into your betting strategies.
– Don't Bet Unless There Is Value: Low odds can be appealing, but so, too, can high odds. Either way, make sure that there is value in your bet, and that you (if no-one else) believes it will come off. If two players are finely matched and the odds are split between them, there isn't much value to be had in the bet.
– Stick to What You Know: Do you only follow men's tennis? If so, why are you betting on Women's tennis, and vice-versa? Stick to the players you follow and know. This puts you in pole position to accurately predict how successful a bet will be.
– Scout Around for the Best Deals: There is cause to have accounts at several bookies. A quick look at a tennis odds comparison site will showcase different odds for the same matches from rival bookies. If you want to be sure you get the most favourable odds for a match, browse around. There is no law that says you can only be a member of one sportsbook.
– Keep Stats and Records: Many bettors have a little black book where they record all their bets. Others use a similar book to record stats about games. Some even use websites or software for this purpose. However you decide to go about it, doing so can see you able to flick back to previous bets and see (and how) they succeeded or failed. Looking back into history might give you a sneak peek at what is likely to occur in the future.
– Study the Rankings and Be Wary of Seeds: Seeded players are the most likely to win a competition, right? Not necessarily. Seed rankings are based on performances over the previous year. A player may be highly ranked and seeded because of their past accomplishments, but they may have had a miserable last few months. Under-performing in the previous 2-3 events wouldn't show on the rankings for a little while. Just because a player is seeded or highly ranked, therefore, doesn't make them a favourite. Study the rankings, but compare those with the player's recent performances. This will enable you to accurately gauge where they are really ranked if only the last few months are taken into consideration.
– Study Styles, Serves, Returns and Other Attributes: Every tennis player is different, and their traits and qualities are likely to influence match odds, depending on who they are facing. Make a note of players with excellent service and returns. Keep tabs on their height and their arm reach compared to one another. This can come in really handy when looking at two players who on the face of it are evenly matched. There is a chance that their arm reach, serve, returning skills, height, speed, agility or other attributes may be the difference maker.
– Square Up the Stats of Head-to-Head Matches: One of the best things about stats centres is that they keep tabs on previous matches. When two players are set to go head-to-head, why not check out their history. Are they rivals? If so, they may be more motivated to give that bit extra. If they've played one another before, who came out on top? How many times? Is there a difference in the results of previous games based on the surface, or the venue? Considering all of these elements while looking at head-to-head matchup history can help you make a more informed choice when looking at tennis odds.
– The Grass is Always Greener: As touched upon earlier, there are several different surfaces in tennis. Some players perform better than others on specific surfaces. Always back-check your data and stats to find out what the preferred surface of your tennis star is.
– Keep Abreast of the Latest Odds and Tips: There is nothing worse than getting offered inferior odds because you missed a trick. There are many top betting sites out there which drop clues and hints concerning the latest odds and tips. Sometimes, betting far in advance of a tournament can be advantageous. At other times, it can help to wager on a wild card who has entered at the last minute. Learn about "when" to bet from the best in the business, as well as other tips, and scout around for the best odds. These are sure ways to avoid playing with inferior odds.
It's Time to Smash It! Take to the Court with Your New-Found Knowledge
Throughout this piece, we have discussed how tennis odds can be viewed, how they are structured, and how they work. We've also looked at major tournaments, different tennis betting markets and top tips.
You have now discovered the secrets of odds and learned how to attempt to win big betting on tennis. All that remains is for you to have a punt, and start betting on tennis today.