What is a Fourfold Bet? | 4 Fold Bet Explained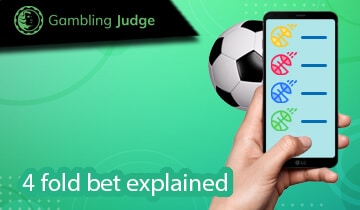 Fourfold bets are just one of the many different types of accumulators or parlays that you might choose to wager on at leading bookmakers. As one of the most common accas, this is a bet many punters will want to have a look at.
What is the fourfold bet's definition, though? If you want to learn how to wager with fourfold bets online, you've come to the right place.
If you wish to have 4-fold bets explained to you, read our short guide to learn more.
Fourfold bets explained
Best Bookmakers for Betting on Accumulators
in 01 November 2023 – Updated List
Rank
Bookmaker
Bonus
Safe & Trusted
Rating
Get Started
How to place a fourfold bet online
What is a 4-fold bet in horse racing? In tennis? What is a 4-fold bet in football? Ultimately, irrespective of the sport you bet on, the structure of the wager remains the same. One of the best ways to have 4 folds bets or 5 fold bets explained to you is to see an example in action. Below, we will show you how to place a bet.
Step 1
You must begin by choosing four selections, which must be different events. Add all four of your selections to your betting slip at a leading bookmaker, such as William Hill or 888 Sport.

Step 2
Add all four of your selections to your betting slip at a leading bookmaker, such as William Hill or 888 Sport. When you add your first selection, don't place your stake. Be sure to add your other selections first. If you've added them to the same coupon, they will automatically become accumulator bets

Step 3
Now it is time to add your stake. William Hill, 888 and other top bookies will display the term "accumulator" to emphasise that this is the type of bet you are making. Others may simply use the term "parlay" or "fold"
For instance, let us say you choose the following events to bet on:
Manchester United are facing Brentford

Liverpool are taking on Aston Villa

Chelsea are set to play Burnley

Manchester City will face Norwich
If you are relatively sure that all these matches will result in home wins, your 4 fold bet to have those teams to win. To win your bet, you're going to need all four of those home teams to pocket a win. If just one of them fails to do so, and their match ends in a draw or a defeat, you will lose your fourfold bet.
The basic idea is that the stake from your first selection (irrespective of when it starts) is used to bet on the first game. The winnings are used to form the stake for the second bet and so on. Therefore, it is so crucial that all your bets result in wins.
Calculating total stakes and potential winnings with 4-fold bets
The simplest way to calculate what you win with a fourfold accumulator is to place your selections on the betting slip and enter your stake. It will automatically calculate the maximum return you could potentially win. There are, of course, fourfold bet calculators out there you can use, too, and these are handy if you want to test out several bets before you wager. They can also be handy as you can enter the amount you want to win, and it will calculate the stake you need to wager to pocket that prize.
As mentioned, because the winnings from one bet are used to form the stake of the other selections, the potential reward is worth far more than if you were to place single bets.
Let us say that you have the following bets on your betting slip:
Man United are 1.20 to win

Liverpool are 1.80 to win

Chelsea are 1.40 to win

Manchester City are 1.10 to win
Wagering with 4-fold each-way bets
A 4-fold accumulator bet can also be used to place each-way bets, common in horse racing. How does a 4-fold each way bet work, though?
Betting with four selections: Common alternatives
There are alternative accumulators you can consider when wagering on football, horse races and more. How do you get 4-fold bets with 5 selections, for instance? These are arguably more complex options, but we've covered them for you all the same. These include:
Top tips for increasing your odds of success with fourfold bets
Assuming you know how a fourfold bet works, you may be ready to play. Here are some top tips to help you get started:
👉 The more selections you have on the slip, the bigger the return. However, you stand a greater chance of incorrectly predicting one of those bets.
👉 Always put the odds in a four-fold calculator first to ensure that you will receive the types of winnings you want.
👉 Tipsters are a great resource if you want to uncover the best 4-fold bets of the day.
👉 We recommend starting out by playing at low stakes betting sites, so you can get a grip of how accas work before wagering with them.
👉 Only bet on what you know, and try to stick to favourites, to begin with, as they are more likely to yield a return than underdog bets, even if the total haul from a four-fold underdog acca may be tempting.
Frequently asked questions about fourfold bets
We assume that you're not going to ask, "what is a 4-fold bet?" but you may still have questions regarding four-selection accas. If so, we're here to help with this brief FAQ guide.
Your bet consists of four selections. When you bet on four, you need all of them to be correct to win. The amount you can win depends on your stake and the odds available.
The betting slip should do this for you, and there are good 4-fold bet calculators online that you can use. Failing that, just multiply your stake against the odds of your first selection to get the stake for your second selection, and so on to calculate your potential return.
A 4-fold accumulator on 6 teams practically means that you've got fifteen 4-fold bets on different combos of the four, from your total selection of six teams.
That will ultimately depend on the bookmaker you are playing at. Most sports betting sites prefer you to wager on either horse racing or football betting separately, but it should still be possible at many leading sites.
Again, this can depend on the bookmaker in question. New customers can often claim free bets for use on accumulators. However, other bonuses can be considered, such as ACCA Insurance. This offer effectively allows a number of your selections to be wrong and still yield a win. In this way, ACCA Insurance bonuses are much like system bets.
Place fourfold bets at leading sportsbooks and bookmakers today
Now that you know all about the classic and popular fourfold bet, it may be time to start betting. However, much like our fourfold bet explained guide, we also have guides on alternative bets, like the Super yankee bet, some of which are listed above. Feel free to learn more about accas, parlays, system bets and more right here.
Alternatively, if you're ready to start betting, head over to our top list of leading sportsbooks like William Hill and 888 Sport. You can find a host of top online bookmakers that eagerly offer top fourfold bets and sometimes bonuses such as ACCA insurance to go with them in our reviews section.
Other articles you might enjoy: