What is a Banker Bet and How to Place One? | Banker Bets Costs & Payout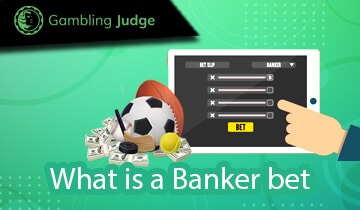 What is a Banker Bet? If you are tired of standard bets at sportsbooks, then a Banker Bet could be the way to go. Of course, we would not encourage anyone to dive headfirst into a new way to bet without first correctly understanding what it is.
Banker Bets – like many multiple selection bets – can be risky if you do not know what you are doing. It is just as well then that we are here to explain these new betting terms to you and help you understand the definition of a Banker Bet.
If you are ready to begin, read on to find out more.
Best bookmakers for placing multiple bets
in 27 September 2023 – Updated List
Rank
Bookmaker
Bonus
Safe & Trusted
Rating
Get Started
Banker Bets explained
When should I make a Banker Bet?
There are several reasons why you might opt to place a Banker Bet. These include:
Instead of accumulators:
Ordinarily, you might choose to place accumulator bets and then take
ACCA Insurance
to give yourself a cushion if one of your accumulators goes wrong. This can be costly and can reduce your winnings.
---
Hotly tipped bets: Tipsters regularly provide advice on hot bets. It is not rare to see a Banker Bet tipster advocating soccer Banker Bet of the Day or Banker Bet of the Day options on other sports. If you see Banker Bet tips on a sport you know, for example, Banker football tips, then this is the ideal time to wager.
---
Clear Favourites: Banker Bets often work best when there is a clear favourite. It is essential to make your Banker Bet the most obvious outcome with the shortest odds. If there is such an option, and you like the look on the odds of at least two other selections, Banker Bets could be the way to go.
Of course, you still do not know how a Banker Bet works, so let us move on to that next.
Understanding Banker Bets with an example
How does a Banker Bet work, though? The best way to see how football Banker Bets work is to provide you with a Banker Bet example. Here is ours…
We believe that Manchester United will win their next match.

However, we also fancy Chelsea and Manchester City's chances of success in other games.

Manchester United clearly has the shortest odds and is the most likely guaranteed win.

Therefore, we make Manchester United our Banker Bet, but keep the other two games on our ticket.
Now that we have decided what we want to bet on; let us look at how we place that bet in the next section.
How to place a Banker Bet
Step 1
The first step in learning how to place a Banker Bet is realising that even the
biggest bookmakers in the UK
do not offer this option by default.
Instead, you will only see the banker selection appear on your betting slip once you have at least three selections on there.
Step 2
As touched on, we think Manchester United is a dead cert to win, and we like the look of Manchester City and Chelsea to win their matches, too.

The first thing you need to do is add these teams to your betting slip. Once they are on your betting slip, you can change your slip type from "Standard" to "Banker".
Step 3
You will now see that there are new features added to your selections. You will need to choose a Banker. Tick the box marked "B" next to the selection you want to be your banker.

We strongly urge you to make this the bet with the shortest odds. This means that Manchester United (in our case) must win their match for our bet to continue.
Step 4
We are now free to choose what happens with our other two bets.

If we believe that Manchester City will triumph, but we are not 100% convinced over Chelsea, we will select the 1/2 option.

If we believe that both of our other matches will end how we predict, we will select the 2/2 option.
This is how our final bet, we placed on Bwin, will look like: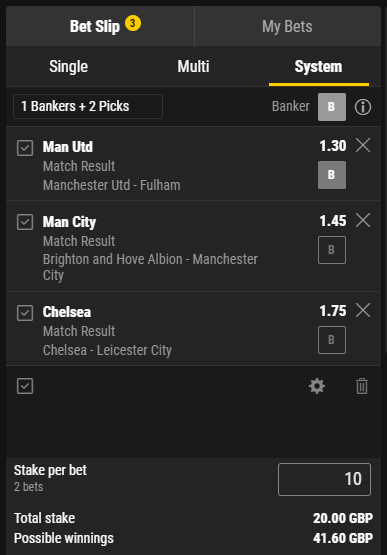 The cost of placing Banker Bets
It is important to calculate the cost of your selections before you wager on those options. Let us take a quick look at how this works:
Banker Bets payouts: pocketing your winnings
👉 Because of how the system is structured, we strongly recommend betting on the matches that have the highest probability of winning.
👉 You can still find value in the sports betting market by using a Banker Bet calculator to predict what you can win ahead of time.
👉 While it is possible to have up to fourteen selections on a Banker Bet (and more than one Banker), and this would yield impressive winnings, it will also cost more, and there is a greater degree of risk in play.
With the Banker Bet system, if your Banker Bet loses straight away, the entire bet is lost.

However, if the Banker Bet wins, then we only require at least one of the other two bets to be successful.

Of course, we will receive maximum winnings of bookmakers if both other bets come good.
Placing one or more bankers in a bet
If you are supremely confident, then you can choose to have more than one banker in a bet. However, if you do this, you will need more results to be correct to have any shot of winning.
The only time you might ever want to consider this is if you are playing with a double bet, treble bet or up to an eight to ten team accumulator bets in your selections, rather than single bets.
Personally, we would not recommend it.
The pros and cons of Banker Bets
The pros and cons of opting to wager with Banker Bets include:
PROS
You can win sizeable sums of money
More flexibility than traditional accumulators
Selections don't need to settle at the same time and can span several sports
CONS
You must win your Banker Bet
The more selections you make, the tougher it gets
FAQs: Your questions on Banker Bets answered
If you still have questions, we will try to help with this brief FAQ guide…
Yes. You can have more than one banker. However, the more bankers you choose, the greater the risk as you will need to get them all correct.
Absolutely. Your Banker Bet can consist of any type of sport. Popular ones include horse racing, football, tennis, and more.
A minimum of three selections must appear in a Banker Bet. You can have up to fourteen in all.
Choosing between a standard of Banker Bet is down to you. Banker Bets work best with favourites and those with short odds, and as they are multi-selection bets, the risk is greater, but so are the rewards.
Horse racing bankers involve choosing one horse to win the race and two or more selections to come second and third. A horse racing banker is a variation on the classic Trifecta bet.
Use Banker Bets to play online today
Now that you have had Banker Bets explained to you, are you ready to start wagering? If you like the sound of multi-selection bets and want to learn about other types of sports betting options, you can read our guides to Patent Bets, Trixie Bets, Lucky 15s, Canadian bets and Yankee Bets as these offer you other ways to play. 
However, if placing a Banker Bet at a top bookmaker, such as wagering with Bet365 Banker Bets, is for you, then head on over to our low stakes betting sites page to find top risk-free bet offers and leading sportsbooks offering Banker Bets today.