Permed Patent Bet | What is a Patent Bet?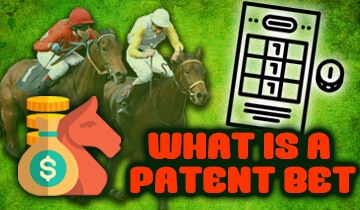 Patent bet types are becoming all the rage at top betting sites. What is a Patent bet, though? Can it be used in several sports? If so, what is a Patent bet in football? If you are not the world's leading authority on betting terms, you need not worry.
With our guide, we will walk you through the ins and outs of Patent betting in just a few moments. If you want full coverage with your bets and hope for a reasonable return, then a Patent bet could be for you. Let us start by looking at the Patent bet definition before we go any further.
Best bookmakers for placing Patent bets
in 18 September 2023 – Updated List
Rank
Bookmaker
Bonus
Safe & Trusted in UK
Rating
Get Started
Patent bet explained
While that might explain what a Patent bet consists of, it does not explain "how does a Patent bet work?". We will explain it in detail below. First have a look at our recommended list of bookmakers where you can place Patent bets.
Learn how to place a Patent bet online
We assume that you know how to place a bet conventionally. If not, we would recommend that you read up on that quickly before progressing to Patent bets and Patent horse betsconver. Below you will find our Patent bet example. Follow it to understand how to bet on horses and other types of sports betting options. 
There are three races that you wish to bet on at William Hill, one of the biggest bookmakers in the UK. You fancy betting on Horse A to win. However, Horse B and Horse C do not have bad odds either. They look like this:
Horse A:

6/1 to win

Horse B:

5/1 to win

Horse C:

10/1 to win
To place a typical Patent bet, you need to place three singles, three doubles, and a treble, as mentioned above. You will do that, like so…
3 x Singles
Selection
On Horse A, Horse B and Horse C
3 x Doubles
Selection
On Horse A and B, and Horse B and C, and Horse A and C
1 x Treble
Selection
On Horse A, B and C
Placing a permed patent bet for football
Top tips for Patent betting online
While there are plenty of tipsters out there offering Patent bet strategy guides for you, there is no such thing as a guaranteed way to win via a Patent bet system. We can, however, offer you Patent bet tips, and these include:
👉 It is possible to place Each-Way bets (as Patent bets), as well as the To Win bets that we have already covered. This will double your original stake to £14, and works in much the same way, requiring seven selections on three separate events. An each-way bet may not be the smartest bet in horse racing, but is the safest one.
👉 Always include at least one single in any bet you make. The main reason is that this will guarantee a payout, even if all your other bets fail.
👉 Consider exploring Trixies and Permed bets. If a typical To Win Patent bet does not seem like it will get the job done (perhaps you cannot find enough selections), these are options worth considering instead.
👉 It is best to stick to the minimum bet of £1 per selection here. If you opt to go higher, you could find that you run out of money rather rapidly. With a bit of luck and careful planning, a £7 bet is all you will need to turn a handsome profit.
How are your stake and winnings calculated with Patent bets?
The Patent bet versus the Permed bet and Trixie bets
You may be familiar with Patent bets but not simply know their name. They are quite like Trixie bets and Lucky 15 bets. In fact, you could argue that Patent bets are the bridge between them. Similar types of bets include:
Trixie Bets:

A four-tier bet consisting of three selections. Namely, three doubles and a treble.

Permed Bets:

Any wager which consists of at least two selections. It will typically involve wagering on several selections with small stakes. By contrast, Permed Patent Bets require four to six selections, with up to twenty-eight bets made in all. 

Lucky 15 Bets: As its name suggests, this bet involves wagering on four different selections with fifteen bets. Expect to see four singles, six doubles, four trebles and a single fourfold accumulator bet.
The fundamental similarity between all these bets is this – if a single bet is involved somewhere, you are guaranteed a payout if at least one of your bets wins. See our table below, for more details on this:
Number of Selections
Permed Patent Bet
4 (up to 6)
Bet Structure
Patent Bet
3 Singles: 1, 2, 3
3 Doubles: 1-2, 1-3, 2-3
1 Treble: 1-2-3
Trixie Bet
3 Doubles: 1-2, 1-3, 2-3
1 Treble: 1-2-3
Permed Patent Bet
4 individual patent bets
Winning Return
Patent Bet
At least 1 selection must win
Trixie Bet
At least 2 selections must win
Permed Patent Bet
At least 1 selection must win
How to work out a patent bet: simple steps
Now you know what's a permed patent bet even in different sports. However, horse racing is still the most popular option for this bet type and we should explain how to place a patent bet in horse racing too. If this is your first time, simply follow the following steps:
1
Log in to your favorite bookmaker and choose "horse racing"
2
Pick three individual races and pick three winners
3
After adding three single bets to your slip, it will automatically display an option that says "patent" or "full cover" (depends on the bookmaker)
4
Place three more double bets
5
Lastly, place a treble bet
6
The default unit stake per bet will be 1 EUR/USD, but you can change this if you like
Important things to know about patent betting
The pros and cons of placing Patent bets
There are pros and cons with every bet. Here is what you need to know about Patent bets:
PROS
Are friendly with Each-Way bets
Not as complicated as Permed Patent bets
Improved probability on a return
CONS
Must be used on three different selections
More reliable but often pay less than traditional accumulators
FAQs: Your questions about Patent bets answered
You should now know how to place a Patent bet. That said, we are here to answer any lingering questions you may have with our FAQ…
A Patent bet is a wager on three selections, where seven bets are made. These are three singles, three doubles, and a treble.
You can use the example given above to calculate a patent bet. However, you do not have to bother. There are Patent bet calculators out there which make short work of calculating a win. But as a simple example a typical Patent bet will cost £7, containing seven individual £1 bets.
Patent bet rules can vary from site to site. If your horse fails to run, you may end up seeing your entire Patent bet canceled. This is not as bad as if it were to go on, which would lessen your chance of success.
Of course. Bear in mind though, that when you place Each Way Patent bets, you will need to double your stake to £14.
A Permed Patent bet is arguably one of the more complicated stakes you can wager. It involves four to six selections and up to twenty-eight bets. You still only need one selection to win, but those bets span many outcomes. Check our table above to learn more about this.
Play online using Patent bets today
As you can see, Patent bets can be incredibly profitable if multiple bets come good. There is no guarantee that you will win your Patent bet, but as you only need one selection to do so, this presents you with a far better chance of winning than conventional accumulators and other bets, even if the winnings "may be" a touch smaller. 
If you are interested in placing Patent bets online, you will need a trusted, licensed, and reputable sportsbook. You may also want to try other types of bets on horse racing – like forecast bets and reverse forecast bets. Anyway, do not hesitate to check out our selection of top bookmakers, all of which are Patent bet-friendly and ready to offer their services to you today.
You are now ready to place your first permed patent bet: The only thing left is choosing a bookmaker for the job. Well, we are ready to help you in this regard too: We already picked the best bookies for your first patent bet. Check our lists, pick one, and make sure to claim your bonus with your first deposit: It is that easy. As always, we wish you good luck!
Other articles you might enjoy: