Reverse Forecast Bet – What is a reverse forecast bet [2023]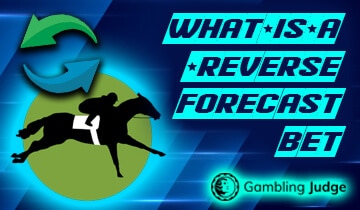 The reverse forecast bet will surely sound familiar to those betting at horse racing betting sites UK.
If you're familiar with horse betting terms, then you surely know the classic forecast bet and can at least assume what reverse forecast betting stands for.
Even if you are completely new to gambling and don't know how to bet on horses, this guide will prove useful.
We explain how does a reverse forecast bet work, and highlight the sites offering it, with a promising review and competitive odds.
Best bookies for placing reverse forecast bets
in 29 September 2023 – Updated List
Rank
Bookmaker
Bonus
Safe & Trusted
Rating
Get Started
The basic 2023 reverse forecast bet guide
What is a forecast bet?
Before we try to understand what is a reverse forecast bet, it pays off to look at the straight forecast bet. This requires players to correctly predict the winner and the runner-up in the sports competition of choice.
Made popular by horse racing sites, it's now featured by mainstream bookmakers who offer it on other sports. It is vital for both predictions to be correct, so you need to indicate the first and second-placed contenders in the right order.
What is a reverse forecast bet?
Place a reverse forecast bet – Step by Step
The horse racing reverse forecast bet and its counterpart for football and tennis use the same formula. You indicate the winner and the team finishing in second place then bet the amount you feel comfortable.
It doesn't matter if you predict the winner correctly, as long as both players make it to the final act of the competition. The odds are simply multiplied, so learning how to calculate a reverse forecast bet is easy.
Step 1
Choose the event and pick the winner and runner-up
Step 2
Add the selection consisting of two bets and the stakes
Step 3
You win if the two teams or athletes make it to the final
Forecast bet vs reverse forecast bet
Reverse Forecast betting tips and tricks
You can use the reverse forecast bet for
UK horse racing betting
and even take advantage of
free horse racing bets no deposit
bonuses. To be successful in your quest, researching
post position win percentage
information can be useful. You should also follow these reverse forecast bet tips that work for other sports not only for
horse racing.
Reverse forecast betting for hedging – you can hedge against the risk of a negative outcome by using the reverse forecast bet at new horse racing betting sites UK. You sacrifice the odds of being to have twice as many chances of winning so this bet is great in races with two horses that are equally good.
Consider double and multi reverse forecasts – for tennis fans, this type of reverse forecast betting is perfect for Grand Slam events. There are 4 such tournaments every year, so you can pick up to 8 players and bet on them to reach the finals. The odds are spectacular and you have an action-packed season.
Pros and cons of reverse forecast betting
PROS
Twice as many chances to win at competitive odds
Better value than the trifecta box betting
Can be used for other sports besides horse racing
CONS
High volatility and a high level of risk
Frequently Asked Questions about reverse forecast betting:
Reverse forecast horse racing is just one of the options and you can use this type of bet for other sports. Tennis is a particularly good choice, especially for grand slam tournaments.
The most important UK bookmakers offer reverse forecast betting. Many have added other betting systems inspired by it, such as the patent bet or the alphabet bet.
UK bookmakers are famous for the horse racing offer, hence the propensity for the reverse forecast bet. You can find it at international bookies, next to special types of bets such as Lucky 15and Yankee bet.
The odds of the reverse forecast bet are lower, but you have twice as many chances to win. You finish in the money if your designated winner finishes second and the runner-up claims the trophy.
Double the odds of winning big with the reverse forecast bet
Reverse forecast betting is an excellent choice for horse racing enthusiasts who seek higher odds. It can be used for football, tennis, and other sports to bet on the outright winners of tournaments. Compared to the straight forecast bet, it pays slightly less but you are twice as lucky to win.
Risk-averse punters prefer the reverse forecast bet as it mitigate the risks. At the end of the day, it's heartbreaking to see the team you choose to win finish second, while the designated runner-up wins the event.
Other articles you might enjoy: