How to Win Sports Betting Parlays | Best Parlay Betting Strategy & Parlay Betting System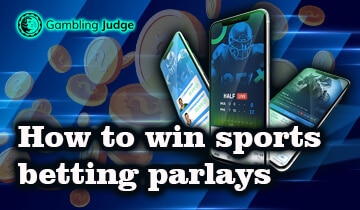 Learning how to win sports betting Parlays is a lot easier than you might think. The Parlay betting system is an ideal way to wager on multiple events and potentially boost the amount you can win.
What types of sports betting options can use you? Can we teach you how to win NBA Parlays? Can you learn how to pick your Parlays to win? These are all things that we will discuss here. If you want to learn how to win at sports betting, more specifically, how to win big with Parlays, then read our guide to find out more.
Your guide to Parlay sports bets in 2022
Best Bookmakers for Parlay Betting
in 16 May 2022 – Updated List
Rank
Bookmaker
Bonus
Safe & Trusted
Rating
Get Started
How much can I win with Parlay bets?
Parlay sports betting strategy can be calculated with either fixed odds or true odds.
Fixed odds are those which the bookmaker offers. There is no fluctuation in the payout received.
True odds are the actual odds of something happening rather than the fixed odds offered by the bookmaker. They are designed to showcase the "true probability" of something occurring.
If you are wondering how do you win a Parlay bet? You need to become familiar with both concepts and learn how to calculate the implied probability. You can calculate Parlay payouts using either odds format. The best way to do this is to use a Parlay calculator. There are many online.
Parlay bets are more likely to be successfully landed if you stick to selections that you are reasonably sure will come good. This means betting on selections with low odds. However, effectively landing multiple winning selections is the goal here – not the prize. If you pull off many "easy to guess" selections, the Parlay multiplier itself will boost your prize. As mentioned, the winnings of each bet form the basis for your next selection.
Examine the table below to learn more: it is the Parlay Payout Table for Standard -110 Parlays from BetUS. Note that this table is based on you starting with a $100 bet.
In most cases, the online sportsbook will automatically convert your Parlay payouts. However, if you want to see what the expected value is and become more knowledgeable about how to win Parlay bets, you can calculate them for yourself. Here is how to do it…
Step 1
First, if your odds are displayed in American or Fractional format, you need to convert them to decimal odds. Again, there are tools that will help you do this
Step 2
Multiply those decimal odds together to get your total multiplier
Step 3
Now you need to multiply your new multiplier by the total amount staked
Step 4
Subtract the original stake from the total, and you will have your new Parlay odds
As you know, it is possible to lose. Some bookmakers will allow you to use ACCA insurance to cover one of your bets if you lose a selection without damaging your entire accumulator. However, it is possible to lose your bets if you get too many incorrect (the exact number varies). Unlike with parlay bets, with a banker bet, not all your selections need to be correct in order to win the bet.
If a selection on your Parlay is cancelled, postponed, or ends in a draw, the Parlay reverts to the next lowest number on the bet slip. For instance, if you had a 5-Team Parlay and one of them turned out to be a tie, you will get paid for a 4-team Parlay, just like with draw no bet accumulators.
How to improve your odds of success with Parlay bets
We have got some top Parlay betting tips worth sharing with you if you want to improve your sports betting Parlay strategy. If you are wondering how to best pick your Parlays to win – check out these tips…
👉 Only bet on sports you know:
You are free to mix multiple markets and sports. However, you should be knowledgeable about them. Only bet on what you really think will win. Moreover, make sure you stick to low odds options and small stakes at the beginning. This is a good
sports betting money management
strategy for rookies.
👉 Use bonuses to boost your balance: Claiming sports betting bonuses can give you free money to play with. This is ideal if you want to place extravagant Parlays with less risk. Risk free bet offers and daily price boosts and enhanced odds are worth looking at here.
👉 The more bets you add, the greater the risk: The more selections you add to your Parlay bet, the greater the risk. This is because you will often need to get all (or most) of them right to win.
👉 Choose favourites over underdogs: It is tempting to bet on underdogs on account of the odds they offer. However, we strongly suggest you back the favourites as they are more likely to win.
👉 Use Parlays with system bets: Parlays are flexible. While placing a Parlay at one bookmaker, you can play additional bets on the side. Parlays can be worked to run in system bets, Asian handicaps.
👉 Use the cash-out option: Some bookmakers allow you to cash out or partially cash out early on some accumulators. If you have a Parlay card that allows you to cash out each bet individually (there will be a button), it may be worth doing so rather than risking everything on that final selection. Other bookmakers offer Parlay insurance, so even if things go wrong, you can still pocket some form of winnings with an incorrect Parlay slip.
👉 Hedge your bets: It may be worth visiting low stakes betting sites and the best sports betting exchanges to cover your bets. Hedging your bets in this manner can (with the right strategy) protect you should something go awry with your Parlay bet.
👉 Try Correlated Parlays: These are Parlay bets where the two selections are tied together. If one of the wagers wins, the chances of winning the second increase. For instance, if you place two bets on a team in a Round Robin competition to win a quarter-final and a semi-final. They would first need to win Bet A (the quarter-final) to activate Bet B (semi-final). Like Parlays, these can see increased odds come into play as there is an unknown element (Bet B), but you need both parts to be correct to win.
👉 Try Teasers and Round Robins: Round robins bets are just one additional type of bet you may wish to explore with Parlays. It combines parlay bets on a single bet, from a minimum of 3 up to a maximum of 10. For example it can include 3 pairs of up and down bets, 3 double bets and one treble. Others include Teasers bets, Props bets and more. Point spread betting is possible with Parlays, but it is easier to engage in simple moneyline betting with decimalised odds for beginners.
Can I win real money with Parlay bets?
Are Parlays worth it? You need to get a lot of selections correct to pocket a top prize. However, by following the advice above, you can learn how to win sports Parlays, and we certainly believe that Parlay betting strategy is a sound way to pocket extra cash. You only need to compare what can be won with a 4-Team Parlay compared to four individual bets to see that.
The pros and cons of placing Parlay bets at bookmakers
PROS
Multiply your winnings rather easily with this, one of the best sports betting strategies
Ideal for multiple low-odds, low-cost selections
You can wager on as few as two selections in a Parlay
CONS
Not the sports betting safest options, Parlay strategies involve a fair bit of risk
Not all bookmakers offer insurance
FAQs: Your questions on Parlay sports betting answered
Before you go, allow us to assist you with this brief Parlay betting FAQ guide…
How hard it is to win Parlays in sports betting depends on the number of selections you make, coupled with the probability that those selections will win. The fewer selections and lower the odds, the better your chances - in theory.
Not really. However, in sports betting Parlays, the larger the number of picks, the less likely you are to win. Five or less seems about right.
In the event of a push (tie or cancellation), the Parlay will revert to the next lowest number. So, on a five-team Parlay, you are looking at a payout for a 4-team Parlay.
The typical odds of a 4-Team Parlay are roughly 12:1. See our table above for more information.
As you can see in our table, a 3-Team Parlay should pay out odds of 6:1.
Start sports betting with Parlays at leading bookmakers today
Now that you know a bit about how to win sports betting Parlay, perhaps it is time to start wagering yourself. Put what you have learned about how to win playing Parlays to good use with a winning Parlay betting system. While at our page, why not check out some of our other top guides, such as those on accept all odds movement. Once you are clued in and have read our guides, head over to our best odds bookmakers to find top sites to start betting at today.
Other Tutorials and Strategies