How do negative odds work in betting? | Negative odds explained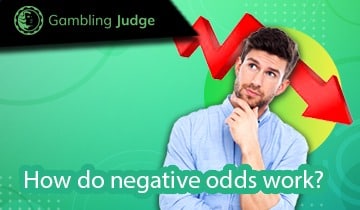 How do negative odds work in betting? This is a pretty common question among gamblers. First you need to understand how moneyline betting works and also what are positive and negative odds. In this post we will address them in detail.
Beyond defining them, we will tell you the amount of profit you can make and show you how to read the negative odds. 
So, stick to this page for details.
Best online bookmakers for betting on negative odds in 28 September 2023
Rank
Bookmaker
Bonus
Safe & Trusted
Rating
Get Started
How do negative betting odds work? 🤔
How to identify a good moneyline bet with negative odds 👨🏻‍🏫
Identifying a good Moneyline bet will help you have a long winning streak. For starters, it is essential to note that more excellent value in Moneyline bets is achieved when you bet on the underdogs. So, recognizing the right opportunity can help you win big. 
Here are a few opportunities you can exploit to boost your chances of winning when wagering negative odds.
How to calculate the implied probability of Negative odds 👩🏻‍💻
Implied probability represents the chances of an outcome happening, and you calculate this probability by dividing one by the given odds and converting it to percentages. Here is the formula for implied probability:
Implied Probability = [Denominator / (Denominator + Numerator)] x 100%
For instance, with odds of 2/1 you will have: 1 ÷ (1 + 2) * 100 = 33.3%
Here is how you can calculate implied probability for American Odds:
Positive American Odds: 
Implied probability = 100 / (positive American odds + 100) x 100%
So, if you have Aston Villa (+650) win, the implied probability is: 100 / (650 + 100) x 100% = 13.3%
Negative American Odds: 
Implied probability = [Negative American odds / (Negative American odds + 100)] x 100
So, if you have Leicester win (-238), your implied probability will be: [238/ (238+100)] x 100% = 70.4%
Implied probability is critical in assessing attractive opportunities in bet. You can determine whether the chance is higher than the implied probability reflected in the odds.
The -110 line in sports betting and its odds 📉
As stated earlier, when you wager on a -110-point spread line, you will be staking $110 to win $100. The oddsmakers want equal action on the same sides. If they can do that, they reduce the risk of losses and guarantee profits. The value a sportsbook earns from -110 is called vigorish or juice. You can learn more in our how do bookies set odds article.
The pros and cons of betting on negative odds 👍 & 👎
PROS
Suitable for calculating payouts quickly, particularly for a flat $100 wager
An excellent option for single-game betting and parlay betting
Easier to place bets because you do not have to worry about winning the game by a certain margin of victory
Less variance
CONS
You'll rely on fractional odds to calculate an implied winning probability
Tough to win consistently
Other frequently asked questions about negative odds 🙋‍♀️
In American betting, negative odds do not impact your chances of winning. The minus sign shows the amount of money to bet for every $100 you want to win. The nature of the game and team strengths impact your odds of winning.
Negative odds mean that the outcome is more likely to happen and placing a bet on that outcome pays less than the wagered amount. So, while there is a chance you will win, the amount is minimal. Therefore, relying on this will not give you the best payouts.
Yes, you can make money with negative odds. However, the profit is much less than you would make with positive odds.
Negative odds represent the favorite, indicating the money you need to stake to win $100. While positive odds represent the underdog, and it represents the money you will win if you stake $100.
When you make a bet with -200 odds it means that you need to pay $200 on the bet to get a profit of $100. If the bet is successful, you will receive $300.
A "minus" (-) before the number indicates the team is a favorite, and you must wager an amount indicated by the number to win $100. A "plus" (+) before the number indicates the team is an underdog, which means you will receive the amount equivalent to the odd value of a successful $100 wager.
Are potential payouts at negative odds any good?
While the payout is relatively low compared to the positive odds, the chances of winning negative odds bets are higher. However, you can significantly increase your chances of betting by finding value in all the bets you place. That means you need to deeply research every game before placing a bet.
Most importantly, play at best odds bookmakers. Since odds determine your payout, playing at bookies that offer the best odds can increase your payouts. This online betting guide can be the best place to start.
Other articles you might be interested in 👇