Why Was My Bet Cancelled? | Top Reasons & What Happens to My Cancelled Bet?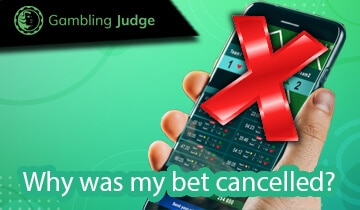 Why was my bet cancelled? There are times, oddly enough when betting on sports, this can occur. However, there are patterns found in cancelled bets at legal betting sites that you can examine ahead of time and things you can do to avoid seeing your bets disrupted by being voided or cancelled.
Postponed matches are naturally the main reason why a bet may be withdrawn or cancelled. However, these can sometimes merely lead to suspended bets (i.e., bets that will remain in play but continue when the match occurs), but this is rare.
Why do sportsbooks cancel bets? Let us continue our journey and find out…
What happens when a bet is cancelled, and why did my bet get voided? If you are asking these gambling questions, you have come to the right place. Even the biggest betting companies may find a reason to terminate a bet before it is concluded, and there are many reasons why a bet could be cancelled.
In this betting guide, we will look at the types of bets most likely to be voided, the main reasons this happens, and what happens (in each major sport) when this occurs. Let us start by looking a top of the best online bookmakers and then continue with the most likely bets to get the chop.
Best Online Bookmakers
in 28 September 2023 – Updated List
Rank
Bookmaker
Bonus
Safe & Trusted
Rating
Get Started
The most likely bets to be voided
There are specific bets that tend to become void bets more often than others. The main reason for this is the nature of the type of bet you are trying to place. To explain further, we will look at six of the most axed bets and why they tend to be voided. They include:
1. Asian Handicaps
Some Asian handicap bets are deemed void (and your stake refunded) if the match ends in a draw after the Asian handicap has been applied. This is common with Whole Line Asian Handicaps, like Asian handicap 1 or -1 Asian handicap.
2. Goalscorer markets
If you have got a first goalscorer market bet, and your chosen player does not feature in the game (let us say he spends the entire time on the bench or is injured before the match), then you can expect your bet to be voided. This is true also for scorecast bets or wincast bets.
3. Winter sports
Some outdoor sports in winter require snow. At the same time, other conventional sports (such as football and motor racing) cannot be run in wintery conditions. Therefore, one of the biggest reasons for voided bets in winter is the weather.
4. Bonus bets
If you actively place a bet using bonus funds, but you wager on something that is now within the confines of the rules, then your bet will be cancelled. For instance, if you bet on a match with odds of 1.20, but the rules state that the sports betting bonues must be on odds of 1.50 or greater, then you are bet will become void.
5. Accumulators
What happens if a bet is voided in an accumulator? This will most likely occur when there are too many selections related to the same event. If you bet on the same team to win and lose on an accumulator, you can expect a swift cancellation.
6. High odds mistakes
Sportsbooks make mistakes, and this goes doubly so for new bookmakers. If sports betting mistakes such as overly high odds occur, a bookie may have terms and conditions to correct errors with high odds by cancelling bets.
Why would my bet be cancelled or voided? Top reasons
We are not done looking at "what happens if my bet gets postponed" just yet. There are a few other reasons why bets could be abandoned and the rules that govern them. Let us continue by looking at these classic and common occurrences:
Event postponed or cancelled
If a sporting event is postponed or cancelled, you could very well find your bet terminated. Some bookies may offer to "postpone" your bet, essentially leaving it in play. However, as the odds would likely need changing when the match is eventually played, do not expect this to occur.
Non-Runners and injuries
Horses are frequently pulled before a race. This may be due to injury, dissatisfaction with the weighting, or any other reason. Either way, always be wary of potential non-runners with ante-post betting and all other forms of horse racing gambling.
Bookmaker errors
As touched on above, bookies may make mistakes. If they spot one, they will rapidly rush to correct it.
Negative balance
Sometimes, your bet could be cancelled for one straightforward reason – you do not have the funds on your account to place the bet.
Suspicious betting patterns
If you arouse suspicion, such as arbitrage betting at several sister sites, or appear to have insider knowledge, your bets could be terminated.
Push bets
Some bets (like the Asian Handicaps) have certain conditions which will result in a betting push. Much like in the casino world, this means your bet is not terminated, but you will receive your stake bet either way because the conditions of the bet were not met.
What happens if my bet is cancelled?
So, what happens when a bet is cancelled? The bet cancellation policy varies between sports and each bookmaker's terms and conditions and differs from live to standard bets. Here is what happens to your stakes with the five most popular sports:
The cancellation of free bets
Things get tough for punters who try to place free bets on voided games.
When you claim a bonus, you have the advantage of checking out all the terms and conditions attached to it.

Some bookmakers will allow you to place a new bet if a match is postponed or cancelled.

However, if you use your bonus to wager on an event that is not valid, this will not be deemed an error, and you will likely lose your free bet for good.
What happens if a bet is void in an accumulator
Each bookmaker may have its own rules on Accumulator Bets being voided.
In some cases, the bookmaker may void the entire acca.

However, in many cases, a sportsbook will simply void and remove the affected event from your accumulator, allowing the rest to proceed. For this reason, you must check your bookmaker's rules.
Top tips for reducing the chance that your bets get cancelled
There are a few sports gambling tips we can recommend to help you avoid ever asking, "why was my bet cancelled?" Here is what we recommend:
👉 Avoid "bizarre" bets:
Be sceptical of good bets with long odds. This could be a mistake on the bookies part. If they go unnoticed, you could win decent money. However, the bookie will likely correct the wager in time before the event begins.
👉 Access top support: You should only open an account at bookies with top customer service options, clear and transparent betting terms and conditions and fair policies. This way, if you need help understanding why a bet was cancelled, you can get it.
👉 Place tipster bets: If there is a likelihood that an event will not happen, then a Tipster will likely know about it ahead of time. Using their advice can pay dividends.
👉 Read our guides: Become a more skilled bettor by learning more about sports betting. If you want to learn how to win at sports betting, you cannot go far wrong by reading our guides.
👉 Play at reputable bookies: Only ever play at safe betting sites. Betting scams are commonplace at dodgy sites, and this is where a lot of bets tend to get cancelled for no good reason.
FAQs: Your questions on cancelled and voided bets answered
If you still have questions about what happens to a bet if the game is suspended or cancelled, we will try to help with this brief FAQ guide.
This varies from bookie to bookie, but your stake will be returned in most cases, and the bet voided. However, if you have a bet on something that has happened before the cancellation, you could still pocket your winnings.
If you are wondering, can a bookie cancel a winning bet? Yes, they can. However, only under extreme conditions (such as cheating) and you can check those out via a bookmaker's Ts and Cs page.
Normally, yes. Assuming you have not cheated or broke the rules in some way, your bet will be returned.
If the sportsbook incorrectly voids your bet, you will need to gather up the proof of why you believe that this is not fair. Submit that to customer support and see what they can do about it.
Play at leading bookmakers with top sports bets today
Why was my bet cancelled? Sometimes you cannot avoid this eventuality. If a match is cancelled, it is what it is. However, you can ensure that you play at bookmakers that give you the best shot of positive outcomes with voided bets. Choosing the best betting sites for cancelled bets is one way to go about that.
We have bookies that do not limit, that strictly adhere to betting rule 4, and offer transparent terms and conditions. Any of these should work out well for you. On top of that, we also provide guides to unmatched bets and other forms of cancelled stakes. Do not hesitate to check out our guides and sportsbooks to ensure that your online sports betting experience is a stellar (and safe) one.