Online VS. Offline Betting: Choose a Better Option for Your Betting [2023]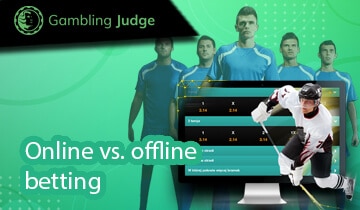 Online vs. offline betting which is best? This article gives you a detailed comparison between the two types of betting. In today's world, most punters place bets online, thanks to the accessibility of the internet. Besides, most people have PCs and mobile devices that allow them to place bets quickly.
However, some punters prefer walking into a local bookie to place bets – this is offline sports betting. So, what are some unique considerations? You can find your bookmaker by checking our complete guide with relevant information and betting terms.
The best bookmakers for 01 November 2023
Rank
Bookmaker
Bonus
Safe & Trusted
Rating
Get Started
What are online and offline betting modes? The main differences:
Online sports betting has gained momentum in the past decade. Most online punters use their mobile devices to place wagers on their favorite sport. This puts off a massive load from the shoulders of gamblers who like betting on the go. But how is it different from the offline route? Here is the definition of the two.
What is online betting? Is more than a bet, is an entire industry
First:
A computer or any device that can access the internet

Second:
Sports betting account.
How to get sports betting account? Is easy, don't worry
What is offline betting? An entire way of life
Online betting benefits: First, Money
Online betting is a relatively new concept but has a huge following thanks to the convenience it offers to its bettors. Its popularity is mainly owed to the increase in the use of smartphones and tablets. Mobile devices are pivotal for the growth of online sports betting. Here are the online betting benefits.
Top bets recommended for online betting in 01 November 2023
Advantages of offline betting: A huge experience:
Everybody bets for different reasons; thus, they find satisfaction differently, whether on an internet or offline betting site. Though offline betting sites are fast fading in some regions of the world, they still maintain their relevance in some other parts. Typically, the offline betting advantages include:
The best types of bets recommended by GJ for offline betting:
Online vs. offline betting: Which one is for you?
But really, which one among the two is the best option?
If you know how to place a bet online, you can put it at an offline bookie or offline betting app. Betting at physical betting shops is similar to betting at online bookmakers. However, some significant differences exist. For instance, wagering offline means you will socialize, meet new friends, have drinks and food, and watch live streams. Offline betting drawbacks include low payout and extra expenses. This debate can bring us to another controversial question, the rivalry between NBA vs NFL? Find out by yourself which one is the best.
On the other hand, wagering online allows you to do it in the comfort of your home without some social interaction. That makes wagering in offline bookies more entertaining. However, the innovative technology online betting sites offer tries to compensate for the lack of social aspect.
For example, live streaming betting sites are a fantastic feature that allows bettors to feel like they are in a land-based betting site while interacting with other players via live chat, thanks to the responsive online interface.
Moreover, you do not need to plan to visit an online sportsbook or make it part of your schedule. You can bet anytime you wish, and the range of betting markets and casino games is more massive than brick-and-mortar sports betting shops. Therefore, the online betting platform is more diverse, meaning you will always find something.
Pertaining games, offline betting games are much less compared to online games. So, online vs. offline sportsbook, which one should you take? That really depends on your interest.
PROS and CONS about online vs. offline betting
Online betting – is more comfortable
PROS
Flexibility
Access to promotions
Live streaming and betting
Immediate payout
CONS
Little social interaction
Technical issues
Offline betting – is more about the atmosphere
PROS
Social experience
Human customer service
Fast payout
Multiples bonus
CONS
Extra expenses
Live betting is slow
Inferior payouts
FAQ about offline vs online bookmakers
That depends on your interest. Opt for the traditional betting shop if you like a good social experience. However, if you want to bet bets anytime from anywhere, opt for the online betting platforms.
That depends on specific country rules. Some countries impose a taxation fee on all winnings, especially on land-based sports betting shops. However, winnings from online betting sites are not taxed in most cases. Always select bookmakers by jurisdiction.
Online betting sites have better odds than the brick and mortar betting sites. The odds keep on changing, allowing you to locate the best lines.
The online betting community is currently bigger than the offline community since they can easily access the betting sites.
Provided the bookies are licensed and well-regulated, the winning rate is the same whether you bet on offline or online betting sites.
Offline betting VS online betting: Bet where you are comfortable
Payment methods recommended for offline and online betting: