50 cent trifecta box cost | How it works in 2023?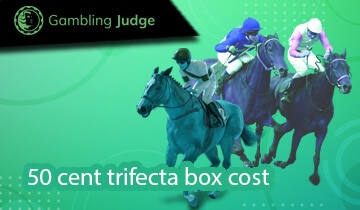 Calculating a 50 cent trifecta box cost is easy. The only important thing is to factor in the number of horses in the race. Placing a trifecta bet is fascinating, but you need to understand how trifecta box betting works. Ordinarily, a trifecta bet means betting on three horses, which must finish first, second and third positions in exact order.
Trifecta betting is much deeper. The best place to start is a grasp of horse betting terms, the best trifecta strategies, and understanding the trifecta box payout. If you are beginning your trifecta box betting, find your bookmaker complete guide for more insight. Nonetheless, this article is about box using.
Best Bookmakers for Horse Racing Betting
in 01 November 2023 – Updated List
Rank
Bookmaker
Bonus
Horse Racing Offer
Rating
Get Started
Boxed trifectas in horse racing explained
A horse trifecta box is just like a tote trifecta box, and it lets you select the first three finishers in precise order. However, you box your selections; so they can finish in any combination, and you'll still have a chance of winning. The advantage is that punters can pick the winning horse, the second, and third horses in the correct order and select more than three horses. But it increases the trifecta betting cost. A boxed trifecta bet wins when your horses finish first, second, and third, in any order, but a better way to gamble is a trifecta key box.
What is a 50 cent trifecta box?
Trifecta box bets: Available types
How much a 50 cent trifecta box costs?
You can know the cost of 50 cent trifecta box using the trifecta calculator. Typically, the determining factor is the number of horses since 50 cents is the minimum wager amount.
Here is the formula for the 50 cent trifecta box cost:
(H) x (H1-1) x (H-2) x X
H- Horse number
X – bet amount (.5 USD)
So, the trifecta 50 cent box cost for three horses would cost:
3 X 2 X 1 X 0.5USD = 3USD
How to bet trifecta in horse racing
By now, you know that trifecta is common in horse racing and dog betting. If you'd like to place bets on key horses, you'll need to how to bet on horses. But first:
Find the best new horse racing bookmakers and betting sites UK online. Create an account by filling in your details. Top your account using one of the available methods. Place wagers for a chance to win – in a horse race, pick three horses to finish in order and wait for the outcome. To bet:
Step 1
choose a track and race number at that track
Step 2
select wager amount
Step 3
select the type of wagers
Step 4
choose the number of horses
Tips to win your Boxed $0.5 trifecta bet
Apart from"what does it cost to buy a 50 cent trifecta box", the best
superfecta strategy
– might be beneficial. A virtual
betting guide
is all you need:
Control your risks: Bigger risks may result in a bigger, big win, but avoid unnecessary risks – for example, a super trifecta has higher payouts but extremely risky.
Limit combinations: Too many horses increase your chance of winning, but it also increases the box cost, and the cost might be higher than the payout. For example, 3 horses cost $6, 4 horses cost $24, and 5 horses cost $60. If you choose 10 horses, they cost $720. Draw the line.
Combine favorites and long shots: choosing favorite horses is safe, but it comes with low odds. Take a little risk and long shots to the trifecta box to boost your odds.
50 cent trifecta box payout
Trifecta payouts aren't calculated using odds, making it a pari-mutuel betting system. The payouts are shared among punters in a betting pool. New betting pools are created for each horse racing event. This pool is then shared among all winners at the end of the event.
Fo example, suppose 200 000 tickets are sold from $3 in a horse racing event, the betting pool is $600 000. If 50 gamblers have precise predictions of the top three finishers, their payout is $600,000/50 = $12,000.
Trifecta calculator: how does it work
PROS
Higher returns
Odds don't determine payouts
Offer betting flexibility
CONS
The risk of losing money is higher
50 cent trifecta box cost FAQ:
The 50 cent trifecta box cost is determined by the number of horses in races. If you bet on more horses, the cost is higher.
Horse trifecta is available in most but not all countries. Ideally, it's a common part of the Kentucky Derby.
50 cent trifecta boxes vary with the number of horses in the races. However, bettors can bet on Exacta and Superfecta.
Currently, the minimum wager amount is $0.5 or 50 cents.
No single strategy works for everyone; however, you can try the Sandwich Play, an affordable backup to an Exacta wager. Else, manage your bankroll and avoid many selections in a single wager
No. This box is also available in dog betting. You can box racing dogs for as little as 50 cents.
Kentucky Derby and 50 cent Trifectas
Winning bets is the ultimate desire of every punter. But that requires getting the right horse combinations to own the payoff. Trifectas are part of different wagers, called exotic bets. They cover the exacta and quinella bets, and you can place these bets for a meager $0.5. The Kentucky Derby is famous for horse racing. Here you can place bets on various outcomes, which could earn you good money, thanks to better odds.