Tote Trifecta Guide | Tote Trifecta Rules & Payouts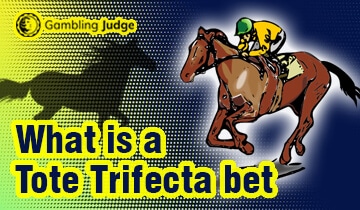 Tote Trifecta is the ultimate type of horse racing bets for punters seeking the biggest possible winnings. In this betting guide we shall have the Tote trifecta bet explained, so you can decide if the potential profits are worth the risks. This exotic type of wager opens up multiple possibilities of winnings in exchange of players taking greater chances.
The low minimum bets, of as little as 50p, and the fact that it will multiply the stake many times over, make it a popular option at horse racing betting sites. Keep reading our guide to learn how does the Tote trifecta work and how to use it efficiently in international and UK horse racing events.
First things first: What is a Tote trifecta bet?
Our Top Pick Bookmaker for Pool Betting in 01 November 2023 – Updated List
Tote Betting on William Hill
➤ William Hill is an agent for the Tote and accepts bets at Tote odds on horse racing in Great Britain and selected pools in the Republic of Ireland and other countries where their acceptance is advertised.
➤ The bets accepted at horse race meetings in Great Britain are the Scoop 6, Jackpot, Placepot, Quadpot, Trifecta, Exacta, Swinger, win, place and any other new bet introduced by the UK Tote.
➤ Where the UK Tote offers a pool facility for horse race meetings taking place outside Great Britain and the Republic of Ireland bets will be accepted.

How does the Tote trifecta work? Tote Trifecta rules
Now that you have a general idea about the meaning of Trifecta Tote in horse racing, it's time to look at the way it works. These are the key characteristics that apply not only to the Tote trifecta, but also similar types of wagers such as the tricast bet. The core difference is that a trifecta Tote will pool their resources of many players together while offering the guarantee that somebody wins the prize:
Path to winning Tote trifecta bets
The beauty of this type of wager is that you can win large amounts if you make the right prediction. Furthermore, the Tote trifecta pool will not be claimed by the bookmaker if nobody makes the right prediction. Instead, the Tote trifecta rollover rule applies and the money is simply moved on to the next competition. Once you learn what is Tote trifecta, you need to look closer at the three distinct versions.
1. Straight Trifecta – straight Tote trifecta requires players to pick three horses to win the race, finish second and third. It is mandatory to correctly predict all the selections to cash in.
2. Combination Trifecta – this type of bet allows players to choose the top three places in any order. The perk of combination Tote trifecta is that you win as long as your horses finish on the podium. This type of Tote trifecta betting allows you to wager on more horses, to boost the odds of winning. In exchange, you will have to pay a larger amount, as you can see from the table below.
3. Banker Trifecta – this type of Tote trifecta allows you to pick one of the favorites, in conjunction with several other horses. You win if the chosen horse prevails alongside any of the others.
Here is an example of the simplest combination Tote trifecta with 3 selections and 6 bets:
Bet 1
Selections
Horse 1 to finish 1st
Bet 2
Selections
Horse 1 to finish 1st
Bet 3
Selections
Horse 2 to finish 1st
Bet 4
Selections
Horse 2 to finish 1st
Bet 5
Selections
Horse 3 to finish 1st
Bet 6
Selections
Horse 3 to finish 1st
How do you calculate the Tote trifecta winnings?
How much does the Tote trifecta bet cost?
The beauty of Tote trifecta is that you can bet as little as 50p and still compete for big winnings. If you choose a straight or combination trifecta, the costs are minimal and profits significantly higher. Tote trifecta rules for the banker trifecta give you a better chance of winning, but you must bet more money. If you like this type of safer wager, you should also try the Tote Placepot. They produce lower winnings than a classic trifecta box, trifecta key box or a Scoop 6, but you still finish in the money if your horses finish inside the top six.
What are non-runners in Tote trifecta bets?
A very common question for horse racing fans is what are Tote trifecta rules for non-runners. The costs of having a Tote trifecta non runner would be devastating in the absence of the betting rule 4. Basically, if a horse withdraws from the race, you would risk losing your stakes with no chance of chasing the winnings. Luckily, there is a provision similar to the Tote trifecta carryover that gives players a second chance.
If you chose a straight trifecta, the Tote trifecta bet would be voided. In the case of a combination bet, only those selections that involve the non-runner are affected. This will still give you the opportunity to chase potential winnings in the other selections. These are key differences compared to Tote Jackpot, where the non-runner is automatically replaced with the favorite. To understand how this happens, you must learn what does sp mean in betting and how favorites are determined based on the starting price.
Helpful tips for Tote trifecta betting
👉 Find the balance between risk and reward in tote trifecta
👉 Check out previous Tote trifecta results before betting
👉 Keep the stakes low for straight and combination bets
👉 Use banker trifecta for competitive races
Pros and cons of Tote trifecta bets
PROS
Greater potential winnings than on regular horse races
Immediate gratification through daily races
Safety net of a Tote trifecta rollover race
Exciting competition against fellow punters
CONS
Low chances to make the right call
Pool deduction rate eats away at profits
FAQs: Your questions on the Tote Trifecta answered
If you bet on a straight trifecta the entire bet is voided. For combination trifecta bets, only the selections involving the non-runner are voided.
You can manually check the results on the website of your bookmaker of choice. The updated results are also available in the betting history where the wagering slip is updated.
Tote trifecta is played by the same rules as the tricast bet. The difference is that this is a pool betting format, as opposed to what fixed odds bookmakers offer.
What is Tote trifecta cost depends on whether you choose a straight, combination or a banker. The lowest amount is 50p for a straight trifecta, but it can get significantly higher for a banker trifecta.
Push the horse betting limits with Tote Trifecta
There's no better way for horse racing fans to compete for big winnings than the Tote trifecta. You can win a large amount with a small investment, while competing against like-minded individuals. The insurance for non-runners and the fact that prizes are rolled over until somebody wins are also strong incentives. Now that you know what is tote trifecta, you should consider it if you don't mind extra volatility in your gambling patterns. It's a risk worth taking for the sake of top payouts.
Other articles you might enjoy: